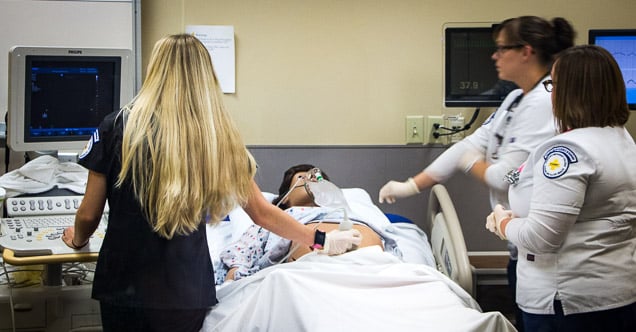 So you're thinking of becoming a nurse? Congratulations on an excellent career choice! According to the Omaha World Herald, Nebraska is currently experiencing a nursing shortage of over 4,000 nurses statewide. This shortage is expected to rise by 34% by 2025.
It is a common misconception that all nursing programs are built the same. When in reality, the programs, curriculum and application requirements can differ greatly. As you research nursing programs and navigate the application process, here are a few things you should consider and questions you should ask.
Myth #1 – It really doesn't matter if I get my Associate degree or Bachelor's degree in Nursing.
You are correct - the entry level to practice nursing is an associate degree. However, many healthcare facilities require their nurses to have a BSN (Bachelor of Science in Nursing) degree. According to the American Association of Colleges of Nursing (AACN), registered nurses entering the field with a bachelor's degree see "faster salary growth and higher lifetime earnings over the course of their careers. They also have greater opportunities for employment."
Myth #2 – All nursing programs require you to "transfer in."
Some nursing programs require prerequisite college courses, while other programs are considered direct entry, allowing students to enter right out of high school.
If you are interested in getting a jumpstart on your nursing education and know that nursing is the career path for you, you should look for a program that will allow you to start right away.
Myth #3 – All programs have the same general education requirements.
As you are researching nursing programs, you will notice common courses listed on plans of study and prerequisite checklists. However, not all programs require the same general education courses and prerequisites.
If your goal is to knock out some courses prior to starting nursing school, we recommend researching a few schools and comparing. Don't assume all programs require the same coursework. Your time and money are valuable, so doing a little legwork in advance could help you save a lot of both!
Myth #4 – All nursing schools have similar pass rates.
Always ask about a nursing program's board pass rates. Upon completion of a nursing program, graduates are required to sit for an exam called the NCLEX exam. In order to practice as a nurse, you must pass.
The Nebraska Board of Nursing shared that the national pass rate average in 2018 was 88.30%, and recent graduates in Nebraska passed at an even higher rate of 92.39%. Nebraska Methodist College (NMC) is proud to boast a pass rate of 98.61%!
Myth #5 – It doesn't matter where I go to nursing school – they all teach the same thing.
This might be the biggest myth of them all. While all programs are required to meet certain accreditation standards, the schools' mission and philosophy could be totally different.
For instance, at Nebraska Methodist College we are very passionate about serving our community and practicing population health. These topics are woven throughout our nursing curriculum and general education.
We encourage students to learn more about how and why programs are set up the way they are. This will help you determine if a program is a good fit with your values and goals.
Myth #6 – The application process is the same at all schools.
It's really important to do your research when applying to college. Each school has set up their own criteria for evaluating applicants. Some schools require you to complete your CNA before starting their nursing program. Others won't review your file if you have below a "B" letter grade in science coursework.
Spoiler alert: neither of these are things NMC considers when reviewing nursing applications. Reach out to an admissions coordinator and ask questions about what is required for the application process.
To learn more about NMC's Nursing program, visit our Traditional BSN page or contact our Admissions team at (402) 354-7200 or at admissions@methodistcollege.edu.