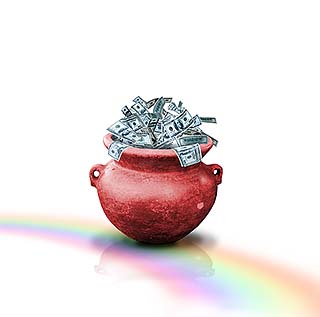 When my admissions team and I are meeting with transfer students to tell them about the legitimate awesomeness of going to Nebraska Methodist College, they almost universally have the same objection:
"I can't afford it!"
Every time I hear this, I want to reach across the table and shake some sense into the person sitting there. The truth is, Nebraska Methodist College is more affordable now than perhaps it's ever been.
Yes, we're a private college. But we certainly don't carry a private college price tag. Today, I'm going to reach across the digital table and show you exactly why dollars at NMC just make sense.
Scholarships and FAFSAs- Not Just For Freshmen
One of the biggest reasons transfer students hesitate before filling out their application is because they don't think they'll qualify for scholarships and financial aid. In reality, this couldn't be further from the truth.
We have a system in place that supports the ambitions of every student, whether you're transferring in or this is your first college experience. The idea that you've burned through your financial good will at a school you're no longer planning to attend is absurd. There are plenty of scholarship opportunities out there for transfer students.
Nebraska Methodist College offers "upfront" scholarships to transfer students with a cumulative GPA of 3.0 and above. We also offer scholarships for Phi Theta Kappa transfer students. We want to reward your academic success at previous institutions, not just high school.
And that doesn't even cover what's available from the federal government. As you've done every year, you owe it to yourself to continue filling out the necessary FAFSA information. You might be surprised by what you still qualify for.
Housing That Won't Burst Your Bubble
We understand that on-campus housing isn't for everyone. Many people have been through the freshman dorm experience and don't want to go back, largely because the price at their former college was astronomical.
But here's the thing: Nebraska Methodist College's housing is a great option precisely because it's not the typical college dorm. The monthly price is comparable to what you'd find at other apartment complexes in the area, but with a few added bonuses:
Utilities, internet and cable are included
The apartment comes fully-furnished with a living room set, bed, refrigerator, oven and dishwasher
Laundry facilities on-site
Pool on-site
24-hour security
Our apartment-style units at Josie's Village come in one or two bedroom options depending on your needs, and they're perfect for both families and individuals.
The Truth About Tuition
Even without scholarships, the price of tuition at Nebraska Methodist College probably isn't as high as you might be expecting.
Some programs, for instance, have recently benefitted from a price drop. Our RN to BSN program, which is perfect for Registered Nurses who want to keep up with the cutting edge of the healthcare world, recently had its tuition rate nearly cut in half. This is because we believe passionately in the importance of nurses securing their BSN, potentially expanding their career opportunities.
Many other transfer students find that they're able to transfer over a number of classes that they've already taken, particularly in regard to their Core Curriculum.
In fact, here are the average prices that students will end up paying for the 2015/2016 school year:
Bachelor Degree Program
$15,354 Tuition and Fees
$1,300 Textbooks and Supplies
$1,775 Health Insurance Fee
$18,429 Estimated Total
Associate Degree Program
$15,074 Tuition and Fees
$1,300 Textbooks and Supplies
$1,775 Health Insurance Fee
$18,149 Estimated Total
As you see, this estimated total is going to include your tuition, books and associated fees and even health insurance. If you already have health insurance, then plan on cutting out a $1,775 fee right there. And if you have scholarships, those yearly amounts can drop even further.
After The Education
We feel it's important that you get an accurate view of what to expect not just during college, but after your tenure here is over. The following is a look at median wages at the national level, as well as prospective growth in those fields. As you can see, things are looking up for healthcare workers:
| | | |
| --- | --- | --- |
| Occupation | Median Wage | Projected Job Growth |
| Nursing | $66,640 | 19% |
| Diagnostic Medical Sonography | $67,530 | 39% |
| Physical Therapist Assistant | $54,410 | 41% |
| Radiologic Technologist | $55,870 | 21% |
| Surgical Technologist | $43,350 | 30% |
| Respiratory Therapist | $56,730 | 19% |
(Median Wage Data provided by O*Net Online. Projected job growth provided by the Bureau of Labor Statistics)
You Can't Afford NOT TO Explore Your Options
Ultimately, your college decision rests with you, but we don't want you to overlook something just because of a mistaken perception about cost. When you really sit down to look at the numbers, Nebraska Methodist College is an affordable, and dare we say, preferable, choice.
Questions? Contact a member of our admissions team or set up a one-on-one visit. We'll help you figure out everything you need to know about price at Nebraska Methodist College.