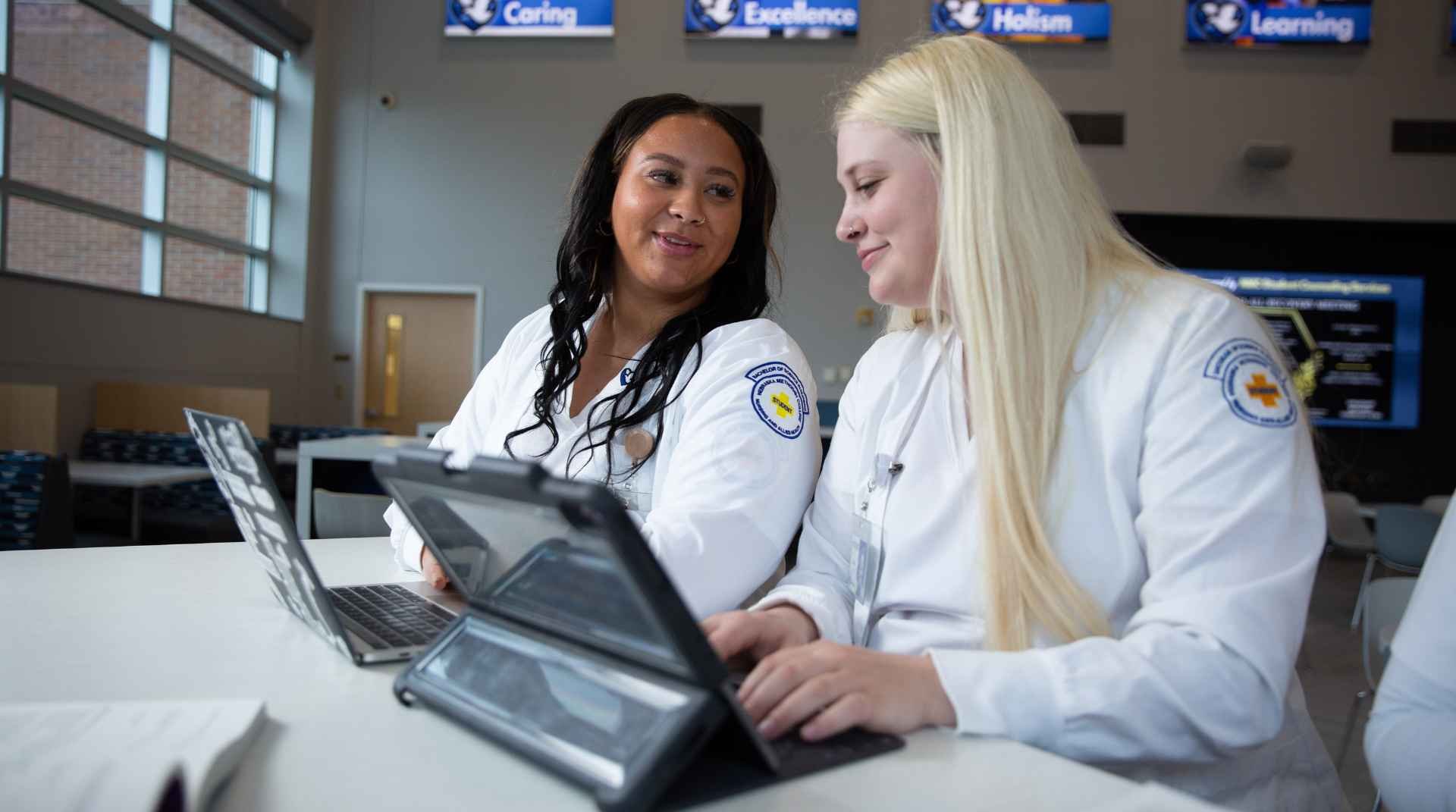 One of the biggest reasons transfer students hesitate to apply to a private college is because they don't think they'll qualify for scholarships and financial aid. Luckily, financial aid isn't just for first-time first-year students.
NMC has a system in place that supports the ambitions of every student, whether you're transferring from another college or this is your first college experience.
Financial assistance for transfer students can come from various sources, including NMC, the Methodist Hospital Foundation, federal and state governments, private foundations, employers and more. There are many opportunities for independent college financial aid.
After you are admitted to your preferred degree program, you can apply for financial assistance by completing the Free Application for Federal Student Aid (FAFSA).
You may qualify for certain scholarships once you're admitted without a separate application. Other scholarships are competitive and require an application.
NMC offers Upfront Merit scholarships to transfer students with a cumulative GPA of 3.0 or higher. Transfer students may also qualify for the NMC Legacy Grant, the Phi Theta Kappa Scholarship and others.
Don't forget to explore external scholarships through your employer, your parent's or spouse's employer, your church, local civic organizations and area foundations. There are many opportunities to receive scholarships for private colleges.
While applying for scholarships for college may seem time consuming, it is worth it in the end because it will cover the cost of some of your tuition.
Read more: Financial Aid FAQs
Secure Affordable Housing
On-campus housing isn't for everyone. Many people have been through the dorm experience during their first year of college and found the cost too high.
Housing at NMC is a great option because it's not the typical college dorm experience. The monthly price is comparable to what you'd find at other apartment complexes in the area, but with a few bonuses:
Utilities, internet and cable are included.

Apartments come fully furnished with a living room set, bed, refrigerator, oven and dishwasher.

A short walk to campus.

On-site laundry facilities.

Pool on-site.

24-hour security.
NMC's apartment-style units at Josie's Village come in one- or two-bedroom options. You have the option to live independently, with a roommate or with your partner and/or children.
You also don't have to leave your NMC apartment during fall, winter or summer breaks.
For the 2023-2024 academic year, a one-bedroom apartment for a single person costs $9,360 for the fall, spring and summer semesters. A two-bedroom apartment with a roommate costs $7,614 per person for the fall, spring and summer semesters.
Understand Tuition
Even without scholarships, the cost of tuition at NMC probably isn't as high as you might expect.
Some programs, for instance, have recently benefited from a price drop. Our RN to BSN program, which is perfect for Registered Nurses who want to keep up with the cutting edge of the healthcare world, recently had its tuition rate nearly cut in half. This is because we believe passionately in the importance of nurses securing their BSN, potentially expanding their career opportunities.
Many transfer students can transfer over a number of classes that they've already taken, particularly in regard to their core curriculum.
You can use the Transferring Credits Checklist to learn what you need to do to make the most of the college credit you've already earned. NMC uses Transferology, a free tool and nationwide network that shows students how coursework from other colleges and universities will transfer.
Read more: What You Need to Know About Transferring Colleges
Knowing that you may not have to take all of the required courses because of your transfer credits, here's a look at the cost of tuition for the 2022-2023 academic year:
$16,768 Tuition and Fees
$1,000 Textbooks and Supplies
$17,768 Estimated Total
The estimated total includes tuition, books and fees is based on the average enrollment of full-time undergraduate students over one academic year. If you have scholarships, your cost will be reduced.
All students enrolled at NMC must pay tuition based on the number of credits of instruction they are receiving.
Know Your Salary Potential
Once you graduate, you'll begin earning a full-time salary. It's important to know what you college investment will get you, so here's a look at the median wages for healthcare careers.
Occupation

Median Wage

Projected Job Growth

Nursing

$77,600

6%

Diagnostic Medical Sonography

$75,380

10%

Physical Therapist Assistant

$49.180

24%

Radiologic Technologist

$61,980

6%

Surgical Technologist

$48,510

6%

Respiratory Therapist




Healthcare Manager

$61,830




$101,340

14%




28%
*Median wages and projected job growth for each occupation is from the
U.S. Bureau of Labor Statistics
for the most current reported year 2021-2022.
You Can't Afford Not to Explore Your Options
We understand that the perception is that private colleges are expensive. But NMC is committed to providing a high-quality healthcare education at a competitive, affordable price and making college more accessible.
That's why NMC students receive more than $19 million in financial aid annually.
When you explore your options for financial aid, private college tuition assistance, transfer credits and housing, you may find that a private college is within reach.
If you have questions, contact a member of our admissions team or set up a one-on-one visit. We'll help you figure out everything you need to know about the cost of attending NMC.