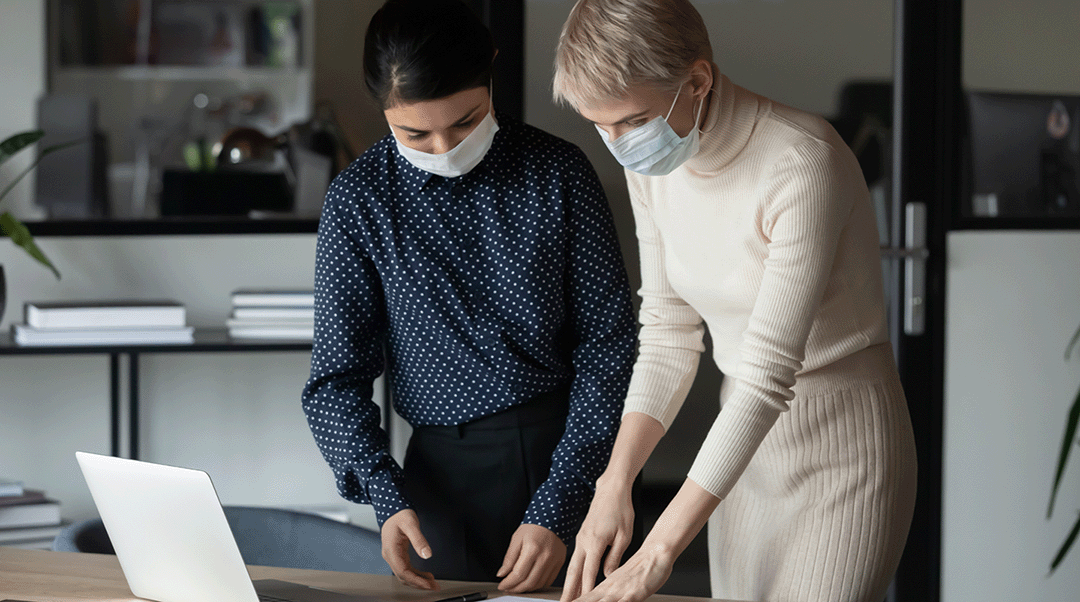 Supportive faculty, flexible online classes, academic rigor and a focus on leading with compassion.
Those are the reasons why alumni chose healthcare management and found success at Nebraska Methodist College (NMC).
Students experience a holistic culture of caring while studying at NMC. Small class sizes allow students to develop close-knit relationships with faculty and staff.
At NMC, students get a professional education on a convenient schedule. The online classes are ideal for working professionals wanting to advance their career in healthcare.
The healthcare management curriculum aims to prepare students to be leaders and innovators in healthcare. Faculty use extensive, real-world experience to help students develop leadership and management skills.
What separates NMC from other healthcare management programs is the emphasis on compassion in the curriculum. NMC students experience a holistic culture of caring and learn how to take that into their careers.
A healthcare management degree prepares graduates for a rewarding career as leaders in the healthcare industry.
Top Skills Needed for Healthcare Management
There are diverse job opportunities in healthcare management. Whether you're interested in becoming a clinic director, a healthcare finance manager, a wellness program administrator, a college professor or a public health advisor, you'll need to develop the skills required to be a successful healthcare manager.
Healthcare leaders must have the management skills and industry knowledge to successfully supervise teams. They also need skills that will allow them to coordinate programs, manage departments or facilities and create policies.
Some skills required to be a good healthcare manager are:
Leadership skills
Communication skills
Relationship building skills
Critical thinking skills
Knowledge of the healthcare industry
Compassion and empathy
Problem solving skills
Why is Healthcare Management Important
You might consider a career in healthcare management if you have a passion for business and you care about positively impacting people's lives.
The healthcare industry is a revenue-generating business that requires capable leaders who can balance the demands of achieving revenue goals while meeting customers' needs.
Healthcare managers and administrators are responsible for planning and directing health and medical departments or facilities, which means they play a crucial role in the success of patient care.
According to the U.S. Bureau of Labor Statistics, the average growth rate for healthcare management jobs is much faster than average at 32% between 2020 and 2030.
NMC Healthcare Management Alumni Testimonials
Derrick Traylor
Doctor of Education and Leadership in Healthcare
"Nebraska Methodist College is one of the nation's best kept secrets. It is the place where you can breathe the rare air of academic excellence with the grace and compassion of the human heart.
Since I have been a doctoral student at Nebraska Methodist College, I have endured five unexpected life crises. But the spirit of grace and compassion that I found here as a student has held me tight and kept me warm.
This school has been a treasure to find, complete with a world-class faculty and staff that exhibits the consistent thread of grace and compassion with professionalism that I have come to appreciate.
I am proud to be a graduate of Nebraska Methodist College."
Kimberly Sullivan
Doctor of Education and Leadership in Healthcare
"I feel so fortunate to have had so many wonderful staff and faculty members help me along my educational journey.
From the incredibly helpful staff members in admissions that were there to assist me with registering for classes, to the incredible people in the IT department that got me connected when I was in Mexico because I had an assignment that had to be submitted, to the wonderful lady at the front desk that answered my frantic call after my husband ended up in the hospital, to the absolutely incredible faculty member who virtually dried my tears when I wanted to give up, to the extremely understanding and patient faculty member that did not give up on me when I just could not figure out my data analysis, everyone has been amazing! I would be proud to call everyone at NMC a friend for life!"
Vicki Lyon
Master of Science in Wellness and Health Promotion
"Having all online classes made the school experience much easier than having to be in class physically. You can miss some of the school experience but as a mature student, I did not miss it.
The programming for Wellness and Health promotion provides a wide range of classes for a good base of experience to assist the student move into the workplace easily."
Amber Henley
Master of Business Administration in Healthcare
"The faculty are absolutely amazing and genuinely want to see you succeed in your personal and professional goals. The faculty seem to perfectly balance challenging and critiquing your work with helping you grow and providing support and guidance.
They are prompt in their responses to questions and coursework, provide very clear expectations of what is required of you and what you can expect from them and they provide various outlets for communication.
Perhaps most importantly, they present new data and research that is directly and immediately relatable to your professional career at the current moment - not the past ten years."
Rollie Hardies
Master of Business Administration in Healthcare
"I found the faculty at NMC to be extremely knowledgeable and very invested in helping students, not only to achieve academic success, but to be prepared to utilize the knowledge gained in a professional setting.
I always felt as though the faculty took a personal interest in my experiences and encouraged me to embrace my own professional and personal history as a part of the learning process.
Because of the nature of the online program, I was able to schedule my time to work on school when it least interfered with other obligations. By doing this, I always found that I had time to accomplish what was required of me for school without much disruption to my work or home life."
April Epley
Master of Business Administration in Healthcare
"I found the faculty to be extremely helpful and supportive in all of my classes. If you needed help they were there to guide you. My advisor was wonderful and always available to answer all of my questions.
Online classes made work, home and school more manageable because assignments, projects, papers, etc. could be completed on my time. I knew when things were due and could work it around my schedule. However, don't get me wrong, the online program is a lot of work. You have to be willing to devote many hours to each class. There were many late nights, working on discussion posts in the car, writing papers at softball tournaments but it was all worth it in the end."
How to Get a Healthcare Management Degree
Whether you're ready to pursue your bachelor's, master's or doctorate in healthcare management, Nebraska Methodist College (NMC) has a program to help you succeed.
You can enroll in a healthcare management program at NMC at methodistcollege.edu/apply-now.