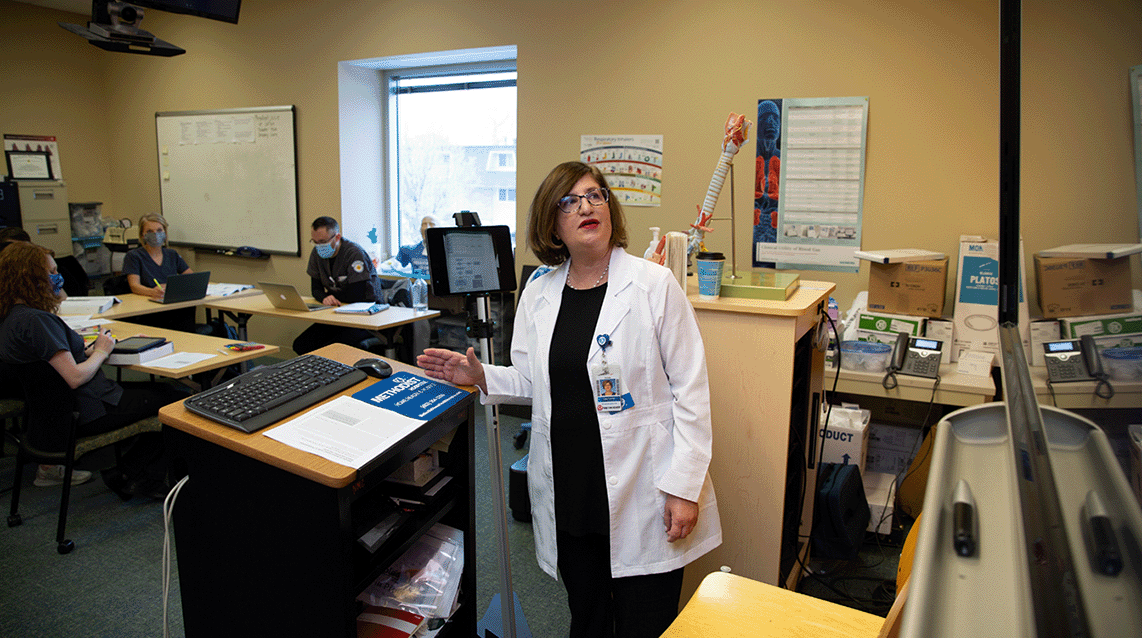 Having a healthcare career doesn't mean you have to work directly with patients. If you have an interest in healthcare and a passion for business, a healthcare management career may be for you.
According to U.S. News and World Reports, healthcare management is ranked as the best business job and the fourth-best STEM job based on the salary, job market, future growth, stress level and ability to have work/life balance.
There are also diverse job opportunities in healthcare management that range from teaching to managing a hospital.
Top Healthcare Management Careers
Healthcare manager/administrator salary ranges will vary by experience, education, level of responsibilities, location and many other variables. The U.S. The Bureau of Labor Statistics indicates that the median salary for medical and health services managers was $104,280 per year in 2020. The average job growth rate is much faster than average at 32% between 2020 and 2030.
Top healthcare management jobs include:
Health service leader - BS
Healthcare administrator - MBA
Clinic coordinator - MBA
Clinic director - MBA
Healthcare finance manager - MBA
Healthcare department manager - MBA
Quality and improvement manager - MBA
Medical practice manager - MBA
Ambulatory care manager - MBA
Assisted living manager - MBA
Wellness program administrator - MS
Wellness program director - MS
Medical fitness director - MS
Community health director - MS
College or university professor or researcher - EdD
Public health consultant - EdD
Public health policy advisor - EdD
Health and safety engineer - EdD
Online Healthcare Management Degrees
A Bachelor of Science in Healthcare Management allows students to learn business skills and healthcare knowledge to effectively manage clinical and non-clinical settings. This degree is for those aspiring to lead, with a curriculum that's focused on healthcare administration and leadership. This program is 100% online and can be completed in four years.
A Master of Business Administration in Healthcare provides graduates with the leadership and management skills they need to work at the executive level in healthcare. Courses focus on health services delivery and creating leaders who anticipate change and stand at the forefront of a new healthcare management model. The program can be completed in 24 months and is 100% online.
A Master of Science in Wellness and Health Promotion Management graduates create, manage and assess wellness initiatives in corporate, community and clinical settings. Students can choose between two tracks - worksite and community wellness or medical fitness management. The program can be completed in 21 months and is 100% online.
An Education and Leadership in Healthcare Doctorate allows students to develop expertise in transforming organizational culture through relationship building, reflection, education, organizational awareness and accountability. This online program can be completed in 24 months as a full-time student and 36 months as a part-time student.
A Doctor of Education in Public Health Policy is for those who want to be leaders who can influence change through population and public health initiatives and health policy. This online program can be completed in 24 months as a full-time student and 36 months as a part-time student.
The Healthcare Analytics Certificate consists of three non-credit online courses and teaches professionals how to identify a problem, analyze and interpret data, evaluate competing courses of action and successfully share findings.
How to Get a Healthcare Management Degree?
Whether you're ready to pursue your bachelor's, master's or doctorate in healthcare management, Nebraska Methodist College (NMC) has a program to help you succeed.
You can enroll in a healthcare management program at NMC at methodistcollege.edu/apply-now.