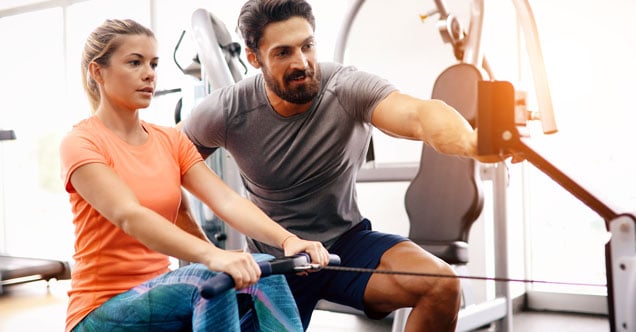 As the healthcare industry evolves, the field of Medical Fitness has become more important than ever before. The future of healthcare is prevention based. Exercise, nutrition and health and wellness coaching will all be critical components of both preventive health strategies and a widely accepted treatment to manage many chronic diseases.
Medical fitness is an individualized health risk management model designed to maximize a person's health and quality of life.
You can be among the first in the country to earn a degree specific to the emerging field of Medical Fitness and come out of it already credentialed to lead and make a difference in the world.
One of the newest programs developed by Nebraska Methodist College (NMC) is a Master of Science in Wellness and Health Promotion Management (WHPM) with a concentration in Medical Fitness Management. This is the first course of its kind in the country. The curriculum was built with input from practitioners in the field, including the Medical Fitness Association (MFA). NMC is one of the four initial charter student chapters of the MFA.
For almost 30 years, the MFA has provided fitness leaders with educational resources, networking opportunities and facility certifications. Its goal is to help produce the next generation of fitness leaders raising the bar for an entire industry.
To that end, the MFA has created two certifications for facility managers and directors. These two credentials are the only management credentials available in the fitness industry:
The Certified Fitness Facility Director (CFFD)
The Certified Medical Fitness Facility Director (CMFFD)
These new professional credential examinations (pending NCAA accreditation) are being offered at each Regional Conference, at the Medical Fitness Institute and the Annual International Conference.
Normally, to be eligible to sit for the CFFD exam, candidates must have a minimum of three years of experience in a management/leadership position, with a bachelor's degree or higher in a fitness- or business-related field, or five years of experience in a management/leadership position with a minimum of an associate's degree.
This is a potential career enhancer as the experience requirement will be waived for those who complete the WHPM Medical Fitness Management concentration at NMC.
Attaining this certification upon graduation could help you elevate your career and expedite your career path in the emerging medical fitness industry.
Additionally, you become eligible to sit for the Medical Fitness Facility Director exam once you have earned your CFFD credential. This top level credential, the CMFFD (Certified Medical Fitness Facility Director), will allow you to pursue your career in the management of fitness facilities, or medically-integrated fitness facilities.
Apply now to earn your credentials and become a leader in the Medical Fitness industry. NMC is currently accepting applications for the spring semester starting January 6, 2020. The program is 100% online and can be completed at part-time or full-time study.
For more information, contact Recruitment & Admissions Coordinator, Katie Stockdale at (402) 354-7200 or Program Director, Jeannie Hannan at (402) 354-7179.

Bob Boone, MBA, MHA, FACHE, FMFA is the President and CEO of the Medical Fitness Association. As an NMC guest blogger, he shares the benefits of pursuing a master's degree in the medical fitness field and gaining credentials available in the fitness industry.