You go to a gym several times a week. And while you may be building muscle and stamina, even shedding a few pounds, are you really changing your lifestyle, reducing your health risks or preventing disease? That is the question the medical fitness industry is working to answer.
Medical fitness is an individualized health risk management model designed to maximize a person's health and quality of life.
If medical fitness is something you're interested in learning more about, keep reading to learn more. Also, consider a Medical Fitness Management concentration within the Wellness and Health Promotion Management program at Nebraska Methodist College.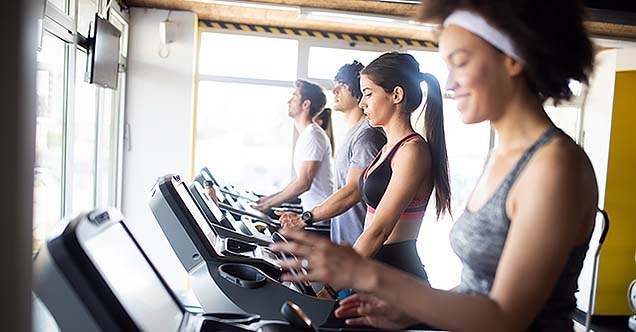 Regardless of their circumstances, everyone can benefit from actively managing their lifestyles and lowering their health risks through exercise, proper nutrition and trained support.
As the healthcare industry evolves from treating disease to promoting prevention and holistic well-being, the health and fitness industry is responding through initiatives such as the Exercise is Medicine® program and medically-based fitness programs.
Unlike your typical gyms or clubs, medical fitness centers are staffed by exercise physiologists, physical therapists or athletic trainers.
With nationally recognized, accredited certifications, medical fitness center staff pay particular attention to helping clients manage risk factors that could lead to chronic disease.
Medical fitness centers often offer classes or programs designed specifically for certain chronic conditions that are taught by staff trained in proper techniques.
The healthcare landscape in the U.S. is changing rapidly from a fee-for-service "sick care" system, toward a population-health-based, value-driven system rooted in outcomes, says Medical Fitness Association President and CEO Robert D. Boone, FACHE, FMFA.
"[This shift in healthcare] is driving a massive culture change focused on prevention, and medical fitness is in the vanguard of preventative care," he said.
It's a paradigm shift that the Medical Fitness Association has been promoting since its founding in 1991. "By positioning themselves as part of the local healthcare continuum, medical fitness facilities are evolving to play a critical role in the healthcare system of the future," says Boone.
He says the term "wellness" is often misused and misunderstood, applied to almost any aspect of health, from vaccines to preventative maintenance. "Unlike so-called 'wellness' programs, medical fitness creates personal accountability and programs tailored to individual needs," he says. "We call it population health, one person at a time."
The medical fitness model developed by the association is a pyramid. At the base is the large, "apparently well" population. Ascending from that base are the "at risk," "rising risk" and "high risk" populations.
At the peak, the high risk segment represents 3 to 5 percent of the population but, according to the Centers for Disease Control (CDC), accounts for as much as 49 percent of all healthcare costs, Boone says.
"Medical fitness focuses on the next two levels down to create a firewall between the 'high risk' and the 'at risk' and 'rising risk' populations," he says. "By actively managing those lower levels of risk, we can dramatically slow the number of people reaching that top tier. Medical fitness works to identify your current risk level and help you manage down one level by adjusting your lifestyle."
Everyone knows change is difficult. "That is where healthcare coaches come in," Boone says. "They help people move to a state of physical and mental readiness where the changes they make will be lasting and impactful."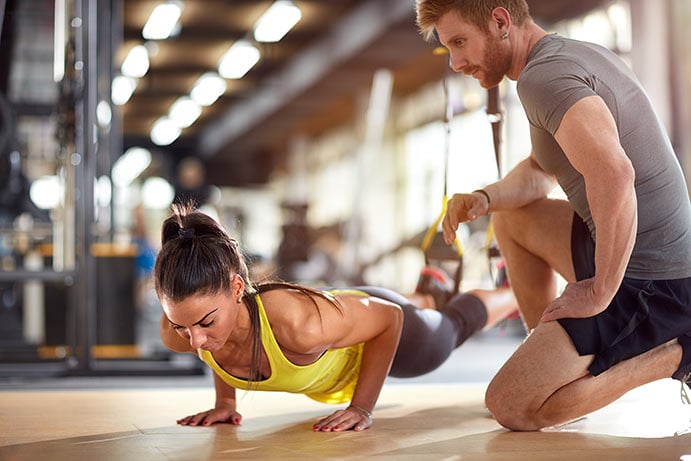 The Medical Fitness Association is a professional membership organization whose mission is to foster opportunities for the development and operational success of medically integrated fitness centers. The association provides industry standards, educational programs, benchmarks, outcome measurements, professional development and networking opportunities for the medical fitness industry.
NMC has entered into a unique partnership with the association that enables students who complete the Medical Fitness Management concentration of the Wellness & Health Promotion Management (WHPM) master's degree program to sit for the association's Certified Fitness Facility Director (CFFD) exam.
Normally, to be eligible to sit for the CFFD exam, candidates must have a minimum of three years of experience in a management/leadership position, with a bachelor's degree or higher in a fitness- or business-related field, or five years of experience in a management/leadership position with a minimum of an associate's degree. However, Boone says the experience requirement will be waived for those who complete the WHPM Medical Fitness Management concentration.
The proctored CFFD exam for WHPM students will be given at Nebraska Methodist College, beginning with the fall 2019 semester, says WHPM Program Director Jeannie Hannan, PhD.
Upon successful completion of the CFFD exam, a person becomes eligible for the association's Medical Fitness Facility Director certification.
The Medical Fitness Facility Director certification builds on the base knowledge tested in the CFFD exam, and covers nine specific content areas relevant to the operation of medically integrated fitness facilities. The WHPM Medical Fitness Management concentration will prepare students in all nine of these content areas.
"The medical fitness industry has a great need for highly qualified people who understand this concept from a management perspective," Boone says. "Nebraska Methodist College students will learn these skills from the get-go, and they will come out with a broader perspective that will put them in demand."
Preventing disease is just what the doctor ordered to improve outcomes, increase quality and quantity of life, and lower healthcare costs. Medical fitness programs are working to fill that prescription.