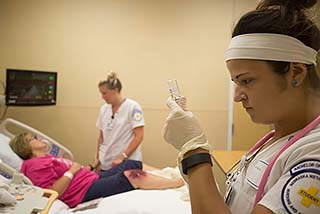 It's not just first-time freshmen who come to Nebraska Methodist College to earn their degrees in nursing. Our nursing school regularly accepts students from all walks of life, including those who have worked in another career for many years but choose a fresh start in the field of nursing.
If you've been contemplating a new career, there are many reasons why you might want to give nursing a closer look. Persons who embark on this path, especially those who do so later in life, discover fulfillment and enrichment in ways they never would have dreamed.
The following illustrates the many reasons why nursing so often proves to be the perfect fit for those persons who seek something more out of life. It's never too late to start anew, and that's especially true with an industry as dynamic and wide-ranging as this.
You Make a Real Difference
The primary reason so many people choose nursing after an initial run at a completely different career is that it offers results that are far more tangible. In many other jobs, especially those that involve cubicles, results appear on a spreadsheet. You never see the fruits of your labor, or those results you do attain don't exactly cause you joy.
"Third quarter earnings went up by 2.5% in the last fiscal year." "Yippee."
If you're in such a situation, you probably feel a bit like nothing you do matters. You're helping a company make money, but the human element is missing.
That's where nursing excels in a way that few other industries can match. As a nurse, your results aren't reflected in quarterly earnings; they're reflected in the people who get better under your care, whose quality of life is improved because they had the fortune to cross your path.
Many of our transfer students choose nursing because they can see firsthand the real difference they make to individuals and communities. It's a rewarding experience knowing that your day-to-day job helps so many people in direct, highly visible ways. You are literally in the business of saving and changing lives, and that's something that sticks with you longer than the results of most other jobs.
It's Never A Dull Moment
Do you ever feel like you're going through the motions of your position? That you've been doing something for so long that the inner workings of your job, even if they require a certain level of skill, have become mundane?
One thing you would never accuse nursing of is mundanity. Every day brings new challenges that will test your mettle. Your knowledge of healthcare will constantly come into play, as will your ability to adjust on the fly when encountering volatile situations. You will meet new people every day and those people will go through unique issues that your experience as a caregiver will train you to confront.
Some individuals might shirk from this responsibility. Nursing isn't for the meek or the faint of heart. There will be days when you feel like your emotions are on a roller coaster, when the patients you worked so hard to comfort grow more ill. But those will be exceeded by moments of triumph, by life-affirming interactions with patients that you'll remember for decades to come. You'll see the human condition in all its forms, from the highest highs to the lowest lows and those moments of grace when seemingly inevitable darkness somehow, against all odds, turns to light.
If you're ready for that kind of intensity and that level of differentiation in your job, then you have what it takes to be a nurse.
Opportunities Abound
Have you ever been job-hunting and grown depressed at the lack of available openings in your industry? Maybe job openings are few and far between, they don't seem challenging enough or they're not so much a promotion as a lateral move.
This is one more thing you absolutely won't worry about as a nurse. Nurses are in HUGE demand right now, and for good reason. Large portions of the nursing workforce are at or approaching retirement age, as is the country's population as a whole. That means that older citizens, who require healthcare services more often than persons in younger demographics, will have fewer available nurses to provide much needed care.
It's therefore a great time to be a nurse, as the chances of landing the job you want are equal to or greater than in perhaps any other time in history. Salaries are competitive and hospital systems in particularly underserved areas have created fantastic incentive programs in order to land the most skilled individuals.
Your opportunities for advancement are also immense, especially if you go back to school to earn your Master's or Doctorate degree in nursing. The nurses of today are embracing leadership roles that allow them to manage teams and have a say in the direction of care for entire hospital systems. In many states, Nurse Practitioners can practice to the full extent of their scope of practice and meet with patients directly to provide care, an issue that becomes important in rural areas and other places where physician availability is limited.
Tired of the job hunt? Nursing might be a new way forward.
School Can Go Quickly
How long it takes you to go through nursing school will largely depend on your level of education thus far. If you already have a Bachelor's or an Associate degree in another field, you may qualify to enter an Accelerated Nursing program.
At Nebraska Methodist College, Accelerated Nursing takes just 15 months to complete. Granted, that's 15 months of highly intensive coursework, but the fact remains that you can enter nursing less than a year and a half after when you started. That's a pretty quick turnaround time to enter a career you'll truly love.
We get many people who took a long time to make the decision to go back to school and end up disappointed in themselves because they've waited a full year or more to do what they knew they should have done from the start. That's one more year at a job they might hate when that year could have been spent getting an education in something they truly love.
The fast-paced nature of Accelerated Nursing school is just one more reason it might be the right move for you.
Only You Know What's Right For You
If you're unhappy in your current career, then you may already know intrinsically whether or not nursing is something that would bring you joy. As you read this blog, you either nodded your head with excitement or, let's be honest, you would have clicked the back button by now.
The drive to care for others is strong within many, but not everyone follows those instincts to the nursing profession. Those who do, however, find fulfillment in a way they never would have imagined.