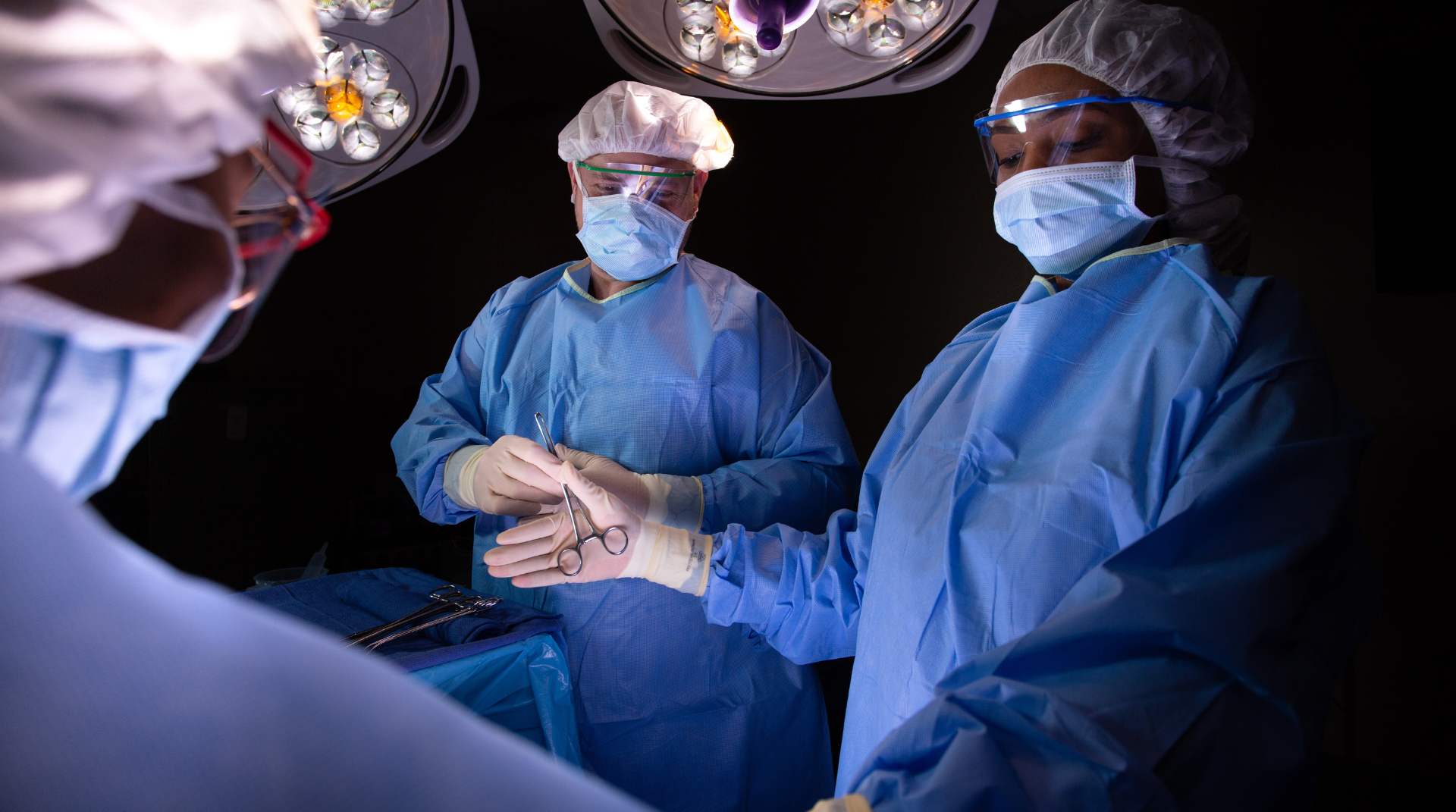 Getting an associate degree means you'll be able to jumpstart your career or begin the path to an advanced degree.
The first step to deciding whether an associate degree is right for you is considering which career field is right for you.
The Benefits of an Associate Degree
There are many rewarding and lucrative healthcare careers that require a two-year medical degree.
Gain work experience earlier
You can enroll in an associate degree program if you've earned your high school diploma or GED.
If you want to spend less time continuing your education, an associate degree allows you to complete your coursework in two to three years.
Associate-level programs don't require as many general education courses as bachelor's degree programs, allowing you to learn specialized skills more quickly.
Spend less on education
Less time in school means spending less on tuition. Because the associate degree path takes 21 to 36 months, you won't have to invest as much as you would for a four- to five-year bachelor's degree.
Have more job security
Once you've earned your associate degree, you'll have a better chance of securing employment.
The U.S. Bureau of Labor Statistics reports that the unemployment rate for people with a high school diploma was 6.2% in 2021. The unemployment rate for those with an associate degree was 4.6% in 2021.
Increases your earning potential
An associate degree also increases your chances of earning a higher income.
According to the U.S. Bureau of Labor Statistics, those with a high school diploma earned $809 per week, while associate degree holders earned $963 per week in 2021.
Start on a path to a higher degree
Getting an associate degree might be the first step in your higher education journey.
You may want to earn an associate degree to gain experience and an income before getting your bachelor's or master's degree.
The Best Healthcare Associate Degrees
Deciding which healthcare associate degree program is right for you can be a difficult decision.
Nebraska Methodist College (NMC) offers some of the highest-paying healthcare associate degrees that allow you to live a life with meaning.
Cardiovascular Sonography
A cardiovascular sonographer works with physicians diagnosing and treating disorders affecting the cardiovascular system. Using ultrasound and other technology, sonographers collect and evaluate images of the heart, the heart valves and related blood vessels.
"Sonography is a rewarding career that allows sonographers to image patient anatomy providing doctors with information assisting them with essential patient care," said Becca Bouckaert, diagnostic medical sonography program director. "At NMC, you have the opportunity to become a sonographer in cardiovascular or multispecialty ultrasound in just 21 months."
Salary ranges vary by education and experience. According to the U.S. Bureau of Labor Statistics, sonographers made a median annual salary of $75,380 in 2021. The projected job growth is 10% between 2021 and 2031.
An Associate of Science in Cardiovascular Sonography is a 21-month program.
Completing the program allows students to take the adult echocardiography and vascular technology exams administered by the American Registry of Diagnostic Medical Sonographers.
Multispecialty Sonography
Multispecialty sonographers use advanced technology to generate images used for the assessment and diagnosis of various medical conditions.
According to the U.S. Bureau of Labor Statistics, the median salary in 2021 for diagnostic medical sonographers was $77,740 per year, with a projected job growth of 15% from 2021 to 2031.
The Associate of Science in Multispecialty Sonography is a 21-month program that provides students with the knowledge and hands-on clinical training to become skilled and knowledgeable sonographers.
Throughout the program, students learn about imaging and assessment for different parts of the body. The obstetrics and gynecologic portion of the program focuses on imaging of the female reproductive system and includes examining the fetus of a pregnant woman to follow the baby's growth and development.
The abdominal portion of the curriculum involves learning the anatomy of the abdominal cavity to help diagnose and treat conditions primarily involving the aorta, gallbladder, bile ducts, kidneys, liver, pancreas and spleen. During the program, students also focus on the breast, thyroid and male reproductive system.
Graduates can take exams administered by the American Registry of Diagnostic Medical Sonographers (ARDMS).
Physical Therapist Assistant (PTA)
Physical therapist assistants follow the physical therapist's plan of care to help patients return to their maximum level of physical function after an injury or illness.
"The PTA profession is a very satisfying and rewarding career. Here at NMC, our students learn the technical components of being a PTA. More importantly, they learn communication, empathy and caring, which separates our graduates from the rest," said Shannon Struby, director of the physical therapist assistant program.
According to the U.S. Bureau of Labor Statistics, the median salary for a physical therapist assistant was $61,180 in 2021, with projected job growth of 26% between 2021 and 2031.
In 21 months, students can earn a Physical Therapist Assistant Associate of Science. Students learn to provide care specified by a physical therapist and gain experience by practicing physical therapy in a clinical setting.
Radiologic Technology
A radiologic technologist produces images of the human body used in various diagnostic procedures. Doctors rely on radiologic technologists to take accurate X-rays while maintaining a high level of sensitivity with patients. Technologists typically work in hospitals, clinics, surgery centers, orthopedic clinics, neurology clinics or diagnostic imaging centers.
"Radiologic technology is the perfect profession for those who like to mix compassionate patient care skills with the newest and greatest technology in imaging," said Kate Rollins, director of the radiography and imaging sciences programs. There is no better time to be a radiographer, as many medical facilities are currently seeking qualified imaging professionals."
According to the U.S. Bureau of Labor and Statistics, the median annual salary for radiologic technologists was $61,980 in 2021. The projected job growth for the profession is 6% between 2021 and 2031.
An Associate of Science in Radiologic Technology requires two years of college that includes, liberal arts and professional skills training. Students get hands-on experience in clinical settings to prepare them for their careers as radiologic technologists.
Graduates are eligible to take the American Registry of Radiologic Technologists exam.
Respiratory Care
Respiratory therapists use a combination of scientific standards and practices to discover, manage and prevent dysfunctions of the cardiopulmonary system.
As a respiratory therapist, you'll work with diverse patients, from children to adults. They help diagnose lung and breathing disorders, determine therapies and implement and manage ongoing care and treatment programs. Most respiratory therapists work at wellness centers, medical offices, asthma clinics, sleep disorder centers and hospitals.
According to the U.S. Bureau of Labor Statistics, the median annual salary for a respiratory therapist was $61,830 in 2021. The projected job growth is 14% between 2021 and 2031.
You can earn an Associate of Science in Respiratory Care in 24 months. The program includes the study of human physiology and the cardiopulmonary system. You'll llearn critical thinking and communication skills, patient assessment skills, disease management protocols and care plan development.
Graduates are eligible to take the Certified Respiratory Therapist (CRT) exam, which leads to an advanced practitioner exam to earn a Registered Respiratory Therapist (RRT) credential.
Surgical Technology
Surgical technologists help prepare patients for surgery, inspect and ensure surgical instruments are sterile and make certain the operating room is organized for the medical team. During surgery, they help position patients on the operating table and drape them with sterile cloths. They troubleshoot equipment and may be called upon to help clean and cauterize blood vessels or close wounds.
According to the U.S. Bureau of Labor Statistics, the median annual salary for surgical technologists was $48,510 in 2021, with projected job growth of 6% between 2021 and 2031.
Students can earn an Associate of Science in Surgical Technology in 21 months. During the program, students work one-on-one with experienced instructors to develop professional skills in patient care, surgical technology and communication. In the final semester, students take the Certified Surgical Technologist (CST) exam.
How to Get Your Associate Degree
You can schedule a personalized visit at NMC, virtually or on campus. You'll meet one-on-one with an admissions coordinator. They can answer questions you have about programs, prerequisites, financial aid and more.
If you're ready, you can apply online in as little as 10 minutes.