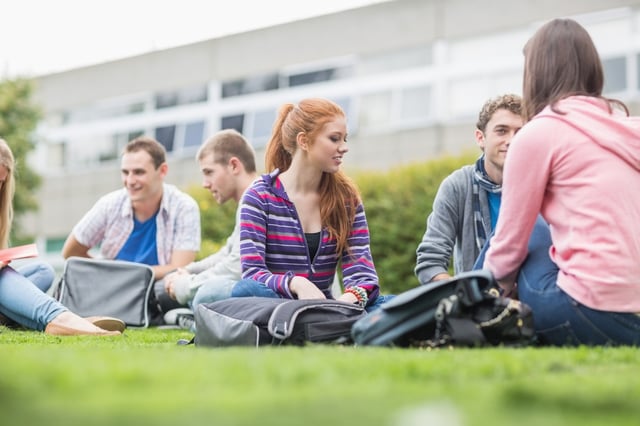 The biggest misconception about Nebraska Methodist College is that students can't go here right after graduating from high school.
You've heard it. We've heard it. It's out there.
But it's just not true.
While we do make it super easy for students to transfer in, we also know how to roll out the red carpet for first-time college students.
So let's set the record straight right now by addressing some of the myths that contribute to this misconception.
Myth 1: You have to get your pre-requisites somewhere else.
Some students think you have to go to a community college first to complete pre-requisites or general education credits. But that's not the only option.
In fact, we have everything you need at NMC to complete your degree from start to finish. Plus, our Educated Citizen core curriculum enables students to receive a well-rounded education while starting on the path to their healthcare career.
And while we're on the subject of academics, here is a list of our programs that you can enter as a true freshman:
Myth 2: You have to commute to campus.
When you picture your college experience, you see yourself walking to and from class (maybe even in your pajamas) and hosting your friends over for study groups and gab sessions.
At NMC, our fully furnished one- and two-bedroom student apartments in Josie's Village are located just a 60-second walk from campus and include free on-site laundry (no quarters required!), parking, utilities, cable and internet.
Myth 3: There are no student life activities.
We hear this a lot when people talk about why they would rather go to a public university for a couple years and then transfer. They want to have that typical college experience they see on TV and in movies.
We get it. That social aspect of college can really make or break your experience. But guess what? You can have that here, too.
NMC offers a variety of student organizations that plan a number of fun events throughout the school year.
In addition, our students spend thousands of hours each year volunteering in the community to help others while also creating a bond with their fellow students that can last a lifetime.
What's more, the NMC campus offers everything you need to recharge and relax.
Grab some coffee or a much-needed snack from Deja Brew - our coffee shop/convenience store/snack bar.
Relax by the Josie's Village pool (open to all students). Take a rejuvenating lap around the walking trail. Jump into a sand volleyball game.
Or take advantage of our campus location and enjoy the slew of entertainment options in this bustling section of Omaha.
Whew! Don't you feel better now that we've busted some myths together? I know I do.
And now that you know the truth, there's no reason you couldn't be living your healthcare education dream this time next year.
Take the first step by registering for our upcoming Preview Day or scheduling your own personalized campus visit.