Nebraska Methodist College is constantly trying to improve methods of education to provide a better experience for students. An old model of doing things might work, but every once in awhile, you want to revisit that model to see if there's any possible way to change things for the better.
That's where the Dedicated Education Unit comes in. The result of a partnership between nursing faculty at NMC and the leadership at Methodist Hospital, the DEU seeks to upend expectations of what a clinical rotation means to nursing students.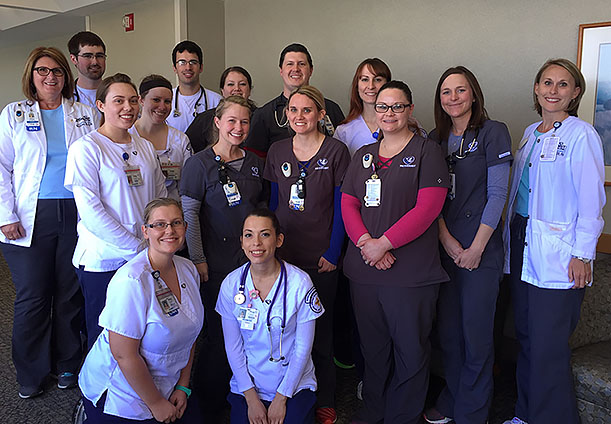 From Left to Right: Dr. Marla Kniewel, Ryan Mahoney, Holly Kramer, Kristina Gentleman, Nicole Cox, Logan Barnes, Kathryn Anderson, Danielle Ostrowski, Alyssa Martinez, Danielle Ostrowski, Blake Smith, Lori Kean, Sarah Marang, Katie Holtz, Caitlin Skow, Nellie Johnson
Rather than the standard clinical experience, where a group of students might be working with a number of different persons over the course of a few hours, the DEU seeks to foster more of a connection between theory and practice, resulting in better outcomes for their patients. Two students are assigned to a single Staff Instructor, a unit nurse who is mentored by NMC nursing faculty in order to help develop his or her role as a bedside teacher. The NMC faculty also focuses on critical thinking and clinical judgment with students.
Because a typical day for a nurse involves a 12-hour shift, that's precisely what nursing students in the DEU get to experience. They're right next to their Staff Instructor for the majority of the day, learning the technical aspects of their work but receiving perhaps an even more important education on how to interact with patients in a way that demonstrates the meaning of care.
Nursing students have learned the AIDET model in the classroom, but this gives them a chance to put it into action in the real world while still balancing the many responsibilities of a healthcare professional.
The DEU began in Methodist Hospital's Progressive Care Unit this past January. Many individuals were instrumental in the development and execution of this model, including Dr. Marla Kniewel, Nellie Johnson, Jan Morgan, Amy Brasel, and Karen Tesina. Special thanks must also to go to the dedicated staff instructors without whom the program wouldn't be possible: Lori Kean, Caitlin Skow, Blake Smith, Danielle Ostrowski, Kathryn Anderson, Kalie Holtz, and Bev Storm.
Feedback from both instructors and students has been overwhelmingly positive. Students appreciated the chance to balance admissions, discharges, postoperative care and patient interaction within a real-world nursing environment, while the staff of the PCU praised the students' individual growth and appreciated the continuity afforded by having those same students in a single position for weeks at a time.
Everyone involved in the Dedicated Education Model should be commended for their accomplishments. By implementing such teaching methods, the nurses of tomorrow can make a big difference in the lives of their patients.