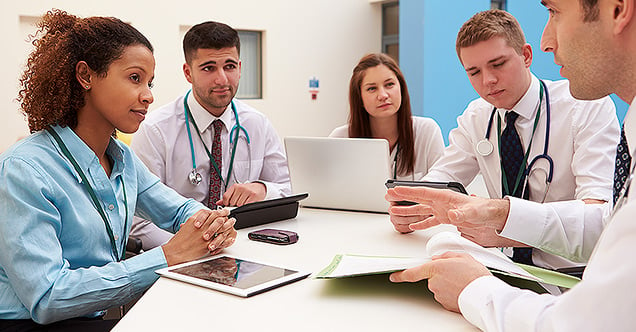 Nebraska Methodist College (NMC) is offering another Doctor of Education (EdD) track.
The Doctor of Education in Public Health Policy is the newest non-nursing doctorate offered by the college. It has the same benefits of the other EdD degree - online courses, sensible timeframe, no dissertation - but this one focuses on public health policy.
"The EdD in Public Health Policy program really looks at leadership and program planning to address public and population health issues. It also provides students with the skillset to advocate in a policy arena at a local, state, regional or national level," said Dr. Alice Kindschuh, DNP, APRN-CNS, GCNS-BC, director of doctoral studies.
Online Program Format
The 44-credit hour program format consists of online courses along with two on-campus intensives. It can be completed in 2 years at full-time study or 3 years at part-time study.
Because the majority of the program is online, it allows for students to have flexibility to complete coursework when it works best for their schedules.
Ditching the Dissertation for a Capstone Project
Unique to NMC, the Doctor of Education offers a scholarly translational research capstone project as opposed to a dissertation.
According to Online EdD Programs' website, as the capstone project is a recent and innovative development in EdD programs, this option is currently only offered by a relatively small number of programs.
So what's the difference between a doctoral capstone and dissertation?
"While a dissertation is original research with a goal to generate new knowledge, the doctoral capstone is translational research which 'translates' the research into practice through quality improvement or evidence-based practiced initiatives," said Dr. Kari Wade, EdD, MSN, RN, associate professor at NMC.
Public Health Issues + Health Policy
The goal of the program is to facilitate leaders who can influence change through population and public health initiatives and health policy.
True to NMC's mission, graduates will take on leadership roles to positively influence the health and wellbeing of a community.
Dr. Kindschuh added, "[The program] allows individuals to play a role in addressing the health of their community at the population level. For healthcare to be effective, we can't wait to have people come to our healthcare systems; we have to go where people are. The Public Health Policy program gives individuals the skillset to develop population health initiatives where people live, work and play."
Many Career Paths Available
Those with a Doctor of Education in Public Health Policy will find a host of career opportunities available to them. With an EdD, you can work in academic, community or healthcare settings, influencing change in any of these arenas.
Potential career paths include:
Higher education
Public health education or program specialists
Operations management or executive directors of public health non-profits
Health system leaders in population health initiatives
Health policy advisors
Public health consultants
Program Accreditation
The EdD program has earned accreditation by the Higher Learning Commission (HLC). For information about the accreditation, please visit www.hlcommission.org.
Next Steps
To gain admittance, applicants must have a master's degree from a regionally accredited institution, along with a master's degree GPA greater than 3.0 on a 4.0 scale. No GRE is required for admission. More about the program admissions criteria and application process can be found here.
Applications to enter the program in fall 2020 are currently being accepted on a rolling basis. To learn more about the program, interested students can contact the NMC Admissions team at (402) 354-7200 or admissions@methodistcollege.edu.