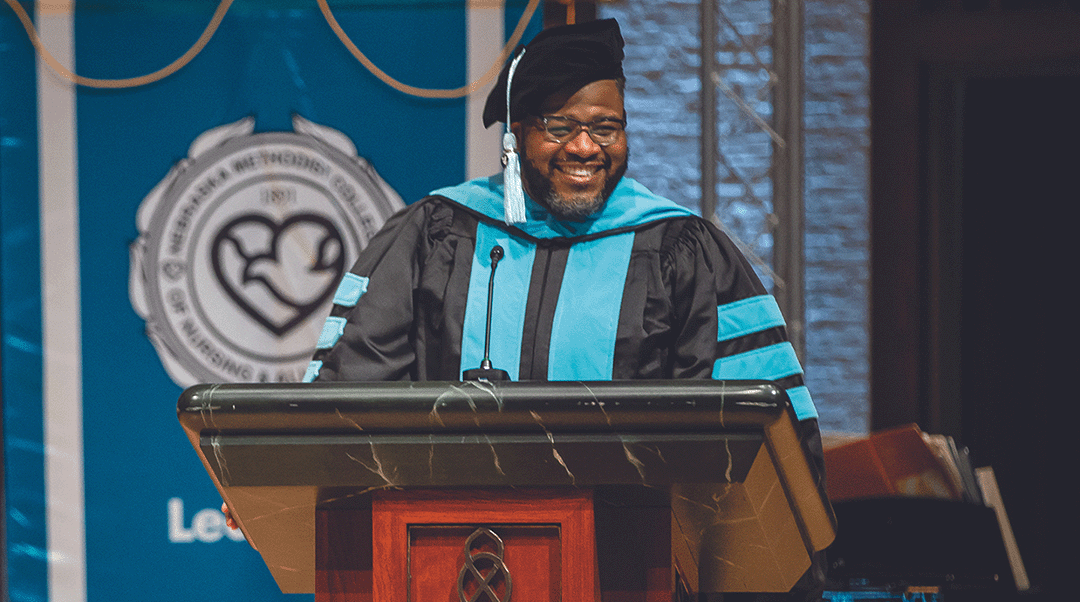 There's nothing that says leader quite like the title, doctor.
A Doctor of Education (EdD) can open up leadership opportunities, advance your career and boost your salary.
"An EdD provides a competitive advantage in attaining leadership roles in healthcare, community-based and private organizations, and education," said Dr. Alice Kindschuh, director of doctoral studies at Nebraska Methodist College (NMC).
"It also demonstrates a commitment to your profession to employers and strengthens your skill-set as an innovative change agent."
Jobs You Can Get with a Doctor of Education
Education and Leadership in Healthcare Doctorate
College or university professor
College or university researcher
College or university program director
Healthcare college or university administrator
Salaries for healthcare education administrators vary widely in the U.S. They are based on many factors including, geography, job description, specialty and experience. According to the U.S. Bureau of Labor Statistics, the median salary for postsecondary education administrators is $97,500 per year. The average projected job growth is 8% through 2030.
Doctor of Education in Public Health Policy
Public health consultant
Health policy advisor
Public health policy administrator
Health and safety engineer
Public health education or program specialist
Manager or executive director of public health non-profit
Health system administrator in population health initiatives
With an EdD in public health policy, you can work in academic, community or healthcare settings. The average yearly salary for public health administrators ranged between $60,093 and $77,302 in 2021, according to salary.com. Salary ranges depend on education, certifications, experience and location.
What You Need to Know About Getting a Doctor of Education
You can get a Doctor of Education in Education and Leadership in Healthcare or Public Health Policy at NMC.
An EdD in Education and Leadership in Healthcare allows you to develop expertise in transforming organizational culture. You'll hone your relationship-building skills, reflection, education, organizational awareness and accountability.
This program track has an institutional focus that provides expertise to work as leaders in academic and healthcare settings.
An EdD in Public Health Policy will allow you to influence change through population and public health initiatives and health policy. This program enhances your skill set so that you can positively influence public health, program development and higher education at a systems level.
"The EdD in Public Health Policy program really looks at leadership and program planning to address public and population health issues. It also provides students with the skill set to advocate in a policy arena at a local, state, regional or national level," Kindschuh said.
You can accelerate your career quickly while balancing your personal and professional life with both program tracks. In addition, they can be completed in as few as 24 months, and have part-time and full-time study options.
At NMC, the arduous dissertation process is streamlined into the widely accepted scholarly practice project. NMC's scholarly doctoral project requires students to address an education or practice issue with innovation or change through effective application of the program's theories and concepts.
Both programs are accredited by the Higher Learning Commission (HLC).
NMC Alumni Share Their EdD Experiences
Josey Harris, Education and Leadership in Healthcare
"The EdD program is very well designed, which facilitated my ability to manage the competing priorities of my home life, my career and my schooling simultaneously.
Larger assignments in one course are balanced by having smaller assignments in your other courses, which helps to minimize feelings of being overwhelmed.
In addition, the one-week break after every five weeks of class is a lifesaver. It allowed me to decompress a little and start back refreshed every time!"
Lacey Petersen, Education and Leadership in Healthcare
"The NMC faculty are truly some of the most diverse, compassionate and educated individuals that I have ever been blessed to meet. I am humbled by the variety of backgrounds, level of experience, and expertise that my professors at NMC had.
I will forever be grateful how they shared this knowledge with us as they facilitated our education. I am most definitely a more well-rounded individual for the insight and perspectives that they shared with us throughout this program.
From the first day to the last day, I was always made to feel cared for, important, and valued as a student!"
Derrick Traylor, Education and Leadership in Healthcare
"Nebraska Methodist College is one of the nation's best-kept secrets. It is the place where you can breathe the rare air of academic excellence with the grace and compassion of the human heart.
This school has been a treasure to find, complete with a world-class faculty and staff that exhibits the consistent thread of grace and compassion with professionalism that I have come to appreciate."
Ans Irfan, Education and Leadership in Healthcare
"My EdD allowed me to expand my work portfolio competently to include things I am deeply passionate about. Including developing and changing organizations to be anti-racist and transforming public health higher education institutions to be agents of social change.
In a nutshell, EdD helped me execute my passion for global health equity in a more structured and well-informed way."
How to Apply to Get Your EdD
The online application process for graduate students takes about 10 minutes. After submitting your application, complete a written statement, fill out a program/career awareness questionnaire and submit your resume. Your official college transcripts can be sent to admissions@methodistcollege.edu.
Visit the program webpage to review specific application requirements for your program of interest.
You can explore graduate school financial aid opportunities such as employer tuition assistance, scholarships, work study and loans.
If you have questions, reach out to an admissions coordinator at (402) 354-7200 or admissions@methodistcollege.edu.