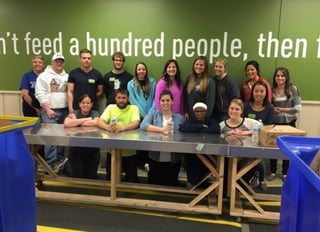 Recently, we shared word of Nebraska Methodist College students traveling to Laredo, Texas to help out Habitat for Humanity and make a difference to the people of that community.
But the students of NMC also do plenty of good work right here. Our Immersion experiences are dedicated to showing future healthcare workers how they can make a difference anywhere, and sometimes that means doing things a little closer to home.
A class of students actually just finished up their own Immersion trip in Omaha. And while they didn't board a plane to do so, their work still showcases the kind of dedication that our students bring to their professions no matter the locale.
Food For Thought
This particular Immersion experience was dedicated to sustainability in all its forms.
Most people would be shocked to learn how much of the population of Omaha and the surrounding area struggles to provide food for themselves and their children. And when food is provided, it usually comes in a form that lacks proper nutritional value.
To demonstrate this difficulty, instructors tasked NMC students with visiting local grocery stores and purchasing food with the budget allotted by the Supplemental Nutritional Assistance Program, or SNAP. How much is that? It equates to $127.50 for 21 meals for a family of four.
When forced to stay within that budget, students had to carefully weigh their options about what to buy. What they found was that, although it was technically possible to purchase groceries at these prices, it was nearly impossible to find meals that would be considered healthy, particularly for children. NMC students were forced to purchase frozen meals that were high in sodium and lacked the fresh ingredients that are the cornerstone of a healthy meal.
Taking Action
This eye-opening dilemma set the stage for the students' next experience in the community. They learned about a program called Saving Grace, which is dedicated to redistributing food that otherwise might go to waste.
Here's how it works: thanks to a partnership with a variety or restaurants and other food organizations around the area, Saving Grace is able to take unsold but still safe-to-eat food out into the community. Let's say a restaurant or grocer has leftover perishable goods at the end of the day. Rather than just tossing everything away, Saving Grace can come in, take the food off their hands and give it to groups that will serve those in need.
After learning about this incredible organization, students then volunteered at the Food Bank for the Heartland. Their time was spent packaging backpacks with nutritious food items. The idea behind this backpack program is that a child can use the items (milk, cereal, entrees, etc.) to supplement their normal food intake over the weekend. That way, when they get back to school on Monday, they won't be hungry.
The students had a great time getting hands-on with the backpack program. While the number of backpacks filled on the first day was average, they came back the next morning ready to roll. As a result of their determination, they beat their previous day's record handily, putting together 1,700 backpacks in just a couple hours.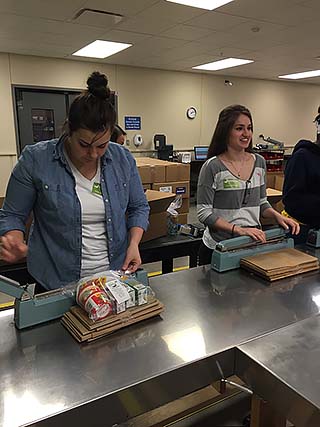 Many Ways to Help
The students also learned a little more about various projects within the community that are helping out individuals in ways big and small.
At Table Grace Café, students got a peek at a system where you're served lunch and pay what you feel is fair. Where this really aids the community is that you don't necessarily have to pay if you don't have the money to do so. Instead, you can volunteer your time to the kitchen, letting your payment be the act of serving others.
An organization called Together was the next stop. In addition to providing a fully stocked pantry for those in need, Together prides itself on offering assistance that fits each individual's unique circumstances. NMC students got to see how this group's setup allows them to provide things like rent assistance, transportation services, education and more. Rather than just tackling one huge issue at the community level, Together actually helps the individual with whatever he or she may need a hand with.
More Than Just A Garden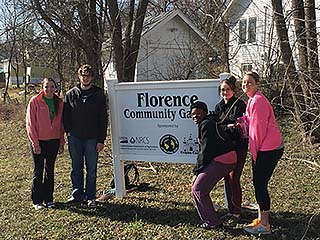 The final day of the Immersion experience in Omaha was all about gardening. Students learned about and even got to visit one of three community gardens throughout the area.
In the process, the idea of sustainability was hammered home even further. Students learned about each organization's mission even as they pitched in to make the gardens the best they could be.
At No More Empty Pots, the approach is all about food education as persons in the Florence community are invited to learn about the value of sustainability by working in a garden. The Omaha Opportunities Industrialization Center uses its garden as a therapeutic service. And the City Sprouts community garden promotes diversity and food sustainability in an urban environment.
Students left these gardening experiences more fully understanding not just sustainability but how that very sustainability can be used to spark intelligent, wide-ranging discussions and help a community in ways that may not have been initially foreseen.
There and Back Again
At the end of the week, students came away knowing far more about the state of food sustainability in Nebraska than when they began. This is something that you can never fully comprehend unless you've directly experienced the problems facing a community and witnessed the hard work of those persons dedicated to solving these challenges.
Thank you to every student who pitched in to help those who help others. The college is truly grateful to have representatives like you out in the world.