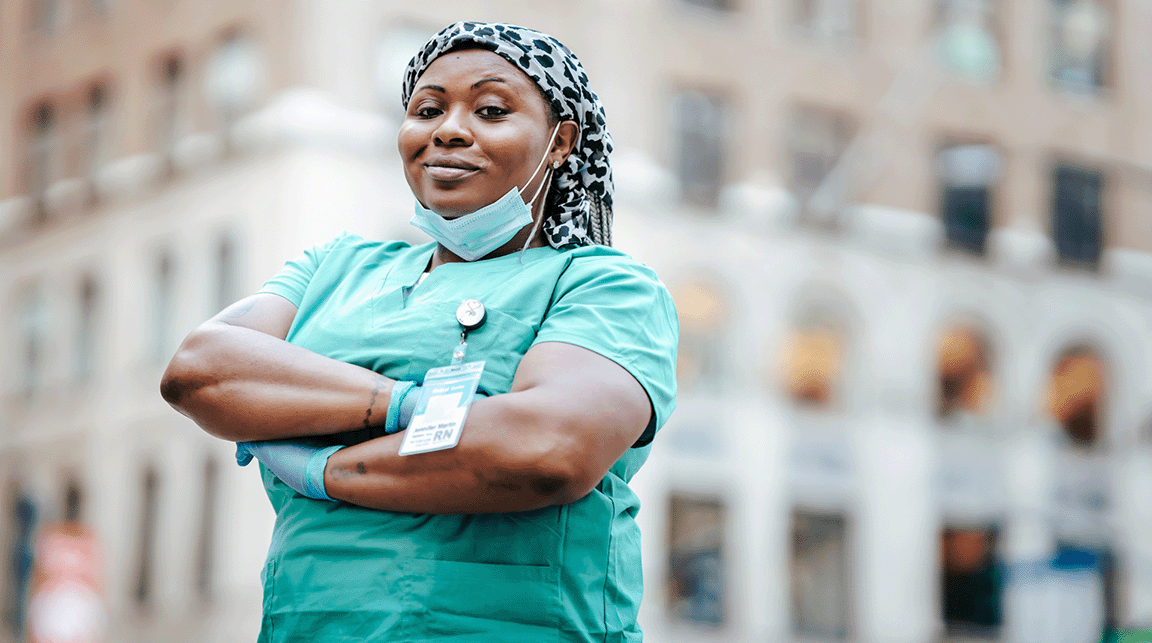 Choosing a career in healthcare during a global pandemic may feel daunting. But a high-quality healthcare education program will prepare you to work on the front line or whatever area you choose.
The COVID-19 pandemic has reaffirmed the importance of healthcare workers and created a higher demand for skilled and compassionate providers.
Nebraska Methodist College (NMC) is preparing students to enter the healthcare field as competent and caring nurses and allied health professionals. The holistic culture of caring makes the healthcare education you receive at NMC unique, and it gives you the necessary skill set to go to work in a pandemic.
"If being a nurse or any other healthcare provider is what your heart says, you have to do that now. Be true to yourself. We're here to help you, guide you and make that calling come true," said Dr. Tara Whitmire, NMC Bachelor of Science in Nursing-Doctor of Nursing Practice Program (BSN-DNP) director and nurse practitioner.
Population-Based Education
The skills, knowledge and experience NMC students receive helps prepare them for the challenging situations they may face working on the front line or working in any healthcare setting during the pandemic.
Population health education means students learn how to provide the best care for a diverse population of patients and decrease disparities in care.
Understanding the many social determinants of health helps prepare students to provide care in various settings and to patients with many backgrounds.
NMC's population health education lets students learn in healthcare settings, including hospitals, clinics, community outreach, hospice, pediatric units and more.
NMC nursing students begin with science classes and basic nursing classes. Then, each semester, they build on those skills through a variety of clinical experiences. In the final semester, nursing students complete a preceptorship, working in an area of interest.
Compassion and Caring
Compassion and caring have always been part of the NMC curriculum, but the pandemic has made those skills even more important for healthcare students.
"Our curriculum is holistic, which means we train our nursing students to take care of the person's mind, body and spirit. Compassion is embedded in that philosophy," said Dr. Susie Ward, NMC dean of nursing.
"We're teaching competent, skilled and compassionate nurses. Our graduates are very sought after by employers because they have all of the technical skills, and they're very compassionate."
Practicing and Teaching Self-Care
Teaching compassion goes beyond the patient at NMC and to students themselves. Students learn that a career taking care of others means extending that same care to themselves.
"When we teach compassion, we teach self-care. We give students the skill set to have compassion and take care of themselves in the workplace," Ward said.
Many faculty are also practicing healthcare workers, giving them a unique perspective on practicing self-care to combat the effects of working in a pandemic.
Dr. Hilary Applequist, NMC associate professor and palliative care nurse practitioner, has prioritized self-care throughout her 20-year nursing career. Still she found herself struggling to make space for those practices during the pandemic.
"As a palliative care nurse practitioner, I've been involved with death for a long time. That's not new to me. Not having worked in infectious disease, I hadn't had the experience of seeing people die as quickly as they do from COVID. That's hard to see. To see a nurse holding a patient's hand as they die because the family can't be there, that's hard," Applequist said.
She's utilized counseling, practicing gratitude, refocusing her energy on caring for her colleagues and reminding herself why she chose her nursing career.
"We're invited into the most personal and meaningful places in people's lives, and that's a privilege," Applequist said. "That was the reason I became a nurse."
Whitmire said she's been more intentional about finding ways to "fill her cup," like cross stitching, reading and going for walks.
Both Whitmire and Applequist have taken their experiences into their classes.
"It's important to show that we're human and for us to be vulnerable," Whitmire said. "Telling my students how I'm handling things resonates with them."
Whitmire said faculty are more intentional about checking in with students, especially graduate students currently working in healthcare.
"We're much more upfront about encouraging students to take care of themselves," Applequist said. "We recognize that being in grad school is challenging to begin with and even harder when there's a pandemic going on."
Healthcare Career Coaching
The demand for healthcare workers has increased, in part, because of the pandemic. As a result, The healthcare industry will experience more job growth than any other sector in the next 10 years, according to the U.S. Bureau of Labor Statistics.
"There's such a need for healthcare," said Whitmire. "The pandemic cracked open many areas of need. We need to focus on prevention. We need to continue to work to keep people healthy. We need new people with new ideas on what a new healthcare model looks like. We also need people who have experience and historical knowledge for their guidance and expertise. It's still a rewarding job that allows you to make a difference in somebody's life."
NMC offers one-on-one job coaching to help students with job placement. Students receive support finding jobs whether they want to work in critical care or settings like healthcare clinics, rehabilitation centers, surgical centers, long-term care facilities, aesthetic clinics, obstetric and gynecological clinics, schools or insurance companies.
Andrew Skarka, director of career and financial wellness in the Institutional Effectiveness Department, helps students write resumes and cover letters and provides guidance for interviews.
You can contact Skarka at andrew.skarka@methodistcollege.edu.
How to Apply to Nebraska Methodist College
You can schedule a personalized visit at NMC, virtually or on campus. You'll meet one-on-one with an admissions coordinator and ask any questions you may have.
If you're ready, you can apply online in as little as 10 minutes.