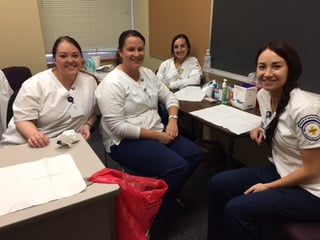 We previously covered the incredible lead testing efforts being undertaken by Nebraska Methodist College and its students. That work continued this week in a big way.
This past Monday, NMC partnered with an array of organizations throughout the community to bring lead poisoning awareness to the forefront of conversation in Omaha and, hopefully, throughout the country as a whole.
The Lead-Free in Five campaign from the Omaha Healthy Kids Alliance kicked off on Monday, and it seeks to draw more attention to the plight of those parts of the city affected by hazardous levels of lead. Children who suffer from lead poisoning may deal with the fallout for their entire lives, and NMC and its community partners like the OHKA want to make sure the issue is caught early and dealt with swiftly.
That's why, for Lead Free in Five and Lead Poisoning Prevention Week, numerous events were held that seek to strength community partnerships and put an end to this surprisingly little-known source of pain in the community.
Press Conference Marks the Beginning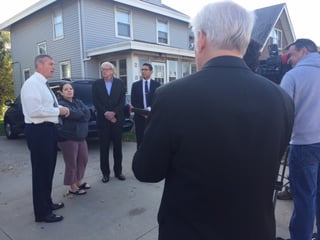 The day of festivities began with a press conference featuring none other than Congressman Brad Ashford. He was flanked by a mother whose home has benefitted from lead removal services and Steve Zivny, Omaha city planner and the person responsible for organizing those efforts.
Her home was among the many that have tested positive for heightened levels of lead. Following such tests, Omaha, Douglas County, and OHKA stepped up to provide the fixes necessary to curtail the threat of dangerous lead exposure from the home.
A Meal for a Cause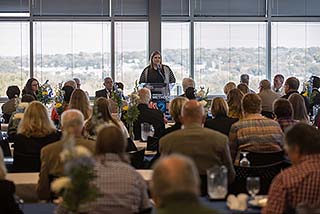 Later in the day, Nebraska Methodist College was proud to host a luncheon that featured multiple speakers detailing the need for more awareness of the lead dangers in the community.
Around 100 people gathered to listen to persons from across Omaha and even at the national level discuss the work that's ongoing and the challenges we still have left to confront.
Dr. Dennis Joslin, president and CEO of Nebraska Methodist College, began the event by offering opening remarks and welcoming Shannon Steinbauer, MPH, BSN, RN, Special Assistant to the Director at United States Housing and Urban Development. As a representative of the Office of Lead Hazard Control and Healthy Homes, she has a unique position with which to speak about this important topic.
She was followed by Mike Battershell and Kara Eastman, Board Chair and President/CEO of the OHKA, respectively, who called upon everyone to do more to help spread the word and get lead out of our communities once and for all. They were followed by Dr. Larry Figgs, Environmental Health Division Chief for Douglas County, who praised the contributions of his department to address this serious health concern, and Steve Zivny, who talked about the difference lead removal services can make to families in need.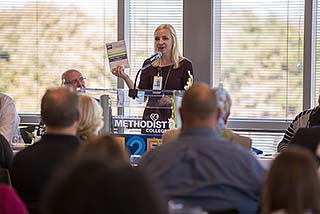 Finally, Echo Perlman, MSN, RN, Assistant Professor at NMC, took the stage to discuss the ongoing efforts being conducted by our very own institution. She discussed how faculty have supervised nursing student clinical experiences since last spring, going out into the community to provide blood lead screening services to Head Start children in the public schools and community health fairs.
Thanks to their efforts, children are getting the screenings that they would otherwise never receive with limited access to healthcare and financial resources, and those who test positive are being provided with a bridge to get help for themselves and for their homes.
A Celebration
The day culminated with a celebration of sorts, as Sherman Elementary became the site of a block party for families of nearby school districts.
The Mobile Diabetes Center was there to offer the usual screening services at no cost to participants, but that wasn't the only place you could spot an NMC student. Our nursing students could be found inside and outside the school, offering Hula Hoop lessons, a variety of fun games, free meals and, of course, blood lead screening.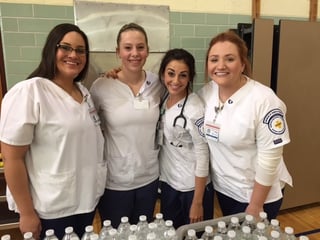 They were aided in their efforts by multiple community organizations that stepped up to the plate for this educational and fun experience. Nebraskans for Civic Reform, who sponsored the entire event, was there, and they were joined by OHKA and more.
It was a fantastic way to cap off a day of activity.
This Is Only The Beginning
Our hope is that this is just the start of the many initiatives that will be put forth to end the threat of lead poisoning in Omaha.
Unfortunately, many persons think this is an issue that has been resolved. That is simply not the case, and you don't have to look as far as areas like Flint, Michigan for proof. Lead contamination is something that is literally happening in our own backyard. It will take hard work and dedication to combat the threat, but we've seen how the people of Omaha are up to the task.
Thank you to everyone who made this kickoff to Lead Poisoning Prevention Week the best that it could be. We ask that you continue to spread the word and help to remove this danger from our community.