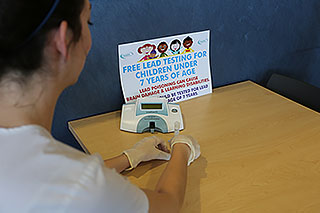 The Center for Health Partnerships (CfHP) branch of Nebraska Methodist College is always on the lookout for ways to improve the health status of members of the community.
Recently, the CfHP developed a program that aims to fill a crucial gap in healthcare access and education in a large portion of the Omaha metro area. Lead poisoning continues to threaten children and families in their own backyards, but for years, there hasn't been an organization that has gone out into the community to offer testing services to kids in need.
That all changed over the past couple months. We're proud to announce that, through a partnership with the Douglas County Health Department, Nebraska Methodist College will now operate eastern Nebraska's only mobile lead testing unit.
Our nursing students, led by instructors Echo Perlman, Kim Hall, and Jodi Jenson-Bassett, will be visiting schools and community events in Northeast Omaha to provide critical testing services to children, connecting those in danger with the resources they'll need to address the problem.
Here's how this important community service came about, and why it's playing an essential role in public health in Omaha.
Superfund Site
Many people may not realize that Eastern Omaha was designated as a Superfund site by the Environmental Protection Agency because of the heightened levels of lead present in the soil.
The lead is the result of two properties that used to be involved in the lead industry. Most notably, the ASARCO Lead Refinery pumped lead particulates into the air along the banks of the Missouri River. For more than 125 years, that lead was deposited across Omaha by shifting winds, settling as far West as 52nd Street and contaminating the soil with unsafe levels for years to come.
Since that time, much progress has been made. Cleanup has occurred throughout the region, but not all at-risk homes have gotten necessary lead removal services. This article from Omaha.com outlines the recent history of lead testing and how the city of Omaha has taken over where the EPA's cleanup efforts left off.
Where We Currently Stand
The Douglas County Health Department currently has a nine-person team dedicated to spreading awareness of and preventing lead contamination.
This effort is made more difficult than you might expect for a variety of reasons. For starters, the soil removal process is not 100% effective. To clean up contaminated soil, you have to remove all of it, which means going deep enough on a property to ensure the presence of lead is completely nonexistent. If the job isn't carried out sufficiently, lead poisoning can still occur.
If it were just soil we had to worry about, the problem would be more manageable. But lead is also contained within older pipes and paint that had been in use for decades. Older homes have walls that could be covered with lead paint, and applying a coat of unleaded paint doesn't solve the issue. You typically have to completely get rid of the old pipes and paint, and that can be an arduous process.
Kids are particularly at risk because they have the most tendency to play outside or run their hands along walls and eventually ingest the small particulates that have accumulated on their fingers. Lead has been shown to lead to learning impairment, hyperactivity, aggression and other issues, so it's important to address the problem early on so as to attempt to avert the most serious consequences that can occur.
A Lack of Testing Remedied
Up until now, the lead education and testing process relied on persons within the community coming forward to get tests or to apply for assistance through funding from the EPA. In recent years, no one has really been able to meet the community where they are in order to make the process as easy as possible to keep kids safe.
That all changed in March, when Nebraska Methodist College's Center for Health Partnerships got together with the Douglas County Health Department for this joint initiative. Over the next 15 months, the CfHP's goal is to test 700 at-risk children for lead, with the Omaha Public Schools Head Start program providing an important avenue to facilitate testing in schools.
This kind of testing was never covered by the EPA's funding, leaving one critical piece of the puzzle completely missing. Tests on children are simple; with just a finger prick and subsequent analysis, our team will be able to tell if a child is suffering from elevated lead levels.
Nebraska state statute requires that all lead tests be reported to the Douglas County Health Department, which will contact the affected family and, if applicable, the landlord, to initiate services that will identify and subsequently remove the contamination threat from a child's environment. That means testing the soil, paint and pipes of a home or play environment and, if lead is proven to be present, taking actions that will remove that lead with zero cost to the family in question.
A Safer Community
Because of this project, families that haven't had the chance to obtain this kind of testing will get the healthcare services they need to improve the lives of their children.
The lead testing team will work diligently over the course of the coming year to identify at-risk kids in those communities that are in the most danger. We could not be prouder of this group, which exemplifies the compassion that Nebraska Methodist College strives to encourage within each and every student, both inside and outside of clinical settings.
Lead poisoning is a serious issue, but with a community-based care plan in place, our nursing students will be able to make a positive influence on children's health.