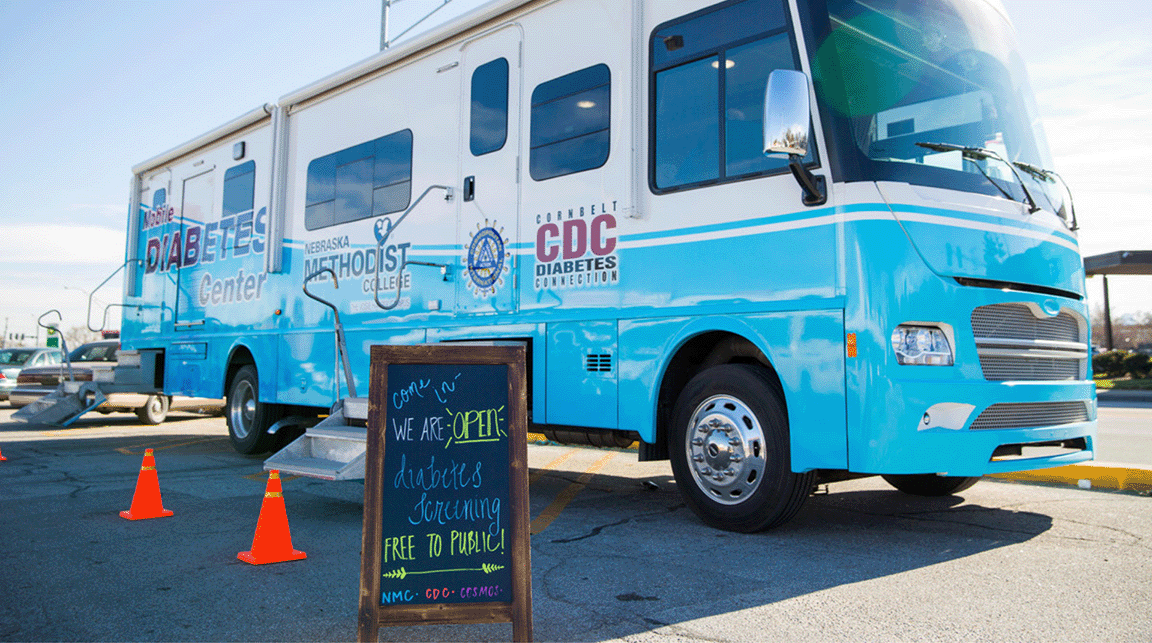 Nebraska Methodist College (NMC) is helping local businesses provide preventative healthcare to their employees with its Mobile Business Health program.
Using NMC's Mobile Diabetes Center (MDC), employees receive wellness screenings at their job site.
The MDC began providing diabetes-related health screenings in rural and urban communities in 2011. Its mission is to provide preventative screenings for those in underserved communities, specifically those who are uninsured, under-insured or have barriers in accessing preventive screenings.
The program also provides NMC students, faculty and alumni with an opportunity to address diabetes health issues.
"Mobile Business Health was designed with both the employer and employee in mind. We all know how hard getting away from work can be for a visit to the doctor, especially when it isn't because you are acutely ill," said Jillian Krumbach, NMC's chief student and community engagement officer.
"We also know what a workforce with employees suffering from preventable, chronic diseases can do to a company. With the success of the Mobile Diabetes Center, we knew the next direction was to engage employees and employers in wellness screenings on-site to improve employee health, wellness and, ultimately, the company's bottom line. Convenience matters today, and healthcare is no different."
The screenings, which take about 10 minutes per employee, include blood pressure, blood glucose, cholesterol and A1C levels. Employees receive a card with a risk assessment score, which predicts the likelihood of developing pre-diabetes or diabetes.
Those who have abnormal screening results or are at a high risk of developing diabetes are referred to a healthcare provider.
Employers receive aggregate data to help guide company wellness planning.
"It emphasizes the importance of prevention," said Kiley Petersmith, NMC director of community engagement. "It improves the point of access to healthcare. I'm a firm believer that we should be in the places that people frequent. That's why we've had success with the mobile unit."
NMC has provided wellness screenings at Shared Service Systems, a distribution service for medical and surgical supplies, and at Tyson Foods in Council Bluffs, Iowa.
"Not everyone has the same access to healthcare, especially those who can't go to a clinic between 8 a.m. and 5 p.m.," said Petersmith.
Siobhan McMullen, medical support at Tyson Foods in Council Bluffs, said the Mobile Business Health program helps their employees have better access to valuable health screenings.
"We want to provide our team members with better knowledge about their health," she said.
Tyson Foods is a multinational, protein-focused food production company. Both Shared Services and Tyson Foods have employees that work a variety of shifts. The mobile unit allows first, second and third shift employees to receive preventative healthcare.
McMullen said Tyson Foods has diverse employees, and some don't feel comfortable going to a healthcare clinic or don't have access to preventative screenings.
"Our employees trust us," she said. "Being on-site allows them to get the care that they aren't getting."
Tyson Foods employees will receive four screenings over a year. The screenings are paid for by their employer and offered for free to employees.
For more information on the Mobile Business health program, contact mobile.diabetescenter@methodistcollege.edu or go to www.methodistcollege.edu/about/mobile-diabetes-center.