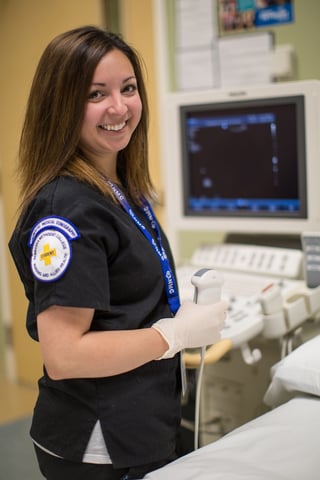 For Ishah, a second year Multispecialty Sonography student at Nebraska Methodist College, the dream of becoming an imaging specialist doesn't have a typical start. Many people grow up with their sights set on this in-demand job, doing everything they can to become the person who conducts imaging procedures on pregnant stomachs, internal medical issues and more.
Ishah's choice was a little more practical.
"It was a little bit of a shallow choice," said Ishah with a laugh as she recalled her decision-making process. "Just because I was looking to see what required the least amount of sciences. It [sonography] didn't require very much science so I'm like, hmm, I wonder what this is. That's what got me looking into it and then I thought, this is pretty cool."
Ishah's start may have been atypical, but that's true of her extraordinary drive and compassion as well. Recently, Ishah was awarded the American Association of University Women Career Development Grant. And with less than two semesters of study left until graduation, Ishah has found her passion and is ready to make a career doing something she truly loves.
Taking the First Step
Ishah didn't start her college career at NMC. She actually attained her Bachelor's degree in Spanish from another institution back in 2008.
But even with a Spanish background, she felt her calling was in healthcare. She worked as an interpreter at Children's Hospital, a position she continues to this day and that allows her to balance work with family.
A couple years ago, Ishah couldn't shake the feeling that she wanted to take a more active role in healthcare. But with three kids at home, the decision to come back to school was anything but easy.
"It was really difficult for me at first to even make the choice because I felt a little selfish," she said. "My goal initially was to, when they were all in school, then I would continue."
That's an excruciating decision for any mom to make. Thankfully, Ishah's own mom provided support in a big way, agreeing to watch the children so Ishah could follow her dreams.
The Choice
After careful research, Ishah's decision came down to NMC and another local program. Ultimately, she determined that the best fit for her study habits and degree goals would be Nebraska Methodist College, specifically, the two year Associate degree program.
"Those humongous classes were not great for my kind of learning," she said. "I needed smaller classrooms, it took me a couple times figuring that out, [plus] I'd already been through three years of college and I wanted to finish my Bachelor's degree…I really don't want to go for another prolonged four year program."
Getting in wasn't easy. The Multispecialty Sonography program at NMC is perhaps the most competitive in the entire college. But Ishah exhibited the character, commitment and academic excellence necessary to earn her spot. And once here, the benefits of such a close-knit community quickly revealed themselves.
"I didn't think I would get a spot just because there were only eight. The end result of that is that it's such a small class that you get to know your peers very well, you get to encourage each other. It's a lot of focused learning."
Scholarly Diligence
Upon entering the program, Ishah had concerns, particularly about financial aid. She knew she didn't fit the traditional definition of a scholarship or grant recipient, which meant she had to look that much harder to find an affordable way to pay for college. Her experience is a lesson in the importance of never giving up.
"I was getting a little concerned just because I couldn't find any scholarships for married mothers. They're usually for single mothers. I couldn't find very many grants just because government grants are for people who don't have bachelor degrees. So now that I had my bachelor's degree I wasn't eligible for Pell grants.
"So I started looking into different things. I'm Hispanic so I know a lot of scholarships are offered for Hispanic people. I started looking into that and so far I've had a lot of success. But you have to look really hard, and so I did. I found AAUW by looking really hard."
"I got really good at writing essays just because I'd written essays at all kinds of places. I literally applied to Univision, I applied to Hispanic Caucus Institute, I applied to anything you can think of, anything I found I would apply to."
Ishah's efforts paid off in a huge way. The Career Development Grant from AAUW has allowed her to continue her passion by alleviating some of her financial worries. What's more, she wants more people out there whose situation may be similar to hers to understand their options.
"I guess by meeting with you that's what I'm hoping is that it'll be out there and women that go here can find it a little easier than it was for me to find."
The Next Step
Set to finish the program next May, Ishah already has an idea of what she'd like to do when she graduates: pediatrics. Children's Hospital is one option but, no matter where she winds up, she would love the opportunity to work with kids.
As someone who balances work, school and a family, Ishah knows better than most the challenges faced by those returning to college. But she hopes her journey can act as inspiration for anyone agonizing over the same decisions she's made.
"Just try it. I just went for it and there's a lot of opportunities for people out there. There's scholarships, I mean if you don't have a Bachelor's degree there's even more help through Pell grants.
"You don't know until you start looking into it."