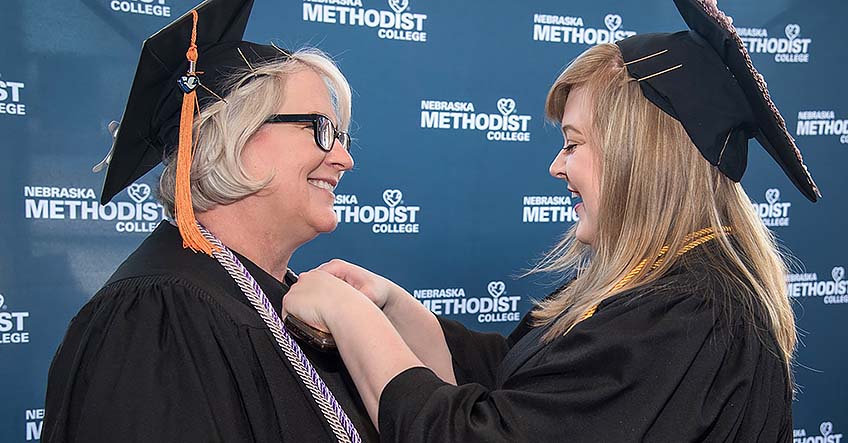 Lisa Kessler and her daughter, Cassandra, have a lot more in common than most moms and daughters.
In addition to sharing DNA, the same household, strong competitive spirit, and commitment to community service, they've devoted more than 7 years to the pursuit of nursing degrees—including the last 3½ years as classmates in Nebraska Methodist College's nursing program.
Both earned Bachelor of Science in Nursing degrees at fall commencement on December 14, and both will join the nursing staff at Methodist Hospital.
Both say they felt called to make a difference.
"I had an interest in the medical field from the start," said Cassandra, who did undergraduate work at two other colleges before transferring to NMC.
Lisa's decision to become a nurse was more of a surprise to family, friends, and even to Lisa herself.
"I have a college degree in art," said Lisa, "and for 25 years I stayed home to raise Cassandra and her brother, Cole."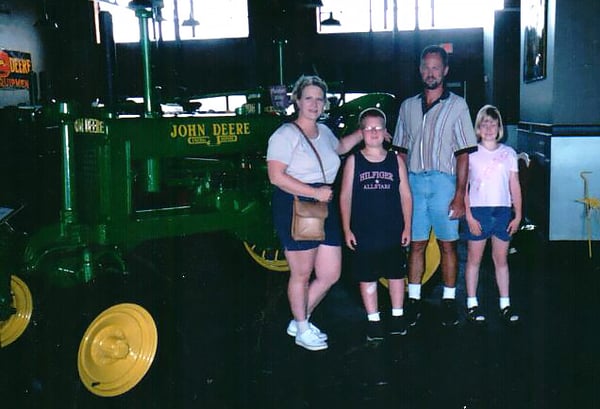 With the kids grown, Lisa's husband, Jerry, suggested it might be a good time for Lisa to reenter the job market. Lisa realized she wanted more than a job. She wanted a meaningful career with a future. And that meant going back to school.
"Most people assumed I'd choose an art-related field, maybe get a teaching certificate," said Lisa. "My dad was the one who inspired me to consider nursing."
Lisa's father had experienced Lisa's caring and kindness at the bedside firsthand throughout his long illness.
"I helped my mom care for him, almost every day, until he lost his battle with leukemia in 2011," Lisa said.
Again and again, Lisa's dad asked her to go back to school to become a nurse.
"I just laughed every time Dad asked," Lisa said.
But after her dad was gone, Lisa thought long and hard about what he'd said.
"Do I really have it in me?" Lisa wondered.
The only way to know for sure was to try. So she did.
And she succeeded. Cassandra too. A major turning point, they say, was their joint decision to come to NMC.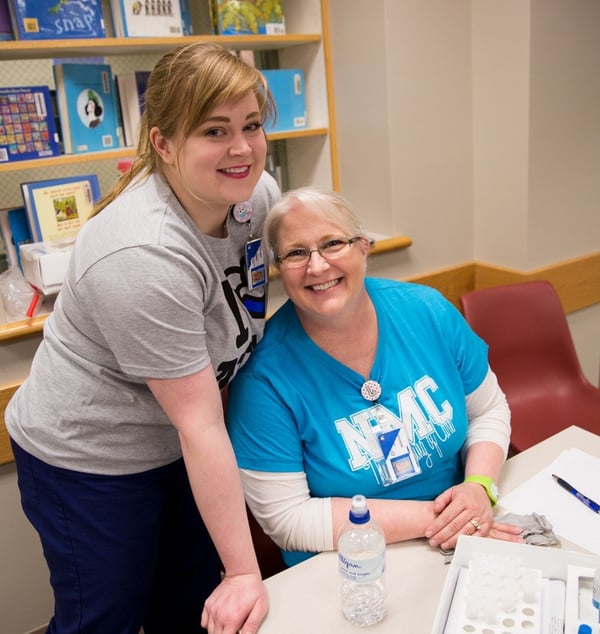 "From the very beginning, we have felt so wanted and welcomed," Lisa said. "This was the best choice we've ever made."
"Here they know you, care about you, and work with you to see you succeed," Cassandra said. "I did my research and saw the high pass rates for nursing boards. NMC is laid out for success."
Both say they appreciate the strong focus on holistic patient care and the community outreach opportunities that are part of the NMC experience.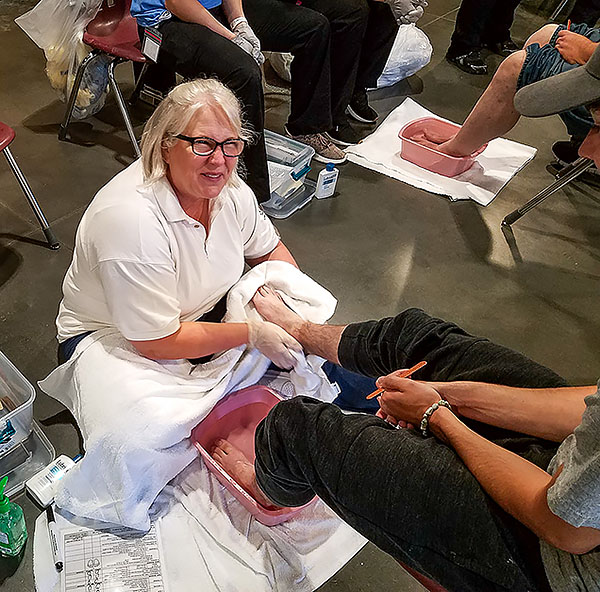 "We come from a family of volunteers," Lisa said. "I've loved helping on the Mobile Diabetes Center and working with the homeless at the Stephen Center and Open Door Mission. The exposure to real needs and the wealth of knowledge gained is immeasurable. These are things that can't be learned from a textbook."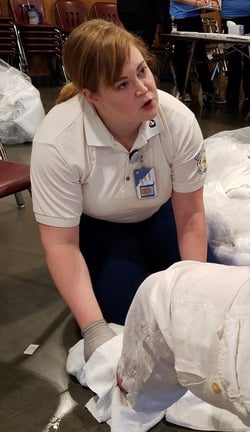 "We get great clinical practice out in the community," Cassandra said, "and it helps us better understand what some of our patients will come home to after discharge."
Both Kesslers earned membership in the international nursing honor society Sigma Theta Tau, and Cassandra graduated Magna Cum Laude. Lisa graduated as a member of the Educated Citizen Honor Society, earned Portfolio of Distinction, and was selected to be the class speaker at commencement.
Lisa's speech outlined the challenges, personal growth, and heartfelt rewards of the journey to become a nurse. She spoke with humor, insight, reflection, and gratitude to all those who have helped along the way.
No longer unsure of herself, Lisa spoke with confidence and pride in herself, in Cassandra, in their shared journey, and in the difference they will make in their patients' lives.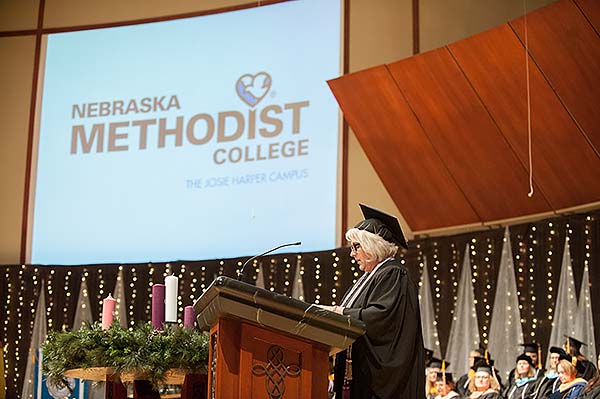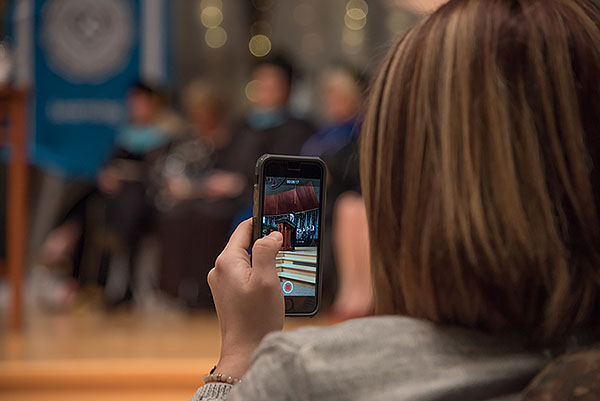 A video of the entire commencement program is available on YouTube. Here is an excerpt from Lisa's speech:
Sometimes it is difficult to truly measure your own success when you have so many assignments to complete and so many deadlines to meet. But there is always someone that will make you take a step back and think.
It may be the time the elderly man asks you, "Why are you always smiling?" and you answer, "Because I am here with you." Or he tells you, "I love you" because you offered him a warm blanket and a simple sip of water.
This is how you measure success. You don't measure it by assignments or by the grade you have received, you measure it one patient at a time.
As dedicated new nurses, radiologic technologists, and respiratory therapists, it is these patients that we are dedicating our professional lives to. So that they can come into the world experiencing love, hope, and joy—and leave the world experiencing compassion, kindness, and the dignity they deserve.
NMC congratulates Lisa Kessler, Cassandra Kessler, and all of our graduates!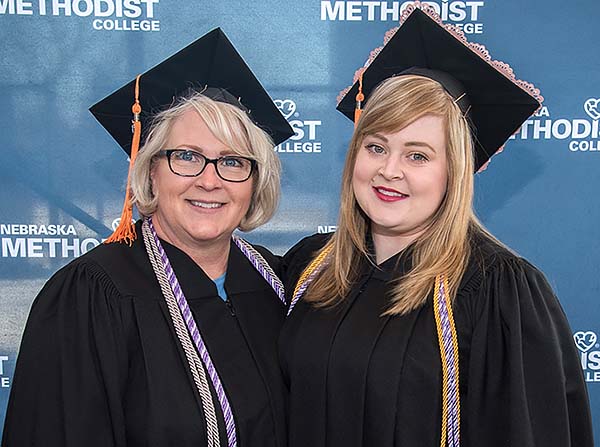 Members of the Kessler family are shown in the photo below. Back row, from left: Jennifer Chandler, Cole Kessler, Cindy Houfek, Gus Swenson, Jerry Kessler, Cassandra Kessler. Front row: Brooklyn Chandler, June Houfek, Lisa Kessler, Nolan Chandler.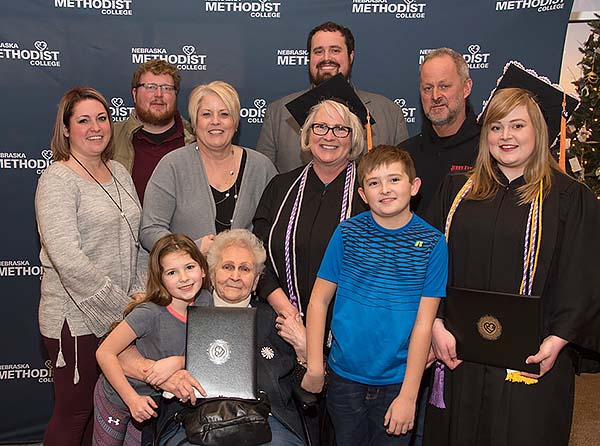 NMC in the News
See the recent media coverage of this mother-daughter duo's journey and graduation: