A licensed practical nurse (LPN) is responsible for basic medical and nursing care such as checking blood pressure and ensuring patients' comfort. LPNs enjoy a fulfilling, rewarding career that pays well. But it's true that earning a bachelor's degree in nursing (BSN) opens many doors and leads to greater career opportunities.
If you are an LPN curious about pursuing a career as a registered nurse (RN) or expanding your education, the accelerated LPN to BSN program at Nebraska Methodist College can help you realize these goals. BSN graduates are able to advance their career, take on leadership roles and pursue a graduate degree. Read on to learn more about the accelerated LPN to BSN program and why it's beneficial.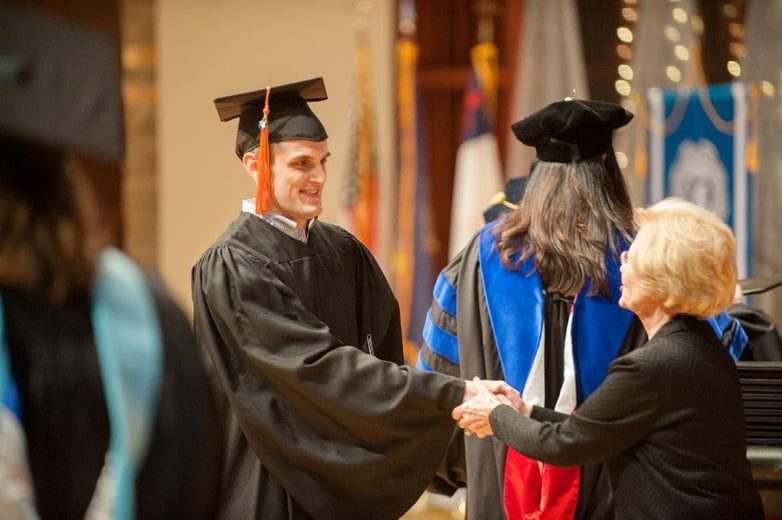 What is an LPN to BSN degree?
An LPN to BSN degree is designed to give licensed practical nurses the opportunity to advance their education and career by earning an RN and a BSN. At Nebraska Methodist College, LPNs have a unique opportunity to become a registered nurse.
The program coursework is offered in a hybrid format, requiring students to be on campus only a few days a week the first year of the program. The curriculum balances general and professional education with course options in humanities and behavioral sciences. In a population health curriculum, the nursing courses will prepare students for professional nursing practice as an RN in a variety of healthcare settings, including acute care settings, clinics, homes and communities.
How long does it take to get an LPN to BSN degree?
The LPN to BSN program at Nebraska Methodist College is accelerated. It's designed to be completed in six to eight semesters, depending on how many appropriate course requirements are transferred. The accelerated program is hybrid (online and in-person) that balances work, family obligations and school. A typical BSN program takes four years to complete.
Because of the fast-track format, students are able to complete their schooling quicker, begin a career and advance their careers in nursing. Students are prepared to take the NCLEX-RN after graduating. Nebraska Methodist College students have a 95.1% NCLEX-RN pass rate. Students receive personalized academic support that prepares them for success in the classroom and on the NCLEX-RN. After successfully passing, the student is then licensed to practice as a registered nurse. At NMC, 96% of BSN graduates are employed within six months of graduation.
What are the benefits of an LPN to BSN degree?
A BSN will widen the scope of opportunities available to nurses. The demand for registered nurses is always growing due to an aging baby boomers as well as a population living longer with chronic conditions such as diabetes and heart disease. Many RNs are also retiring and will need to be replaced as well. The Bureau of Labor Statistics states that registered nurses have a 16 percent growth rate between 2014 and 2024.
Some nursing career options are only open to those who hold a BSN. Having a bachelor's degree will open doors to higher paying nursing jobs as well as the opportunity to earn a graduate degree. When nurses progress in their career or near retirement, sometimes they want to move into teaching or administration, which is only possible with a BSN.
There is research to indicate that higher nursing education will make a difference in patient outcomes. Nurses who hold a BSN can contribute to better patient care and results, including lower mortality rates. They also have a higher proficiency in making accurate diagnoses.
Earning a BSN may help combat things like long-term dissatisfaction with your career when you're ineligible for opportunities you may want. With a BSN, nurses are able to focus on areas of interest. Nurses with a BSN can be more satisfied with their jobs because they have more autonomy over their careers and perform job duties with increased confidence.
One of the greatest benefits of getting an LPN to BSN degree is the accessibility and flexibility at which it can be earned. Many programs, including the hybrid program at NMC, are online. Currently, NMC is offering a competitive, reduce tuition rate of $308 per credit hour for the accelerated LPN to BSN program.
LPN to BSN Classes and Curriculum
The LPN to BSN program at NMC requires students have an active LPN licensure and provide official transcripts documenting graduation from a state-approved technical or vocational program. A student must earn a minimum of 127 semester credit hours to be eligible for the Bachelor of Science in Nursing.
All students seeking an undergraduate degree at NMC must complete general education requirements. As an educated citizen, NMC graduates are competent practitioners and respond productively to the complex dynamics of the world, utilizing diverse disciplines and perspectives.
Some classes you may take in your LPN to BSN nursing program include:
Human Anatomy
Research Skills
Mental Health Nursing
Public Health Nursing
Nursing Leadership
Getting your LPN to BSN degree opens a host of career doors and leads to better pay. Even if you're unsure of where you want your nursing career to go, a BSN will help you be prepared. At NMC, you can become a BSN nurse without disrupting familial and work-related obligations. Apply today and learn more about where to take your career.