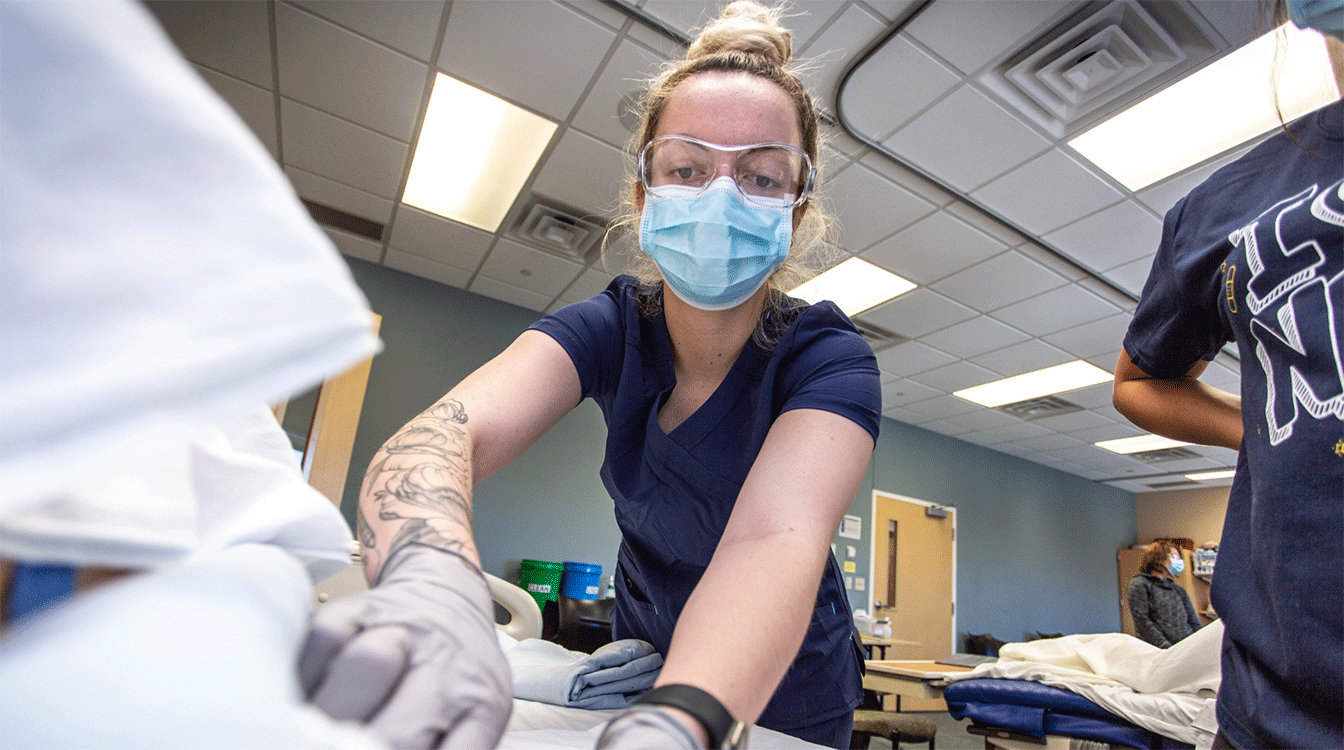 If you're looking for a part-time job while studying to become a healthcare professional, you may want to consider working in a medical facility.
There are healthcare jobs for undergraduate students that require certificates that you can get with three- to 10-week courses.
Nebraska Methodist College (NMC) offers certificate programs to prepare you for a college job in healthcare.
Benefits of Working in Healthcare as an Undergrad
Undergraduate jobs in healthcare will allow you to gain technical skills, learn about the healthcare industry, make connections for future jobs and receive tuition assistance.
Gain Skills
Working in healthcare while in college will allow you to gain on-the-job skills that you can take into your future career.
You'll learn many technical skills, but you'll also learn the interpersonal skills necessary to work in a healthcare setting.
Learn About Healthcare
Having a college job in healthcare will allow you to learn what it's like to work in that setting.
You may even gain clarity on what you'd like to do for your future career.
Make Connections
Working in a healthcare facility will provide the opportunity to make a good impression on your manager and employer.
After you graduate and are ready for a full-time career, you'll be more likely to get a good reference.
A positive impression at your college job may even lead to a full-time job with the same employer.
Receive Tuition Assistance
Many healthcare companies will provide tuition assistance to employees working toward their associate degree or bachelor's degree.
Methodist Health System (MHS) offers the Tuition Assistance Program to eligible employees who attend NMC. You'll receive up to $3,500 a year in tuition assistance if you've worked for MHS for at least six months at a minimum of 16 hours per week prior to the beginning of the semester.
Healthcare Jobs You Can Get as a Nursing Student
There are many healthcare jobs you can get as an undergraduate student studying nursing, allied health or healthcare management. Many jobs will allow you to work part-time to balance your classes and studying with work.
Certified nursing assistants work closely with patients to provide essential care and assist healthcare providers with basic medical procedures.
Nursing Assistant salaries in the United States vary by work setting and experience. The U.S. Bureau of Labor Statistics reports the median annual salary for a full-time nursing assistant was $30,310 in 2021. The projected growth rate is 8% through 2030.
You can become a certified nursing assistant by enrolling in a four-week on-campus program and a six-week online hybrid program.
Certified medication aides safely administer medications to patients working closely under the direction of a licensed healthcare professional.
Medication aides can work in hospitals, rehabilitation centers, assisted living facilities, medical offices and in-home healthcare.
Salaries for medication aides vary by work setting, industry and experience. The U.S. Bureau of Labor Statistics reports the median annual salary for a full-time home health and personal care aide was $29,430 per year in 2021. The projected growth rate is 33% through 2030.
You can become a certified medication aide by enrolling in a 40-hour course that can be completed in three weeks.
Phlebotomists collect, transport, handle and process blood and other specimens for medical analysis.
Phlebotomists typically work in physician offices, medical clinics, hospitals, commercial laboratories and blood donor centers.
The median annual salary for phlebotomists working full-time was $37,380 in 2021. Employment is expected to grow 22% between 2020 and 2030, according to the U.S. Bureau of Labor Statistics.
A nine-week phlebotomy hybrid course combines online learning and on-campus laboratory work followed by a three-week clinical experience. Students come to campus three hours each week for hands-on learning. After the course, students are eligible to take the American Society for Clinical Pathology (ASCP) certification examination enabling them to be a certified phlebotomy technician.
Sterile processing technicians are responsible for cleaning and sterilizing surgical equipment before and after procedures. Sterile processing is a great entry point for individuals who want to pursue a career in the operating room.
According to the U.S. Bureau of Labor Statistics, full-time sterile processing technicians made a median salary of $38,220 in 2021. The median hourly wage was $18.37. The projected job growth is 14% between 2019 and 2029.
You can become a sterile processing technician by enrolling in a six-week online course that includes hands-on clinicals at Methodist Hospital. Students who complete the course receive a certificate and can take the Sterile Processing Technician exam through the Certification Board for Sterile Processing and Distribution, Inc.
As a pharmacy technician, you'll assist pharmacists with critical functions that aid patient care, such as filling prescriptions, managing drug supplies, handling insurance queries and addressing other needs of patients.
According to the U.S. Bureau of Labor Statistics, full-time pharmacy technicians made an average of $36,740 per year in 2021. Employment is expected to grow 4% between 2020 and 2030.
A 10-week hybrid course combines online modules and in-person skills laboratory work along with experiential training at local pharmacies. Students who complete all course requirements and have a cumulative grade of 80% or higher receive the Nebraska Pharmacy Technician Certification. After completing the course, students take the National Pharmacy Technician Certification Exam.
How to Apply to NMC
You can apply to NMC's certificate programs by filling out an online application.
If you have questions, contact the admissions team at 402-354-7200 or email admissions@methodistcollege.edu.