Nebraska Methodist College welcomed its latest line of nursing and allied health graduates at commencement ceremonies held at St. Andrew's United Methodist Church on July 31st. The ceremony featured a combination July graduates as well as May graduates who weren't able to walk in the spring ceremony. Due to COVID-19, social distancing and mask-wearing was implemented. A limited amount of people were in attendance, however the ceremony was available to stream on Facebook.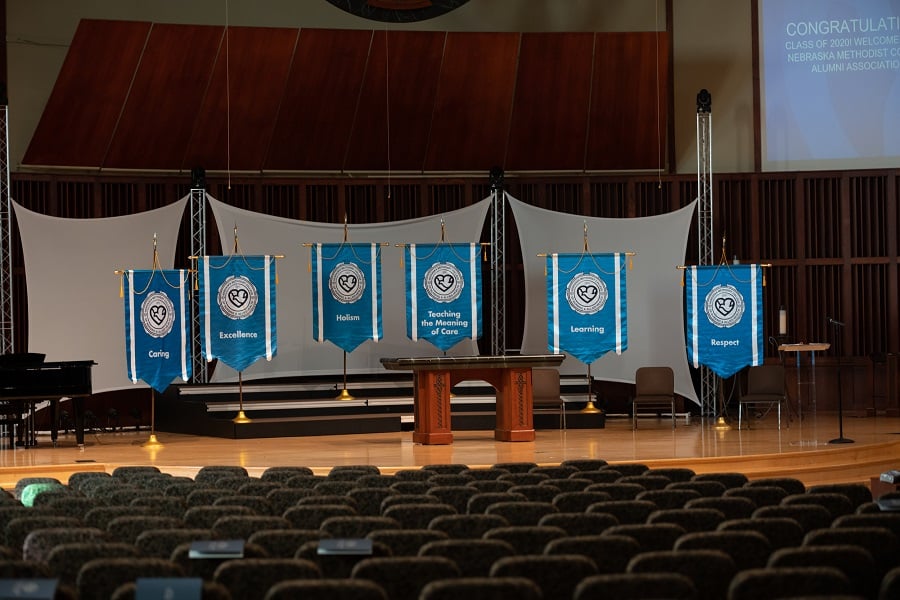 The ceremony honored the accomplishments of the 155 nursing and allied health graduates who have the skillset, mindset and heartset to be outstanding healthcare professionals. We proudly welcome each one to the ranks of NMC alumni!
"I was so happy to see and share everyone's moments in person, even though it was different," said Jenny Christian, NMC's Student Events and Engagement Coordinator. "Congrats to everybody!"
Click to watch NMC's Summer 2020 commencement: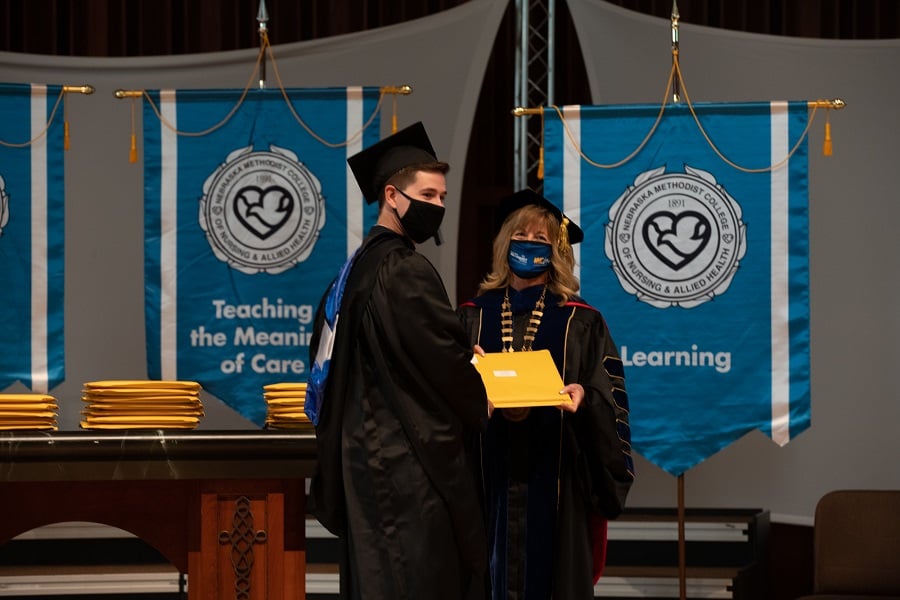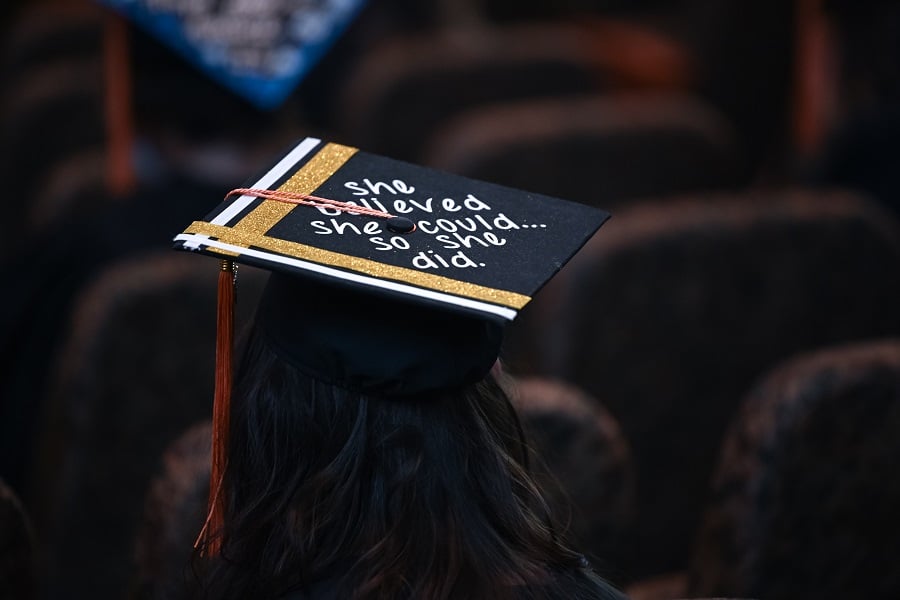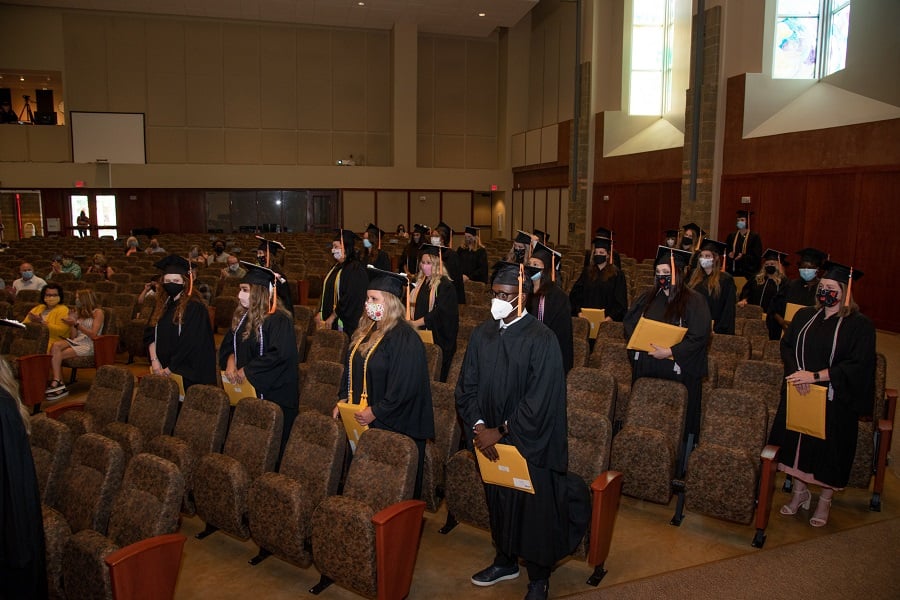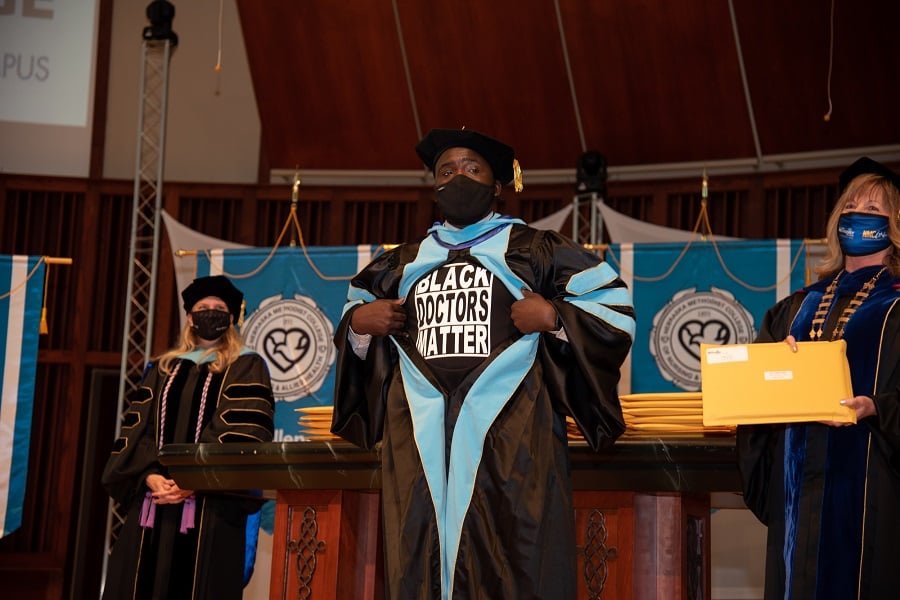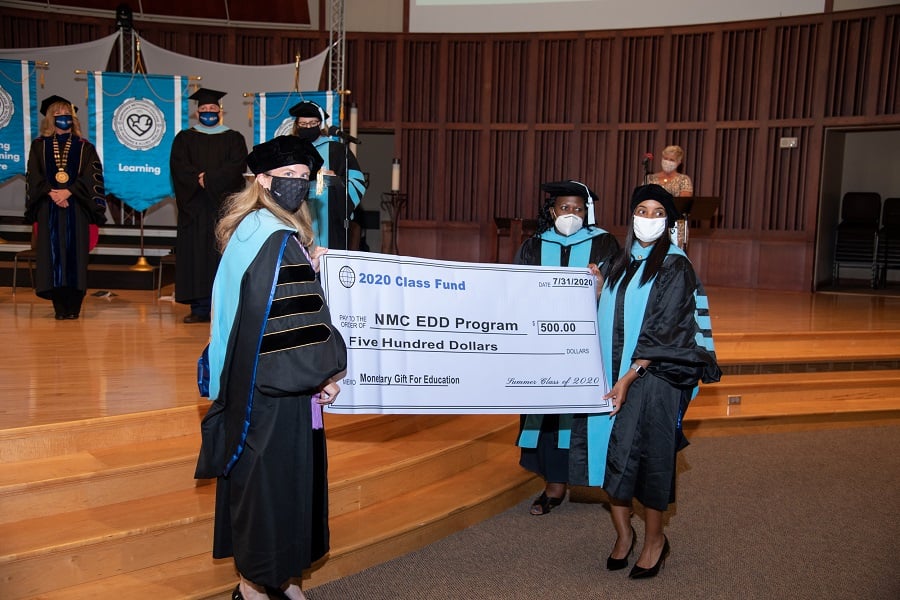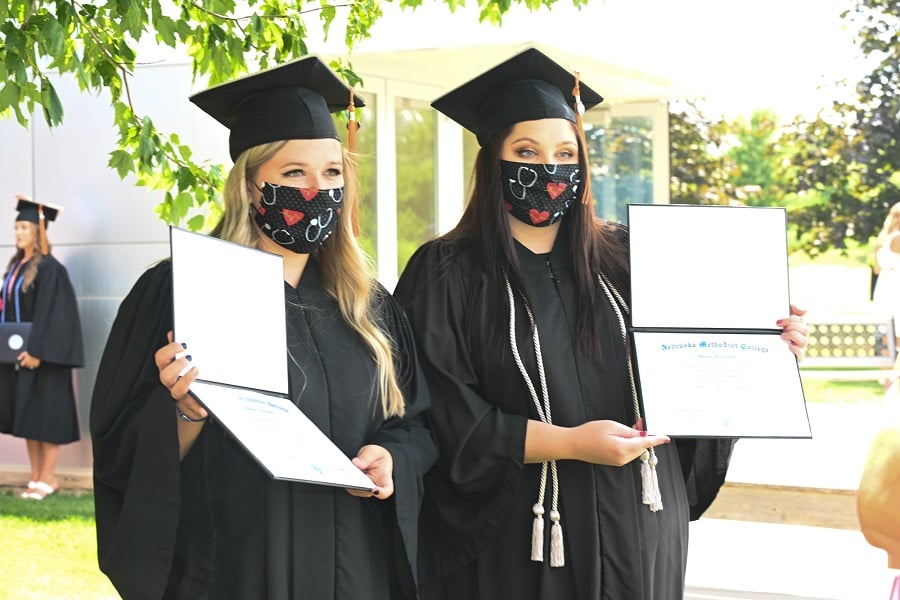 Here is the list of graduates with their degrees and special honors acquired:
Doctor of Education in Leadership & Healthcare
Jean DeVette Owens-Baker
Shanika Bentley
Dustin Ivan Bessette
Timothy Aaron Best
Laura Jean Camus
Elizabeth Zorzanello Emery
Brittney A. Fritzinger
Tracey Mignon Harrell
Lisa Kamalieh-Fuchs
Colleen O'Connell Kim
Michelle Renee O'Neal
Megan Claire Ray
Kimberly Ann Sullivan
Cindi Lea Terra
Christopher R. Whitmoyer
Aaron Wayne Willis
Danielle C. Calabro
Ashley L Cunningham
Jacqueline Ann Ellison
Shanda Renea Hensley
Audrey J Hoffman
Christopher T. Holman
Anna Hunt
Phuong Linh Hussain
Bernadine Chioma Ihediohanma
Natalie Green †
Ashley Nicole Klepinger
Kaitlyn Kay Kracl
Lisa J. Lehr
Janese Louise Nichols
Bridget Mahoney Nore
Jordan Danielle Radel
Danielle Marie Rischling
Maelene K Schuhmacher-Omar
Sara Elizabeth Schutt
Leah Katherine Trautman
Master of Business Administration in Healthcare
Ryan D. Wolf
Master of Occupational Therapy
Luke Anderson
Raegan Elizabeth Anderson
Breanna Bollow
Tara J. Busselman
Lisa Diane Byrne
Darcy Jo Esau
Jordan Flemington
Emily Foley
Kailey Gettman
Megan Christina Holtgrewe
Kourtney Kincaid
Allison Nicole Kiolbasa
Rachel E. Krzemien
Luke R. Minturn
Danielle Moore
Taylor Morehead
Austin C. Mumm
Libby Irene Norvell
Victoria Dee Peterson
Makenna Blair Placzek
Lainey Russell
Brooke A. Stamper
Taylor Nicole Volentine
Amanda Lynn Bedel
Beth Eileen Deida
Francesca Dora D'Elia
Darbi Ann Eschmann
Melanie S. Frear
Heather Elaine Hagewood †
Jerica Rae Harty
Lee William Hulbert
Mackenzie Kathleen Kimes †
Megan Rae McClusky
Tricia Meyerpeter
Alexandra Ann Moore †
Kristen L. Moravek †
Chelsea Novotny †
Leslie Jean Omoto
Patricia Osborn
Nicole Lacie Owen
Kayleen Parys †
Heidi Patsios
Carrie Ann Phillips †
Timothy John Pieper
Jennalee Ruth Pribnow
Jori Marie Robison †
Lynsey Anne Schmad
Caitlin Nicole Skow
Melanie D. Smith
Dana L. Steinke
Alexandria Lynn Stunkard
Jessica M. Wilson-Galles
Post Masters Certificate, Nurse Executive
Kimberly Allen
Bachelor of Science, Imaging Sciences
Shelby MaryAnn Colleen Andersen ***
Alexandra Tau Corzine ***†
Kelsie McClarnon ***
Michaela Marie Meyer **
Cortland Ruf **
Haley Reneé Schmidt ***
Bachelor of Science in Nursing
Amber Argo **
Jennifer Boyer
Nicole Calderon ***
Mustapha Camara
Alexander Corbin †
Allison Nicole Dale **
Mikaela Rebecca Dappen **
Kimberly Deleon
Tegan Marie Ewart ***
Samantha Faulkner
Kalli Anne Gates
Robyn Lynn Gilligan **
Brittney Lauren Harnack
Katie L. Harshbarger
Jordan Taylor Henderson ** †
Stephanie Crystal Houpt ***
Kiana Alexis Hunter
Taylor Karls * †
Jaycie Limley *
Adriana Lott ***
Rachel Virginia McElderry
Anna Tukwaje Michael †
Megan Nicole Michael
Karen M. Milford
Makayla Danielle Oakes
Michaela Elena Palensky
Rebecca Jo Pennington
Anna Kay Reed ***
Drew Clark Rogers ***
Mandy A. Ruffin
Kimberly Rachelle
Maxwell Ruwe *** †
Andrea Lynn Ryan*
Brianne R Shelton *
Hannah Marie Shipp * †
Marissa Smith
Haley Sona
Paola V. Thompson *
Melinda Rose Warriner ***
Michelle C. Whitney
Emily Mae Wood *** †
Mary Frances Zyla
Bachelor of Science, Respiratory Therapy
Alexis Lauren Ficenec **
Abigail M Yilmaz *
Associate of Science, Diagnostic Medical Sonography, Cardiovascular
Heather Marie Cottle ◊◊ †
Lauren Doherty ◊◊◊ †
Samantha Ann Marie Larvie ◊◊◊ †
Associate of Science, Physical Therapist Assistant
Barbara Rachel Kay Billingsley ◊◊◊ †
Joshua Donald Mulhearn
Malinda Osienger †
Marina Aria Sewell ◊◊◊ †
Cody Stremick
Associate of Science, Radiologic Technology
Veronica Lynn Bertelsen ◊◊◊
Mckenzie Jane Boldin ◊◊ †
Kelsey Bruns ◊
Kristel Marie Eyrich ◊◊◊
Katherine Ann Fitzpatrick
Kaycie Havenridge ◊◊◊
Emily Jane John ◊
Rachel Kelly ◊◊
Hayley Kerger ◊◊◊
Cali Langenfeld ◊◊
James Russell McMillan ◊◊
Courtney Michelle Myers
Molly Pettit ◊◊
Delaney Lynn Plott ◊
Madison Rae Rasmussen ◊◊
Melissa Marie Riege ◊
Anna Rigatuso
Sara Marie Sappingfield ◊◊
Bailee Joye Sobczyk ◊
Justin V. Stephens
Haley Beth Stueve ◊◊
Associate of Science, Respiratory Care
Caitlin Pocivasek †
Certificate, Medical Assistant
Amanda Elizabeth Bentley ◊◊◊
Terrie Lynn Marsh Clark ◊◊◊
Leah Conroy ◊◊◊
Alissa J. Farnsworth ◊◊◊
Meredith Anne McNamee ◊
Jocelyn Mullen
Alinne Rodriguez Suarez
Briana Renee Running ◊◊◊
Sara Anne Wischmann ◊◊◊
Baccalaureate Honors Designation
*** Summa Cum Laude – cumulative GPA of 3.87 to 4.00
** Magna Cum Laude – cumulative GPA of 3.64 to 3.86
* Cum Laude – cumulative GPA of 3.50 to 3.63
Associate or Certificate Honors Designation
◊◊◊ Highest Distinction – cumulative GPA of 3.87 to 4.00
◊◊ Distinction – cumulative GPA of 3.64 to 3.86
◊ Honorable Mention – cumulative GPA of 3.50 to 3.63
† Educated Citizen Honor Society
Ω Portfolio of Distinction