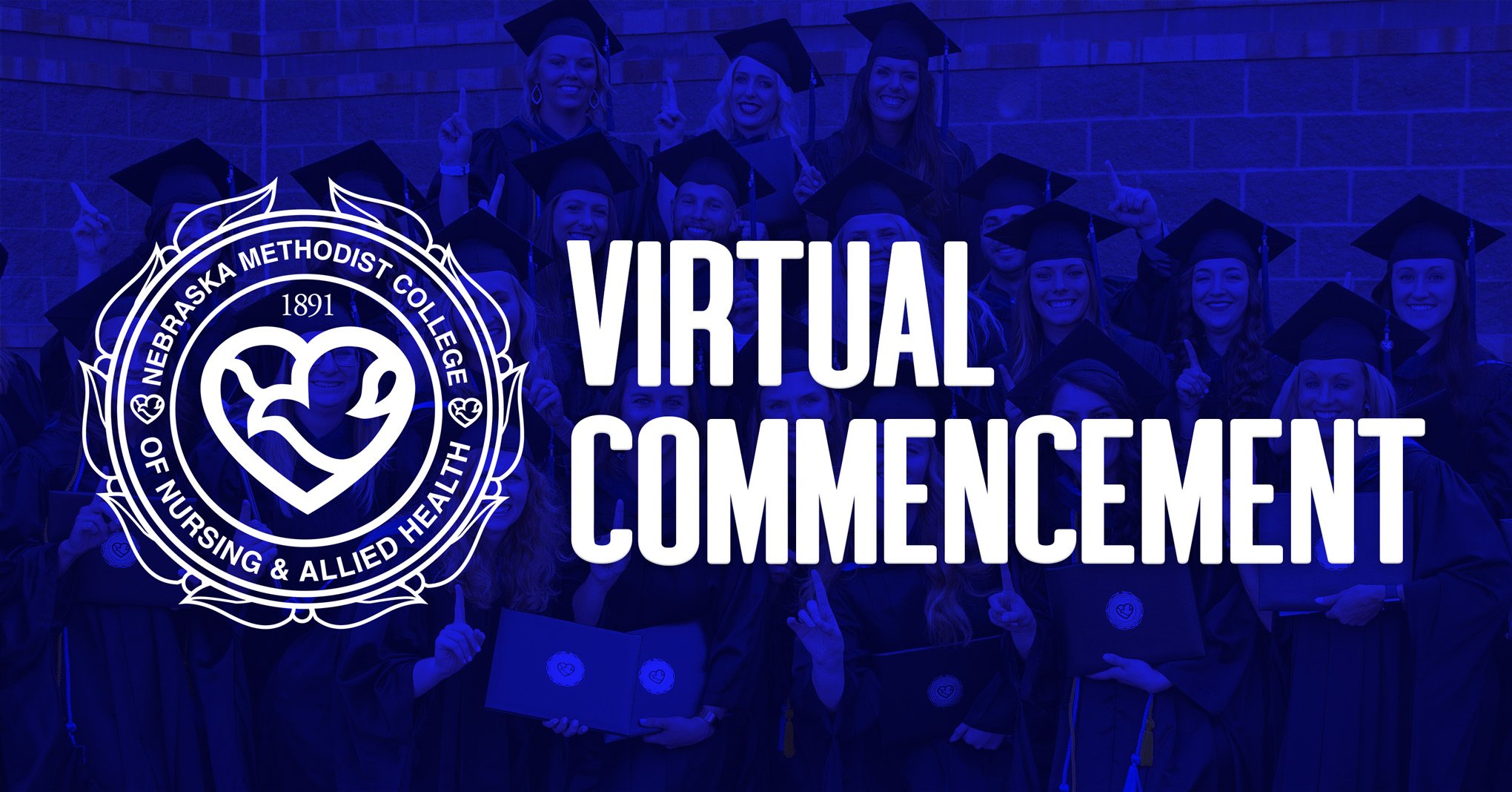 Nebraska Methodist College welcomed its latest line of nursing and allied health graduates at its very first virtual commencement ceremony on May 1st under the social distancing guidelines of the COVID-19 pandemic.
"We could not be more proud of this group," said Jenny Christian, NMC's Student Events and Engagement Coordinator. "We have also invited them to walk in our summer ceremony."
The memorable ceremony honored the accomplishments of the 166 nursing and allied health graduates who have the skillset, mindset and heartset to be outstanding healthcare professionals. We proudly welcome each one to the ranks of NMC alumni!
Click to watch NMC's Spring 2020 virtual commencement.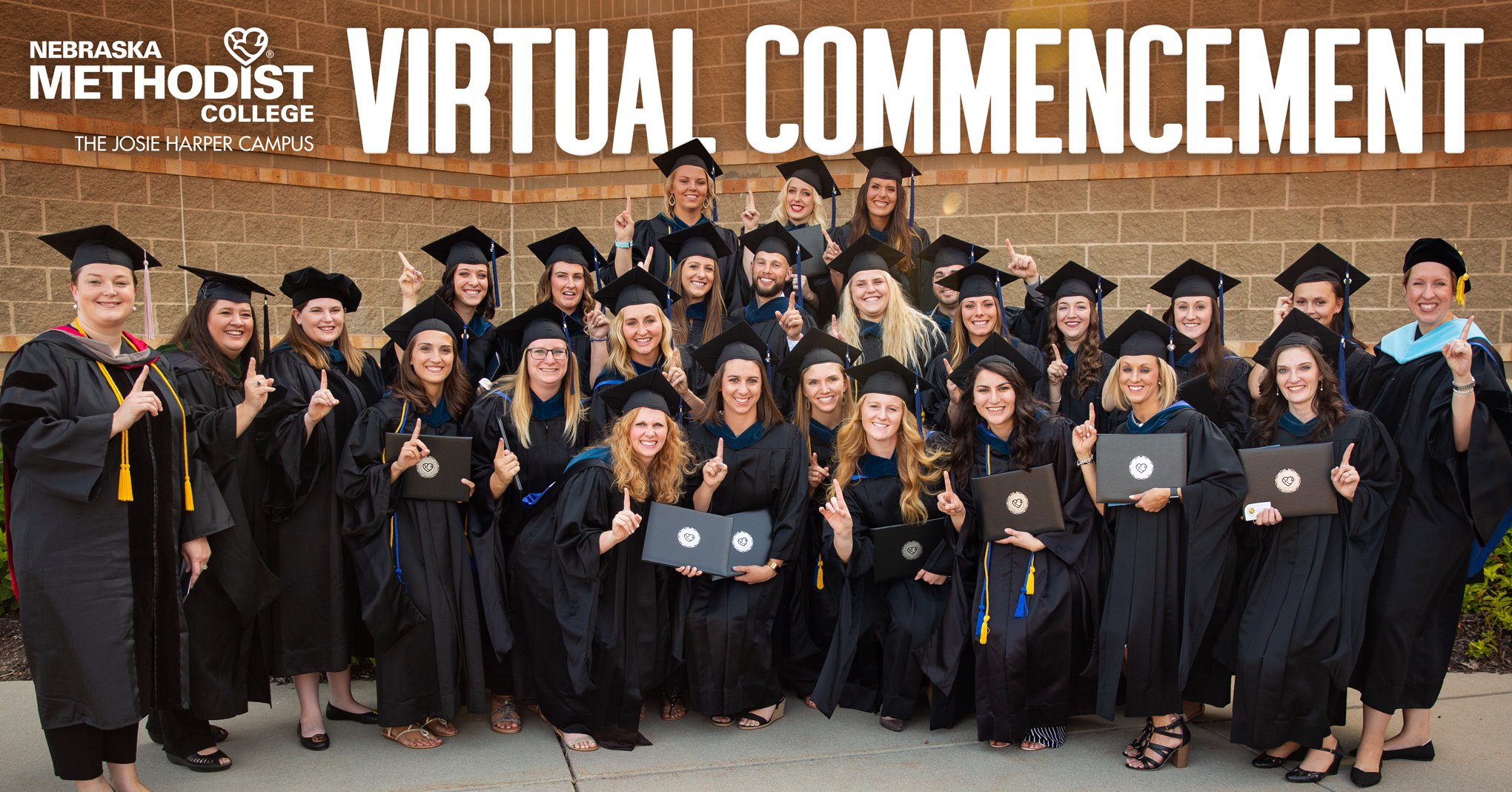 Here is the list of graduates with their degrees and special honors acquired:
Sandra Marie Dave
Lisa Katherine Parker
Kristin Debra Madden
Master of Business Administration in Healthcare
Emily A. Barr
Tamara Ann Doehner
Laura L. Fuhs
Scott M. Jensen
Michael F. Kraus
Lindsay R. McCoy
Heidi B. O'Connell
Cassiejo Allen
Mary Marie Dickson
Chelsey Lea Doyle
Catherine A. Enenbach
Kiley Grzywa
Heather Elaine Hagewood
Amy Holtz
Jill Elizabeth Junck
Mackenzie Kathleen Kimes
Shonda Kay Knop
Julianne Marie Kramer
Alexandra Ann Moore
Kristen L. Moravek
Chelsea Novotny
Kayleen Parys
Carrie Ann Phillips
Brittany N. Raile
Jori Marie Robinson
Ashley I. Totten
Kerry Wedel
Bachelor of Science, Diagnostic Medical Sonography
Clare Alloy ***
Kaitlin Anna Davis ***
Morgan Renee Helman ***
Brittani Lauren Miller **
Tifani Amber Schuning **
Taylor Alexandria Walenz **
Bachelor of Science, Healthcare Administration and Leadership
Jana L. McGuire
Bachelor of Science, Imaging Sciences
Courtney Carlson ***†Ω
Alexandra Tau Corzine ***
Bailey Prochaska ***
Jodecci Jean Torrez ***
Abby Van Den Top ***
Bachelor of Science in Nursing
Alexi Anne Ahlers **
Shukri Osman Ahmed *
Maria Louise Ancona
Courtney Lynn Bailey †Ω
Lori Jene Biegel *
Kayla Jean Blomstedt
Emily Brogna
Baylie Brown ***
Shelli D. Brown ***
Emily Burns **
Zoe Burns **
Amanda Lynn Cherek ***
Megan Rene Cismoski ***
Jeremy N. Cole
Katrina J. Conway *
Alexander Corbin
Bailey DeWispelare
Patrick J. Erwin *†Ω
Kelsey L. Feigenbutz
Michael Duane Griffith ***
Virginia Haines **
Jasmine Hayworth
Allison Heath †Ω
Jordan Taylor Henderson **
Ethan Ryan Humphrey **
Ashia M Jack **
Thomas Joseph Janing Jr. **
Sarah Amanda Jensen *
Sadey Jester ***
Kaylee Jobeun **
Scarlet Juarez *†Ω
Melissa Kinsey Kahl ***
Taylor Karls *†Ω
Michaela N. Kaspar
Raina Keel **
Allison Nicole Kessler †Ω
McKayla Kortus
Abigail Krone ***
Christina Levin
Taji Loehr
McCall Renee Madsen *
Bailei McDowall
Anna Tukwaje Michael
Katie Michl *†Ω
Morgan Ashley Miller Whitfield **
Natina Mitchell
Sara Nixon **
Kristi Oltrogge †Ω
Christie Pagano **
Lucas James Paswaters **
Kristopher Arnold Pedersen
Andrew Perry *
Caroline Kate Perry **
Jamie Petz ***
Tyler Michael Raygor ***
Beth Ann Reiser
Pricila Robledo *
Maria Michelle Rokes
Jennifer Hayley Root
Paula Russell ***
Kimberly Rachelle Maxwell Ruwe ***†Ω
Elizabeth Ann Schram
Megan Sefrna
Hannah Marie Shipp *
Sydney Snook **
Veronique Stough ***
Hanna Tate
Tiffani Amber Toebben *
Sydney Adelle Vanarsdall **
Devin Watts ***
Nickolas Widtfeldt **
Jennifer Wies ***
Mikayla Wise ***
Emily Mae Wood ***†Ω
Abigail Marie Zurawski
Bachelor of Science, Respiratory Therapy
Erin Marie Eidem
Kiellien Evans *
Mikayla Schmitt
Associate of Science, Diagnostic Medical Sonography, Cardiovascular
Heather Marie Cottle ◊◊
Lauren Doherty ◊◊◊
Samantha Ann Marie Larvie ◊◊◊
Stephanie M Rivera ◊◊◊
Jessica Robertson ◊◊◊
Joshua Selzer ◊◊
Kennedy Noel Sharp ◊◊
Associate of Science, Diagnostic Medical Sonography, Multispecialty
Shayla Dawn Bockmann ◊◊◊
Kacey Dwyer ◊◊
Yessica Noemi Felipe ◊
Eliza Donae Grabill ◊◊
Sydney Nicole Kelley
Jessica A Leibert
Julia Paige Pleskac ◊◊
Associate of Science, Physical Therapist Assistant
Dawn Belik
Barbara Rachel Kay Billingsley ◊◊◊
Cassandra Lynn Choquette ◊◊◊
Beth Ann Fichter
Jaide M. Gaona ◊
Lydia Goettsch ◊
Paige Marie Hoffmann ◊◊
Veeve Holtz ◊
Madeline Rose Hyda ◊
Joshua Donald Mulhearn
Hailey Pearl Niehus ◊◊◊
Malinda Osienger
Marina Aria Sewell ◊◊◊
Cody Stremick
Associate of Science, Respiratory Care
Habibo Mohamed Aden
Heather Lynn Lowrance ◊◊
Nicholas Nigh ◊◊◊
Caitlin Pocivasek
Beth Anne Sedlacek ◊◊
Rena K. Sievers ◊◊
Associate of Science, Surgical Technology
Armando Adame Alcantar ◊◊
Natalie Elizabeth Fletcher ◊◊
Kelly Galloway
Andrew James Holtze ◊◊
Abby Jo Kahlandt ◊◊◊
Michaela Landon
Kerrigan Shelton ◊◊◊
Katie N. TeKrony ◊◊◊
Maximillian Tompsett ◊◊
Olivia Torrez
LeAnna I. Wolverton
Baccalaureate Honors Designation
*** Summa Cum Laude – cumulative GPA of 3.87 to 4.00
** Magna Cum Laude – cumulative GPA of 3.64 to 3.86
* Cum Laude – cumulative GPA of 3.50 to 3.63
Associate or Certificate Honors Designation
◊◊◊ Highest Distinction – cumulative GPA of 3.87 to 4.00
◊◊ Distinction – cumulative GPA of 3.64 to 3.86
◊ Honorable Mention – cumulative GPA of 3.50 to 3.63
† Educated Citizen Honor Society
Ω Portfolio of Distinction