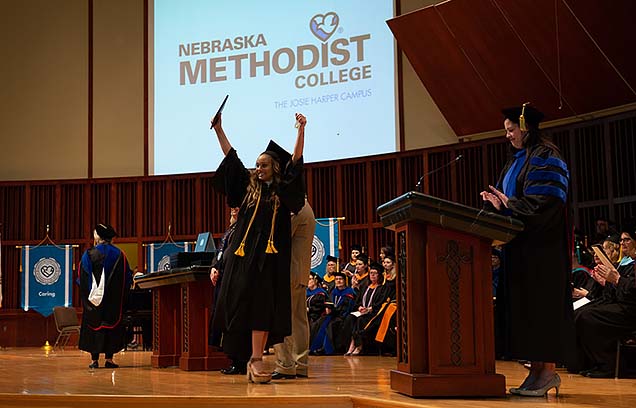 Nebraska Methodist College welcomed its latest line of nursing and allied health graduates at spring commencement ceremonies held at St. Andrew's United Methodist Church on May 11.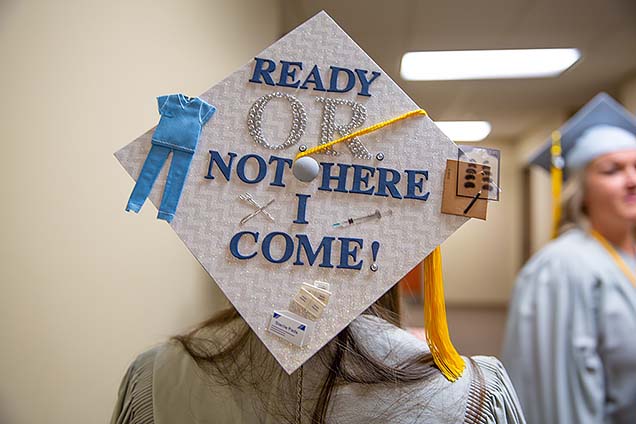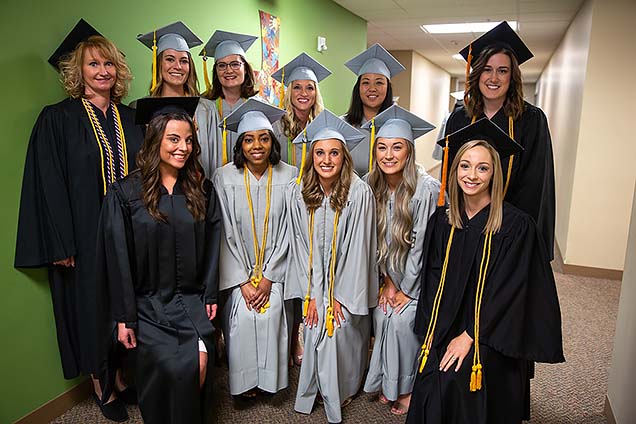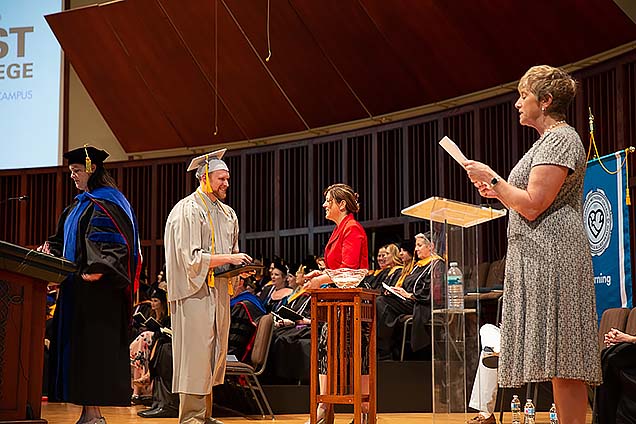 Two ceremonies were held to honor the accomplishments of the 188 graduates: one to honor nursing graduates, the other to honor allied health graduates. Students at the undergraduate and graduate levels walked on stage to receive their certificates and diplomas.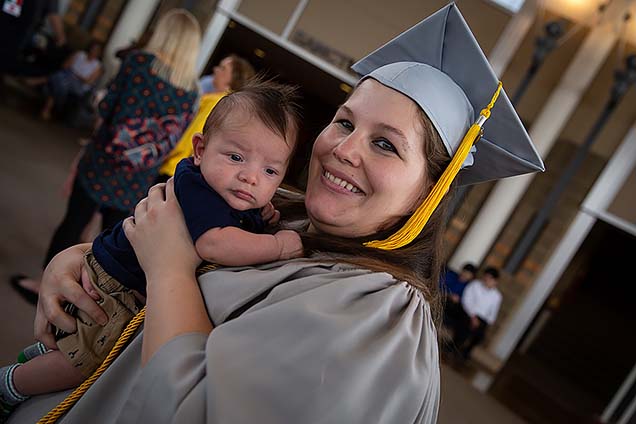 "We honor our graduates' extraordinary dedication to healthcare and celebrate their many achievements," said Dr. Deb Carlson, president and CEO of Nebraska Methodist College. "They are going forward not only with the skill set for their vocations, but with the mind set and heart set to be educated citizens and leaders in their chosen professions."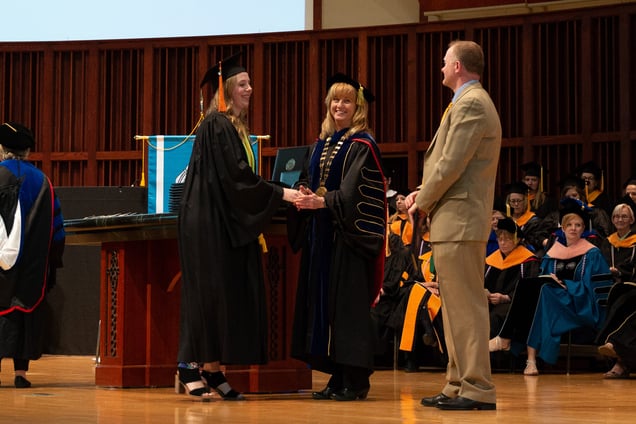 Here is the list of graduates with their degrees and special honors acquired. The list also appears in a congratulatory ad on page 7A of the May 16th Omaha World-Herald.
Master of Science, Healthcare Operations Management
Chad Wesley Daniels
Melanie Tegan Miller
Rhonda Lee Schulte


Master of Science, Health Promotion Management
Caroline Ann Kahnk
Brenda Sue Bishop
Madeleine Nora Jonseth


Master of Science in Nursing
Emily Ruth Armstrong
Katie Elizabeth Asay
Darcy R. Boger
Deana Ann Breci
Katie M. Brummels
Darcie Renae Consbruck
Danielle Marie Currier
Julie Kristen Donnelly
Cassandra Faith Dotson
Stefanie Sylva Dvorak
Dianne Lea Fuhs
Ginger Dawn Gifford
Gayle M. Gillispie
Kerri A. Gilson
Jody Lynn Green
Jodi L. Hayes
Carly Ann Hornig
Jolon Dee Johnson
Brenda Kay Kahnk
Stacie J. Moore
Alicia Ann Mueller
Casey Jo Olson
Jaclyn Rauen
Dana L. Roe
Brittany Dawn Schlueter
Meghan Maxine Spencer
Ruth Renee Steadman
Tamara Sue Stepanek
Amanda Christine Stockdale
Monique Angeline Summers
Danielle Renae TeKolste
Karissa Elizabeth Thompson
Kari S. Tibke
Gisele Cristina Tlusty
Rhonda Fay Vodicka
Mary Anne Wheatley
Jae S. Wright


Master of Science, Wellness & Health Promotion Management
Renee C. Ballenger
Sabrina Faye Cook
Laura Ann Davis
Jeffrey Glenn Newman
Carrie Marie Peasinger
Alejandra Rebolledo
Rebecca Margaret Street
Lauren Elyse Walker


Bachelor of Science, Diagnostic Medical Sonography
Dawn Marie Pecor **
Chelsey Marie Petersen **
Taylor Christine Peterson ***
Leslie Justine Wehrli-McFarlin


Bachelor of Science in Nursing
Natalie G. Atsou
Kimberly Baker *
Amber Kristine Baltaro *
Kristen Ashley Bern † ***
Amber Ann Bjorklund **
Janna Marie Blaszak *
Marissa Marie Brazda *
Steven Wayne Brickey Jr.
Kaycee Ann Bubak ‡
Nicole Corlyn Bunz **
Mariah Leigh Byrd **
Marissa Krystne Cap
Kendall Nicole Clark ***
Pat R. Collins ***
Lauren Jane Croy **
Justine E. Cruz
Chelsie Yvonne Darner **
Danielle Brooke Deckard
Ashly Nicole Duncan
Amanda Mae Ellis
Kristen D. Evers **
Danielle Kuuipo Frederick **
Kimberly Marie Gazaryan † ***
Hailee Ashton George *
Madison Renee Giffin **
Rachael Nicole Gosch
Tamara June Hildebrand
Ruth Ann Hromek
Elisabeth Marie Hunziker
Clare Michelle Jackman
Athena Sunshine Jenkins
Abby Jean Johnson
Garin William Johnston *
Madaline Rose Jordan
Marissa Nicole Kahn **
Bryce Anderson Kennedy ***
Chelsie Marie Kirby **
Kamryn Kletschke **
Mikala Kristine Kuhl *
Kiana Jean Lemon
Jordan Patrick Longwell
Anna Rose Mace **
Joy Marie Mahoney ***
Morgan Dianne Maly *
Chelse Leigh Martinez *
Jennifer R. McGill ***
Morgan Elizabeth McKinley **
Jessica Nicole Melcher ***
Lindsey Marie Mercier
Breanne Nichole Messersmith *
Zoey A. Messman ***
Robert Lloyd Molina
Eva M. Mortensen
Melissa Marie Mueting *
Micaela Marie Myers ***
Christina Louise Naberhaus *
Jacob Timothy Nelson
Jennifer Jo Niedfelt
Kelsie Hannah Pettit
Nolan Michael Pfeifer **
Cassandra Eileen Phillips
Allison Christine Poltack
Jessie Jean Pudenz ‡ **
Lauren Grace Rau *
Peter John Ray ***
Christa Lee Reisdorff
Haley Erin Reznicek
Shari LeAnn Rice *
Megan Diane Rief † ***
Bailey Renee Riley † **
Valerie Lynn Rose ***
Elizabeth Anne Schmelzle *
Samantha Sarah Schmitz ***
Alec Paige Schrad *
Emili Renee Schulz † ***
Annabelle Rose Schwery ***
Casey Renee Shapiro ***
Shayley Suanne Smith *
Allison Ann Staley ***
Jasmine Lynne Stewart
Bailey Kathryn Stinn *
McKenzie Lynn Stock
Taylor Kristine Stock **
Amy Lynn Swope
Jacquelyn Nicole Tarsikes
Brady Paul Voigtman **
Vanessa Kim Walker **
Molly Lynn Welniak
Amanda C. Wiley *
Leslie Erin Williams
Meggan M. Wilson *
Kayla Marie Wojtowicz
Kayla Dawn Woodworth **
Kevin Michael Zuger


Bachelor of Science, Respiratory Care
Bridget Adele Huddleston **


Associate of Science, Diagnostic Medical Sonography, Cardiovascular
Alexa Sage Graham ◊◊
Heather Lorraine Melcher ◊◊
Kara Michelle Pichler ◊◊
Heidi Ann Vacha ◊
Ju Lee Jean Zenor ◊◊


Associate of Science, Diagnostic Medical Sonography, Multispecialty
Nicole Elizabeth Armstrong ◊◊
Justine Nicole Carpenter ‡ ◊◊◊
Rebecca K. Chandler ◊◊◊
Alexis Whitnee Ewing ◊◊◊
Alexa C. Leroux ◊◊◊
Erin Makransky ◊
Sara Anne Sykes ‡ ◊


Associate of Science, Physical Therapist Assistant
Kelsey Jo Arkfeld ◊◊◊
Taylor Boyce
Candice Sue Burkey ◊◊◊
Amy M. Edwards † ◊◊
Thomas Charles Guttermann ◊◊◊
Samantha Kalinowski ◊
Cortney Brook Kelley ◊◊◊
Kaitlin Veronica Mick ◊
Sarah Jacqueline Moffatt ◊◊
Katy Arlene Sousan
Jeffrey Stephen Swanson ◊
Laura Jane Vyvlecka † ◊◊◊
Heather Nicole Wilbur


Associate of Science, Respiratory Care
Angela L. Brazau
T.J. Burbach ◊◊◊
Justin Cole Druskis ◊◊
Keely A. Emmack ◊
Angela Rose Kolvek ◊
LaToya L. Sharp ◊◊


Associate of Science, Surgical Technology
Andrea Ruth Burns ◊
Ashley Nicole Byers
Gianna Marie Caniglia
Kimberly Rhea Cristobal ◊◊
Jessica Cullinane ◊
Randalyn JeeEun Heinen ◊◊◊
Haley Ann Schulze
---
Graduation Honors
Baccalaureate Honors Designation
*** Summa Cum Laude
** Magna Cum Laude
* Cum Laude
Associate or Certificate Honors Designation
◊◊◊ Highest Distinction
◊◊ Distinction
◊ Honorable Mention
† Educated Citizen Honor Society
‡ Levine Scholar