Healthcare is a huge field with a wide variety of career paths. Everyone's familiar with doctors and nurses, of course, but do you know about the many other options? There are a lot of not-so-well-known healthcare jobs that have great pay, are in high demand and provide an opportunity to work with and care for patients.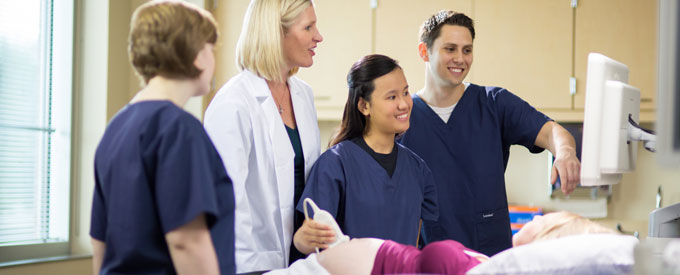 Here's a look at some of those interesting and exciting careers in the medical field that you might not be familiar with.
What are my options?
Allied health careers present great options for students entering healthcare. You can earn an associate's degree or certificate and be working after only two years (or less) of school. These careers are often overlooked because people feel they need a bachelor's degree to get a "good job." But in reality, there are many successful and skilled professionals in healthcare who have an associate's degree or certificate.
If you're interested in the healthcare field, you have to check these out. Many let you work closely with patients and do some really exciting stuff:
From doing ultrasounds of unborn babies to mapping the blood flow in the heart, sonography provides an opportunity to make a difference in your patient's care. You'll have a lot of interaction with patients and an opportunity to complete complex procedures.
As a surgical technologist, you'll be right in the middle of the action, working alongside doctors and nurses during surgeries. You'll also prepare patients for surgery and make sure equipment is ready to go. You might even get to be in on the action, for instance suturing incisions after a surgeon is finished.
Rad techs are an important part of the teams that diagnose patients, providing x-rays that help show what's going on inside a patient's body. They work closely with patients and are also responsible for making sure x-rays are done safely and effectively.
This is one a lot of people haven't even heard of, but it's another satisfying, important job that's attainable with an associate's degree. Respiratory therapists work with anyone who's having trouble breathing, from premature babies to elderly adults to kids with asthma. They diagnose and treat patients and even help train patients on how to administer their own treatments.
Opportunity for more
When considering a career in healthcare, you can expect strong job demand and robust salaries. Median salaries for the jobs above range from $30,000 for a medical assistant position to $64,000 for sonographers.
For many, though, the money is secondary to the opportunity they have to be in a profession where they can make a difference in the lives of others. These are careers where caring and compassion are prized just as much as clinical skills and knowledge.
At Nebraska Methodist College, every student is supported in their quest to pursue a career in the medical field. Our goal is to provide an education that will fuel your passion, teach you to truly care for your patients and help you become a vital part of the healthcare community.
For a breakdown of other careers available, download our free Healthcare Career Guide.