Nebraska Methodist College student Molly Bouc is one of the many members of the recently graduated Class of 2014. Bouc graduated with an Associate of Science degree in Surgical Technology. Bouc took time out of her busy schedule to talk about graduation and her future job at the Nebraska Medical Center.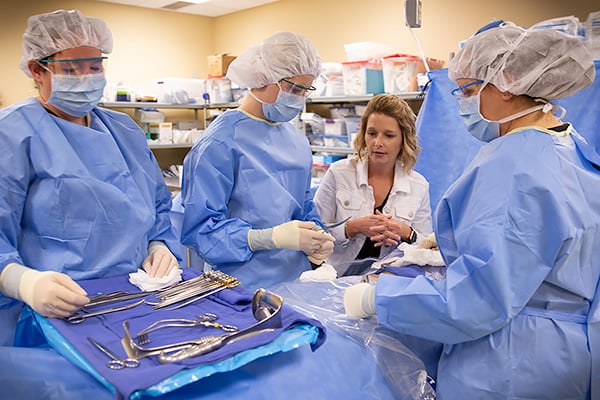 How does it feel to be graduated and have your degree?
It's definitely a good feeling now having graduated, already having a job right out of school and becoming certified all right in a row.
What are you planning to do with your degree?
I have a job lined up with the Nebraska Medical Center. I actually start really soon. At the Nebraska Medical Center, the orientation is about four months and you go through all of their different specialties. You see where you fit in best and where there are openings. I'm aiming to be part of the neuro team, but that will just depend on how things go with orientation.
Why did you decide to pursue a career in surgical technology?
I wanted to be a surgeon for a long time. I shadowed a surgeon and decided that wasn't for me. So I looked for other outlets that were still involved in the operating room, and that's how I found surgical technology.
When I was younger, I had a surgical procedure and I remember looking over when I was laying on the operating room table and I was like, "What are all those instruments?" I asked the lady standing there if I could touch and see the instruments. She said, "No, they're sterile, I can't let you do that." But it's funny how things in my childhood have come back around. Now, here I am the one who is doing that job. Maybe someday another curious kid like myself will ask me the same question.
Why is working in a career in healthcare important to you?
I'm very passionate about healthcare. I love helping people, seeing a better outcome and knowing that I made a difference. I have a bone tumor in my arm, and so when I was younger, I was exposed to all these different medical areas. I just really wanted to become involved and reach out to other people who have maybe gone through the same thing I did.
What will you remember most about Nebraska Methodist College?
I will remember my instructors most — Jamie Walker and Christy Grant. They became more than just instructors. They became family. Those are things I will always remember — having the opportunity to just go knock on their door and talk to them about my day or things that were going on. They were always there. I first met Christy when I first visited Nebraska Methodist College, and I knew it'd be a good fit for me. Christy reminded me of myself and was someone I wanted to be like.
Now having graduated, what advice would you have for new students?
My advice to new students is to never give up, and if they even have a slight interest, they should definitely explore those interests further. You never know where it might take you. Also, know that what we do is not easy. There are going to be days where it's hard and you just have to keep pushing through. But there is light at the end of the tunnel.