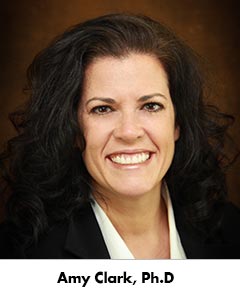 Amy Clark, Ph.D., is Nebraska Methodist College's new Dean of Health Professions, overseeing 19 undergraduate, graduate and certificate programs. Clark has 16 years of experience working in healthcare and 12 years of experience in healthcare education. She took a moment this week to discuss her background in healthcare, advice for students and her life outside of Nebraska Methodist College.
What is your background as a health professional?
Prior to becoming a full-time instructor, I was a medical social worker and worked with pediatric and adult populations. My first job as a medical social worker was at Methodist Hospital in 1999, where I worked on the old Oncology floor. I transitioned to UNMC and became a member of the Bone Marrow Transplant team where I conducted psychosocial assessments for patients and filled in for the Liver Transplant Team. I truly was a member of a healthcare team, and by that I was fortunate to work with so many different disciplines and interact professionally with so many wonderful individuals within Allied Health.
What made you want to become a healthcare educator?
I have been asked, as a social worker, why I teach at healthcare institutions. To me it is a very simple answer — I truly love working within the medical field and with healthcare students. The very first class that I taught was a Healthcare Ethics course. Not only did the students love my social work stories, but I enjoyed introducing them to the many complicated scenarios that exist when working with patients and their families. There is no other time in a patient's life where they are exposed to people who will see them when they are in such a vulnerable state. The role of a healthcare professional at that moment is so vast that instinct alone is not good enough. You truly have to go back to your training, clinical, and practicums and put into practice what you have been taught. It is a powerful thing to know as an educator that your students are responsible for caring for someone in their most stressful and intimate moments.
What are the advantages of pursuing careers in Allied Health?
There are so many advantages to working within an Allied Health profession. Students are now savvier about the cost and applicability of their education. To be able to have a "career in a year" as some of our certificate and associate programs allow is very appealing. The expectation now for many is that education does not end after your senior year in high school. We have so many options that are perfect for students who feel that desire to "help people" by working in the health profession, but don't want the debt associated with a four-year degree.
What advice do you have for students considering a career in Allied Health?
My advice for any student, specifically one considering a profession in Allied Health, is to do a little research in terms of the professions that are "growing" and hiring now. You will often find that many of the careers are within Allied Health, and the demand will only increase. For on-campus students interested in Nebraska Methodist College, touring our campus will speak for itself.
Nebraska Methodist College truly sets itself apart from other local colleges and universities by having an office devoted to Student Health, many individual study rooms and state-of-the-art simulation areas. The Josie Harper Campus is an amazing facility with such great people on staff to go along with it.
What do you like to do outside of your job at Nebraska Methodist College?
I have three very active children — Jack, Luke and Kate — who really keep my time wrapped up, and I love every minute of it. We live in a small town outside of Omaha, so they are involved in every sport that is offered up to them. My sons are wrapping up basketball season, and my daughter, at seven years old, is already talking about the volleyball camps she wants to be in this summer. They are currently my hobby, although I love to cook and am training for a half marathon in the fall.