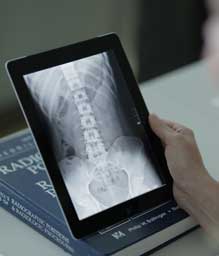 Careers in medical imaging are great for individuals who are tech-savvy and have a keen eye for capturing the perfect image. Medical imaging professionals use high-tech imaging equipment and computers to produce detailed images that allow physicians to diagnose disease or trauma in patients.
In its first year at Nebraska Methodist College, the Bachelor of Science in Imaging Sciences program is preparing students for advanced careers in medical imaging.
The degree allows students to pursue upper-level positions in high-demand careers such as computed tomography (CT) and magnetic resonance imaging (MRI). The degree opens the doors for students to pursue radiologic job opportunities in management, teaching and supervisory roles with a higher base salary.
Nebraska Methodist College's Imaging Sciences program serves as either a dual degree program or degree completion program. Through the program, students can work simultaneously to earn an associate's in Radiography and bachelor's in Imaging Sciences; or students who already have an associate's degree in Radiography can transfer previous credits toward the bachelor's degree.
After completion of the associate's portion of the program, students can apply to take the national registry and become a Registered Radiologic Technologist (R.T.). The majority of the bachelor's portion of the program takes place online, allowing students to work while completing the degree on their own schedule.