Being a college student often means living on a tight budget, but that doesn't mean you can't have any fun. Omaha is a hub of things to do that won't break your bank. If you are looking to get out and about without spending a lot of dough, put down that Ramen, because we've got some great ideas for you: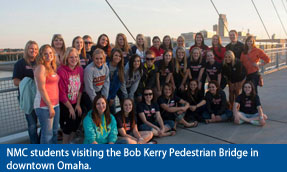 Ride the slides at the Gene Leahy Pedestrian Mall. Seasoned sliders bring wax paper for extra speed. After that, head over to the Old Market to take in Omaha culture at its finest.
Take your picture standing in two states on the Bob Kerry Pedestrian Bridge. Then enjoy all the great parks and attractions Omaha's riverfront has to offer.
Be inspired at one of Omaha's art galleries. The Joslyn Art Museum , the Bemis Center and Hot Shops all have free admission.
Air guitar to some of Omaha's best bands. Catch a free concert at Midtown Crossing or go see a local show at the Slowdown or the Waiting Room — both popular all-ages venues. Some local shows are as cheap as $5.
Ride like the wind down the Keystone Trail — just a half-mile from campus — or explore Omaha on one of its many other trails.
Make a hole in one. Forget about green fees — play a round of disc golf at Seymour Smith Park at 72nd and Harrison streets.
Pay homage to our country's veterans at Memorial Park. Memorial Park is a great place for a walk or ride. It's also an excellent spot to go sledding in the winter.
Pick up a spare at one of Omaha's many bowling alleys. Bowling is a great group pastime that doesn't break the bank, and West Lanes bowling alley is just a mile and a half from campus near 72nd and Dodge streets.
Shop for groceries at an Omaha farmer's market. Farmer's markets near campus include Aksarben Village, Sundays from 9 a.m. to 1 p.m., and Midtown Crossing, Wednesdays from 3 to 6 p.m. Some of the farmer's markets have free entertainment and, best of all, free samples!