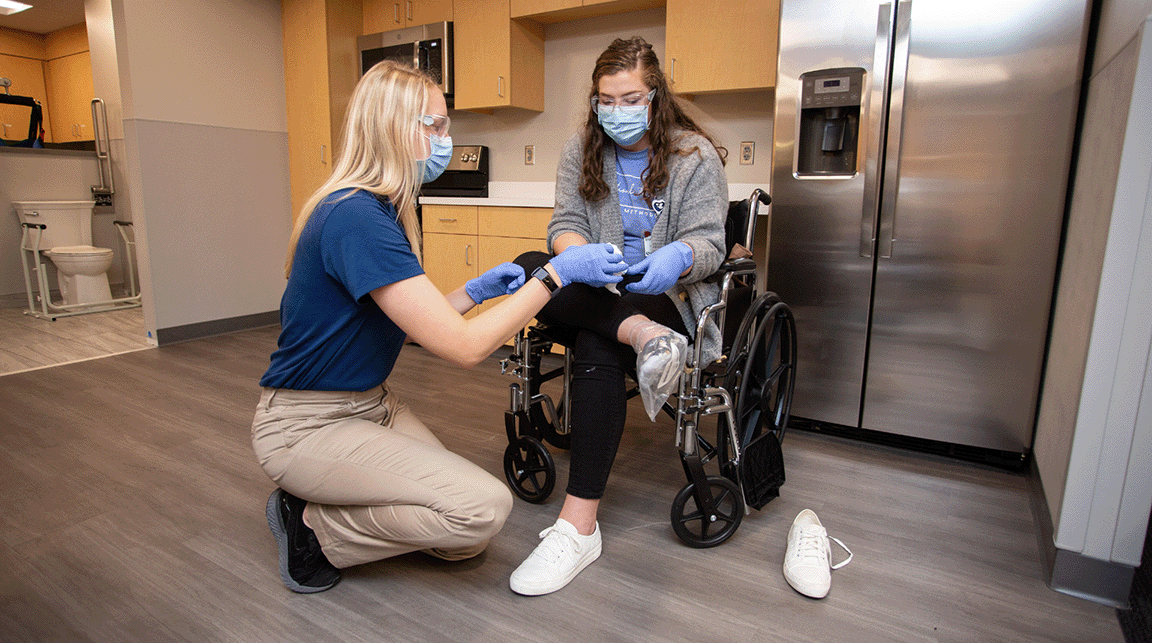 Deciding to apply for your master's degree in occupational therapy is exciting. But you may be wondering how to navigate the application process.
Choosing a Master of Occupational Therapy Program
With a Master of Occupational Therapy (MOT) degree from Nebraska Methodist College (NMC), you'll be equipped to provide high-quality care to patients who have been injured, diagnosed with a disability or have seen their bodies undergo debilitating changes as they grow older.
You'll learn how to implement effective occupational therapy programs designed with individual clients in mind, providing expert guidance for long-term healthy living.
NMC's program is designed for compassionate professionals who want a more individualized healthcare approach.
As an occupational therapist, you'll have the opportunity to work in diverse settings such as hospitals, rehabilitation centers, private clinics or patient's homes.
Benefits of NMC's MOT program include:
Online and in-classroom learning, hands-on laboratory experiences, collaborative research engagement and off-campus fieldwork.
Can be completed in six semesters (24-months).
Fieldwork assignments begin in the first semester to give students real-life experience throughout the program.
Can earn additional education after graduation - Post-Professional Occupational Therapy Doctorate or an Education and Leadership in Healthcare Doctorate.
Employees of Methodist Health System (MHS) may be eligible for tuition assistance.
Master of Occupational Therapy Applications
Many colleges use the Occupational Therapist Centralized Application Service (OTCAS) for the application process.
OTCAS is a centralized application service for occupational therapy programs that offers a convenient and efficient process to apply to occupational therapy school using a web-based application.
The application offers online checklists and instructions to easily navigate through the process of applying. Students are able to track the receipts of the application, transcripts and references 24/7.
Like many programs around the country, NMC has partnered with OTCAS to assist with all occupational therapy master's degree applications.
"As you are working through the process in OTCAS, please don't hesitate to reach out to admissions with questions," said Melissa Siedlik, recruitment and admissions coordinator at NMC. " I can answer prerequisite questions and help you learn about our program. I am here to help!"
Tips for a Successful Occupational Therapy Application
Online applications add convenience but can add an element of frustration if things go awry. We've compiled 10 tips to help ensure your experience with OTCAS is as seamless as possible:
Create an account in

OTCAS

today. It's never too early to familiarize yourself with the application. Flag the institutions you are interested in, and then start to track deadlines, admissions criteria and application requirements.
Complete the application on a desktop computer rather than a mobile device or tablet.
Google's Chrome web browser seems to work best.
Complete tasks that are out of your control first, such as requesting your official transcripts and asking for professional references. Transcripts must be requested from the institution and sent directly to OTCAS. This process can take a few weeks and can cause a delay in completing your application in a timely manner.
Ask your professional references if they have time to write a letter of recommendation for you. If they say yes, give them a copy of your most recent resume. Your professional references must send their letters of recommendation directly to OTCAS on their own time.
If you are asked to answer essay questions directly on the application, write your response in a word document and copy and paste your materials into the application. This way, you can save your responses just in case your computer crashes or you have technology issues.
Include your name and page numbers on all documents that you attach to your application. This includes your personal statement, essay questions, resume and observation hours.
Make sure you double-check all of the prerequisites. OTCAS will list program prerequisites and then ask you to plug in the courses you have taken to meet the requirements. If your prerequisites are in progress, we recommend typing the information for the course you plan to take in the future and then leaving the grade blank.
Don't procrastinate submitting your application. It can often take three to four weeks to verify materials in OTCAS. Don't wait until the last minute to submit your materials. You might miss the deadline.
If you have questions or concerns, contact the OTCAS Customer Service at otcasinfo@otcas.org or (617) 612-2860.
Make sure you view all of the admissions requirements when you're applying to the occupational therapy program.
At NMC, our recruitment and admissions coordinators are here to help you in your journey to becoming a healthcare professional. If you have questions about the Master of Occupational Therapy program or the application process, contact our admissions team at (402) 354-7200 or admissions@methodistcollege.edu.