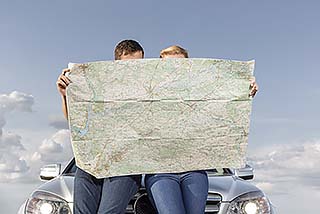 Why work in one hospital when you can work in many? Travel nurses are in high demand, with the healthcare field in desperate need of qualified individuals who can step in and help patients in areas of distress.
Last week we celebrated Travel Nurses Day, a holiday established by our partners over at Medical Solutions, and as a follow-up to this important event, we thought we'd highlight six key benefits of being a travel nurse.
1. See the World
One of the best parts travel nursing is also one of the most obvious, seeing as how it's right in the title: you'll get to see portions of the country that you never would have have imagined.
This certainly isn't an all-work-and-no-play situation. When you're not on the clock, why not take in the World's Largest Ball of Twine (just head southwest from NMC toward Cawker City, Kansas)? You'll be helping people during your on-hours, but when you're off the clock, you'll get to see some of the most picturesque views that our country has to offer.
2. Go Where You're Needed Most
Huge swaths of the country are experiencing a critical shortage of nurses, a shortage that's not expected to scale back anytime soon. The Bureau of Labor Statistics projects 19% job growth between 2012 and 2022 as the baby boomer generation ages and demand for healthcare increases.
The challenge is finding people to fill the necessary positions. Some areas of the country will be hit harder than others, and that's where travel nurses come in. Hospital systems need nursing professionals who can hit the ground running and offer premium patient care. And as long as the nursing shortage persists, this role will continue to remain crucial in communities across the country.
3. BSNs In High Demand
More and more hospital systems are requiring incoming nurses to have a Bachelor of Science in Nursing prior to being hired, and this is true even in areas where shortages are taking place.
This is a big reason why we partnered with Medical Solutions to launch the RN to BSN academy. It's also why we reduced our RN to BSN program's tuition by nearly half. It's imperative that all nurses, even those who have been in their careers for awhile, attain their degrees.
The BSN is truly becoming the entry point across the country, and as a travel nurse who possesses that degree, you'll be in a premium position when various systems are looking to fill critical roles. Your opportunities for advancement and prospective work sites will increase exponentially, providing you with a degree of control you wouldn't have otherwise.
4. Quality Family Time
One of the things holding a lot of people back from becoming a travel nurse actually turns out not be much of an obstacle at all.
We're talking about the mistaken idea that a nurse will be on the road so much that they won't get a chance to see their families. In fact, it's the opposite that's true.
Medical Solutions, for instance, prides itself on making life easy for families. Spouses, children and pets are not just allowed but encouraged to take part in the journey. A nurse will never be placed somewhere that their lifestyle can't be accommodated. Family is always welcome on the road.
You don't have to go it alone. And you might even find that your connection with your family is never stronger than during and after your time as a travel nurse.
5. Build That Resume
Every hospital and health system is unique. Each has their own processes, policies and quirks.
As a travel nurse, you'll be expected to adjust quickly to meet the demands of each new hospital you land at, but this is actually a huge positive for your career. The ability to react to whatever new environment you find yourself in is something that could be highly valued among hiring managers.
Spending time as a travel nurse shows that you're willing to adapt your own techniques to suit the situation at each locale you find yourself in. And the fact that you've worked with patients in a multitude of different environments demonstrates a level of empathy and care that will come in handy no matter where you are in the country or in your career.
6. The Sense Of Accomplishment
By their very nature, travel nurses will only be deployed where necessary. That means you'll witness a visible impact on the various communities you travel to.
Rather than feel like a stranger in a strange land, you'll be welcomed with open arms as you prepare to put your experience and education to immediate work. You'll be sent to areas where you'll be able to do the most good, allowing you to make a real difference in the lives of so many patients.
It's impossible to overestimate the sense of accomplishment this creates. As a travel nurse, you're truly in a position that allows you to effect positive change. And that's why those persons who answer the call find it's perhaps the most rewarding experience they've ever taken part in.
Interested in learning more about the many possibilities awaiting someone who pursues a career in nursing? Then be sure to download our Nursing Career Guide today!