Interested in a career in sonography? Sonography is a non-invasive procedure that uses high-frequency sound waves to create images of tissues, organs or blood flow in the body. Sonographers operate special imaging equipment to create images or conduct tests. They also prep patients for procedures, prepare and maintain equipment, review images or test results, analyze diagnostic information, record findings and keep track of patients' records.
Sonographers are currently in demand and the career is a great option within the healthcare industry. At Nebraska Methodist College, there are three specialization areas. You'll choose between an Associate's Degree in Cardiovascular Sonography or Multispecialty Sonography or a Bachelor's Degree in Cardiovascular Sonography or Diagnostic Medical Sonography. Both require unique skills and offer exciting career opportunities.
Read on to learn more about what sonographers do, the specialization areas and how to start the path towards becoming a sonographer.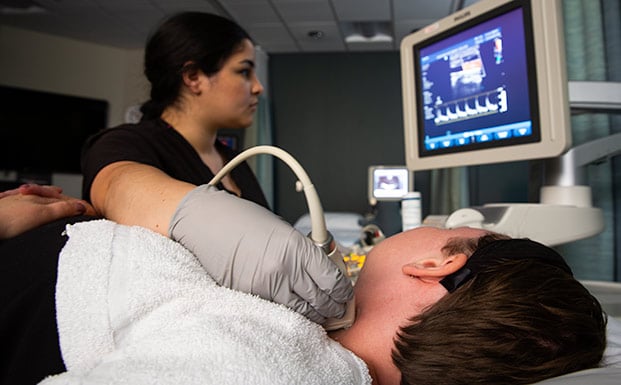 Why become a sonographer?
Aside from sonography being interesting and rewarding, there are many reasons to become a sonographer. Diagnostic medical sonographers enjoy an excellent starting salary and have a 12% job growth rate as of 2019. The need for sonographers is growing due to an aging population and medical conditions such as blood clots and heart disease will need to be diagnosed.
Sonography is mentally stimulating and requires a variety of skills including organization, technical skills, interpersonal skills and mental and physical strength. Most sonographers work in hospitals, physicians' offices or medical and diagnostic laboratories.
What is cardiovascular sonography?
A cardiovascular sonographer helps physicians in the diagnosis and treatment of disorders that affect the cardiovascular system. Using ultrasound and other technology, sonographers collect and evaluate images of the heart, heart valves and related blood vessels.
Cardiovascular sonographers also evaluate, analyze and record information related to blood vessel anatomy and blood flow of the vessels. They work closely with patients and have great interpersonal skills.
At Nebraska Methodist College, you can earn your associate's degree or bachelor's degree in cardiovascular sonography. The Bachelor of Science in Cardiovascular Sonography is four-year program and is an online-on campus hybrid. If you want to earn an Associate of Science in Cardiovascular Sonography, it'll take 21 months to complete.
What is multispecialty sonography?
Multispecialty sonography focuses on different parts of the body. The obstetrics and gynecologic portion focuses on imaging of the female reproductive system and includes one of the more well-known uses of sonography — examining the fetus of a pregnant woman to follow the baby's growth and development.
The abdominal portion of the curriculum involves learning the anatomy of the abdominal cavity to help diagnose and treat conditions primarily involving the aorta, gallbladder, bile ducts, kidneys, liver, pancreas and spleen. Multispecialty sonographers also focus on the breast, thyroid and male reproductive system.
What is diagnostic medical sonography?
Diagnostic medical sonographers are skilled in creating imaging tests when disease is suspected. They are specialized in areas such as the abdomen, breast, heart, muscles, tendons and more. Diagnostic medical sonographers who graduate from NMC work with women who undergo fetal loss, breast cancer, infertility and high-risk obstetrics.
Like the other areas of focus in sonography, you'll learn in a high-tech lab at Nebraska Methodist College to improve the skills and confidence needed for success. Clinical rotations will expose you to diverse populations, facilities and technology.
How do I become a sonographer?
Now that you know about the different types of sonography and the areas they specialize in, you might be wondering where to start. Research schools and check for accreditation. You'll want to check the admissions requirements for the program you're interested in. Take a look at the curriculum for each program and make sure that it's what you're expecting.
Start a new chapter of your life today and apply to Nebraska Methodist College. You can reach out to anyone from the admissions team with questions, plus take advantage of virtual information sessions to learn more about the program of interest.