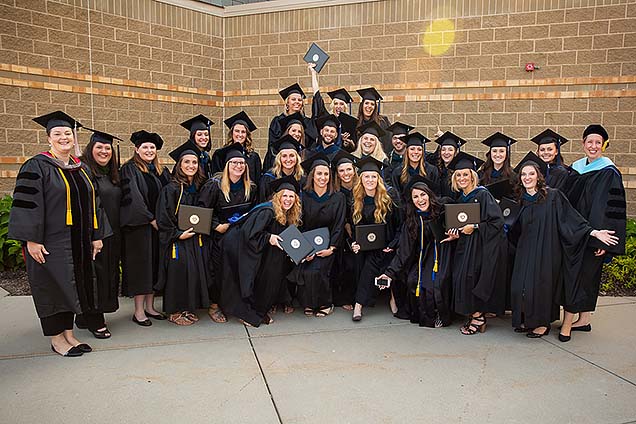 "I always wanted to be able to give back to others and do something that would make a difference," said Megan Vermeer. "Now I can."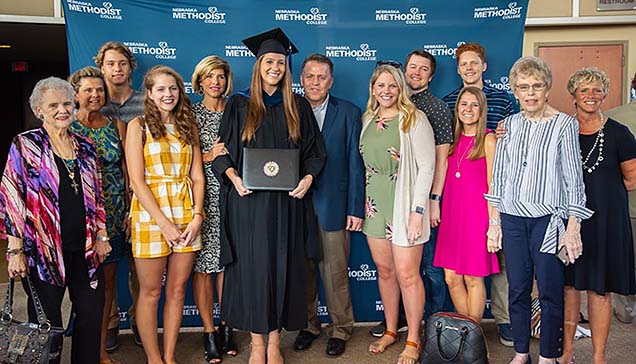 Megan is part of a history-making group. She is one of the 23 members* of the first class to graduate from Nebraska Methodist College's Master of Occupational Therapy (MOT) degree program. The graduates received their diplomas at the summer commencement ceremony held August 3.
To get where she is today, Megan took a winding path and a leap of faith to a new degree program and an unexpected profession. Megan says her entry into a medical field is no surprise. Instead, it felt almost predestined.
"I always knew I'd choose healthcare." said Megan. "I'm from a family of healthcare providers on both sides."
One grandfather, Dr. Frank McCabe, was a surgeon. The other was Wayne "Wags" Wagner, UNO athletic trainer and founder of Methodist's sports medicine program. Megan's mother, Teresa Wagner Tessmer is a nurse and NMC graduate (1984). Megan's aunts are nurses and NMC grads, too: Deb Wagner Humpal (1986) and Gina Wagner (PhD, BSN 1991, RN 1983), who is a humanities professor at NMC. Megan's sister, Molly Tessmer, is a BSN student here.
Shown, from left, in photo below: Molly Tessmer, Teresa Wagner Tessmer, Megan Vermeer, Dr. Gina Wagner.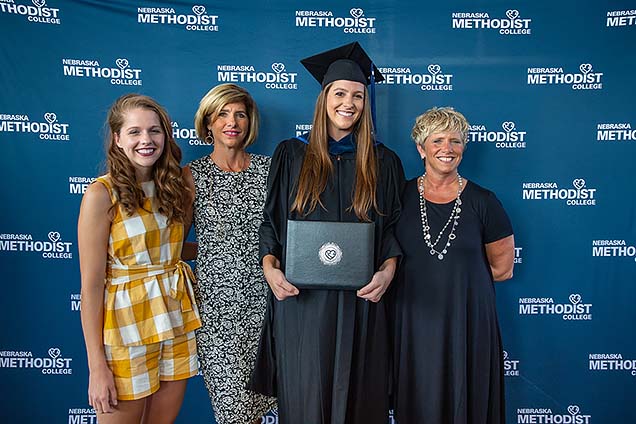 "I thought I'd become a doctor," said Megan. "But in my second year of premed, I realized I didn't really like what I was doing or where I was heading."
After much soul-searching, Megan switched majors to earn an undergraduate degree in psychology with a minor in gerontology. She spent the next two years working as the activities director for a retirement community with a continuing care facility. It was a chance to earn money for graduate school while deciding what to do with her life. Megan says she feels blessed by the timing of her career indecision.
"My search led me to occupational therapy and to NMC," said Megan. "At the time, I didn't know what OT was. Most people don't."
Megan shadowed an occupational therapist and did more research. She quickly saw parallels with what she loved most about her work at the retirement community: opportunities to enhance an individual's independence, functionality, and life satisfaction.
"There is a classic elevator speech to explain OT," said Megan. "OT helps you with what you want to do, need to do, and have to do. OT is a very creative, hands-on, holistic, and individualized approach to helping patients gain the greatest return possible from therapy."
The Bureau of Labor Statistics projects 24 percent growth for the occupational therapy profession between 2016 and 2026, a much faster rate of job growth than the average for all other occupations, with 31,000 additional occupational therapists needed by 2026.
Just as Megan was realizing she wanted to become an OT, she learned from her Aunt Gina that NMC was developing its first OT degree program, a 24-month master's, to meet this growing demand. The program, which opened in fall 2016, earned its five-year accreditation by the Accreditation Council for Occupational Therapy Education (ACOTE) of the American Occupational Therapy Association (AOTA) in December 2017.
NMC's MOT program provides classroom learning, research assignments, lab work, and fieldwork experiences in a convenient on-campus and online hybrid format. A bachelor's degree is required for admission to the program. Fieldwork assignments begin in the first semester. Prior to graduation, each student is paired with a licensed OT for two full-time fieldwork rotations, each 3 months long, at clinical sites in the Omaha area and throughout the nation for immersive, hands-on learning.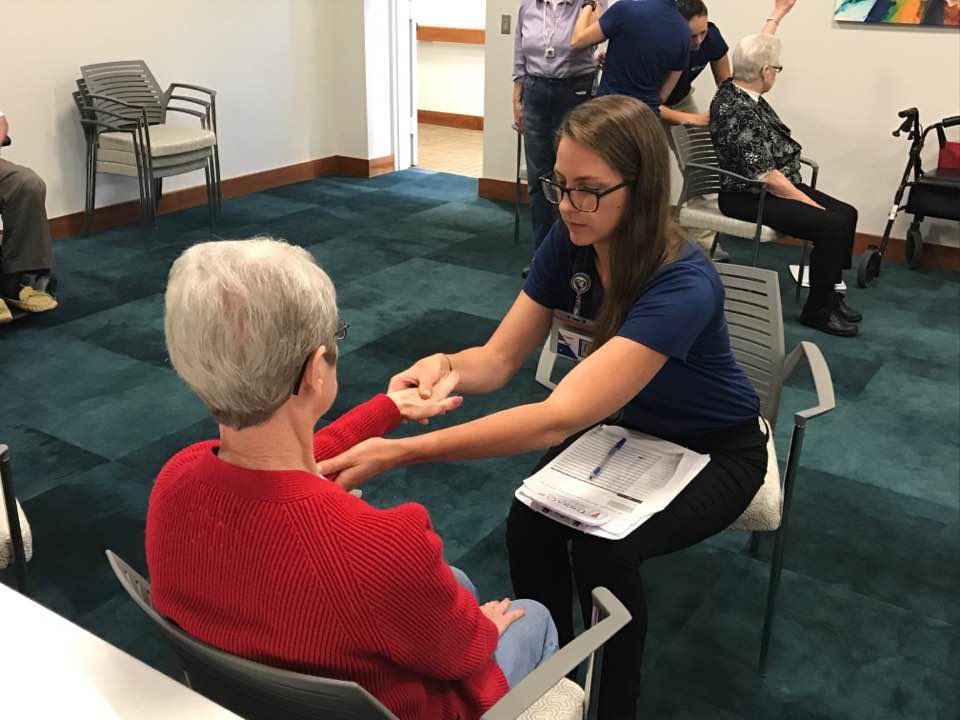 Megan spent this summer doing a fieldwork rotation at a skilled nursing facility in Missouri Valley, focusing primarily on the elderly. This spring, she worked with stroke survivors and other patients at Nebraska Methodist Hospital's acute rehabilitation unit.
Megan, like two of her classmates, completed all of the program requirements and graduated while pregnant. Megan and her husband look forward to welcoming their first child, a son, in September. Megan says she feels very excited and ready, not only for motherhood, but for her board exams and future as an occupational therapist.
"I absolutely recommend this program to others," said Megan. "The people are all so knowledgeable and passionate about the field. They show us how to live The Meaning of Care mantra through our profession and our client-centered focus."
At the August 3rd graduation, Melissa Kimmerling, EdD, MOT, OTR/L, gave a commencement address highlighting the historic nature of NMC's first graduation of future occupational therapists. Dr. Kimmerling, who has extensive professional and educational experience in occupational therapy and healthcare, is the director and creator of the Nebraska Methodist College MOT program.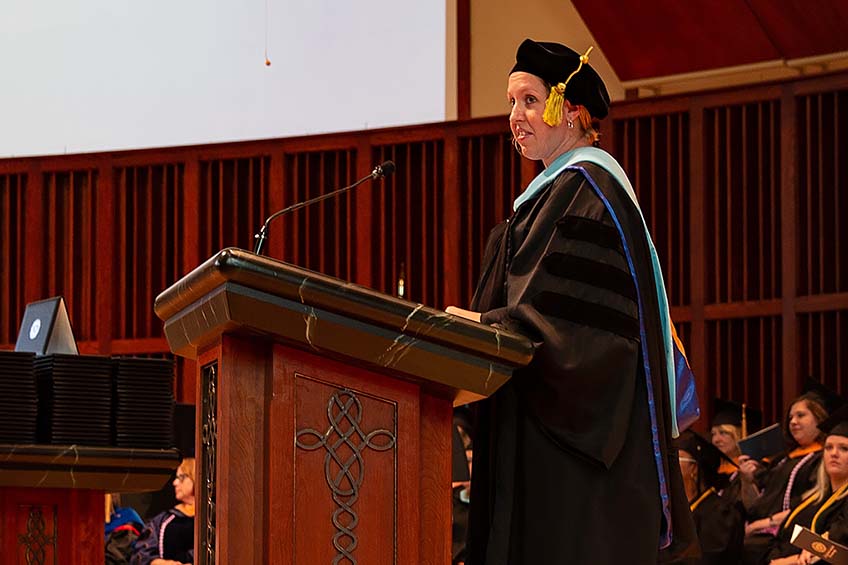 "You trusted that we have the resources and professionals at our institution to help you realize your dreams," Dr. Kimmerling told the graduates. "You trusted your heart that you were making the right decision in your choice of both a career path and an academic institution. You trusted that the messages on our billboards and the slogan on our website were true: that we teach The Meaning of Care."
The words resonated with Megan and her fellow graduates.
"Now you will be the ones in whom the trust lies. Each time you see a client or patient, they will trust that you are the best person to provide their care," said Dr. Kimmerling. "We are confident that the graduates of NMC understand their obligation to provide each and every individual they work with client-centered, excellent, holistic care. You have the skillset, heartset, and mindset to make a difference in the lives of those you serve."
NMC congratulates Megan and her classmates, who are now on their way to make that difference.
---
*Members of the NMC family hold a special place in our hearts for Cheyla Pettett, the 24th member of the inaugural MOT class. Cheyla was struck and killed by a vehicle in August 2016, when she was an incoming first-year graduate student. An OT classroom mural was dedicated to Cheyla to honor her kindness, positivity, and the passion she brought to Nebraska Methodist College and the occupational therapy realm.
---