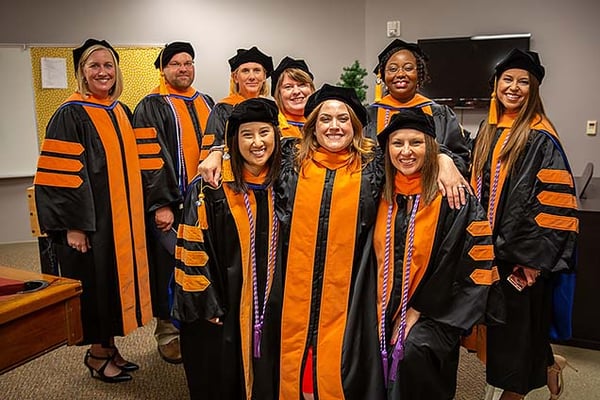 Nebraska Methodist College welcomed its latest line of nursing and allied health graduates at summer commencement ceremonies held at St. Andrew's United Methodist Church on August 3.
The ceremony honored the accomplishments of the 120 nursing and allied health graduates, including the 23 members of the first cohort to graduate from NMC's Master of Occupational Therapy program.
"We are very proud of our graduates and the many achievements attained along their journey from students to healthcare professionals truly committed to making a difference in the lives of people in their most vulnerable times, " said Dr. Deb Carlson, president and CEO of Nebraska Methodist College. "Our graduates are taking the next step forward as educated citizens, equipped with the skillset, mindset and heartset to be outstanding healthcare providers and leaders."
Here is the list of graduates with their degrees and special honors acquired.
Doctor of Nursing Practice
Michelle Jeanne Blackman
Bryan Keith Gall
Leanne Grover Galvan
Lori Ann Jerina
Nhi Yen Nguyen
Teclaire Mindiga Ntui-Ayuk
Christina Lee Sailors
Marcella Louise Sorrell
Angela Rose Zavala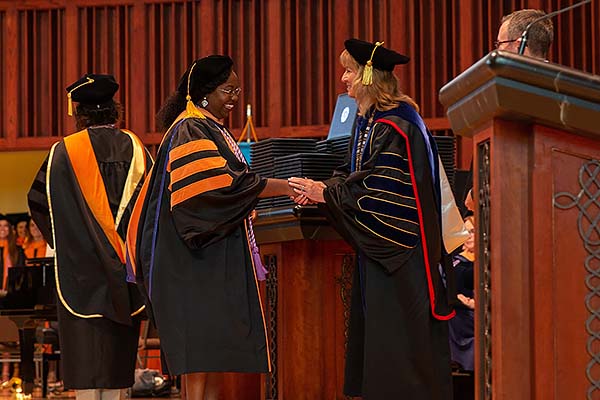 Master of Science in Nursing
Kathryn M. Anderson
Lindsey Marie Anderson
Jeremiah Lee Blake
Jessica Frances Cote
Tasha Lashay DeWeese
Dolores Diaz
Monica Rose Dinslage
Jessie Rae Ferris
Tricia Beth Jensen
Molly Elizabeth Knutson
Elizabeth Ann Markmann
Nicole Josette Nixon
Nevada Schnatz
Whitney Ann Veazey
Brooke Loretta Walters
Elizabeth Faith Watkins

Master of Occupational Therapy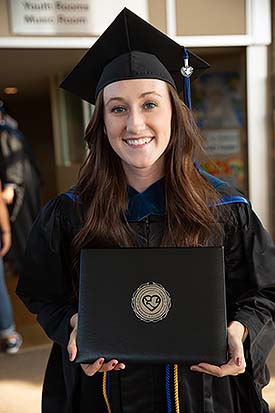 Lindsey Marie Bairn
Christa Renée Carr
Alyssa Marie Conrad
Torrie Marann Dannehl
Melissa Ann Doerr
Anna Mae Gerhard
Kelsie Marie Goc
Michael Bruce Greenwood
Melinda Ruth Hedges
Hannah Elise Hovis
Kaitlin J. Johnson
Leah Marie Miller
Britany Kaitlin DeShae Neal
Brianna Marie Oropeza
Brooke Podtburg
Ashton Taylor Rakow
Maddison Rouse
Christine Nicole Schrepel
Emily Ann Steinbach
Joseph James Sutko
Karli Mariah Thompson
Elizabeth Araceli Valencia-Sanchez
Megan Vermeer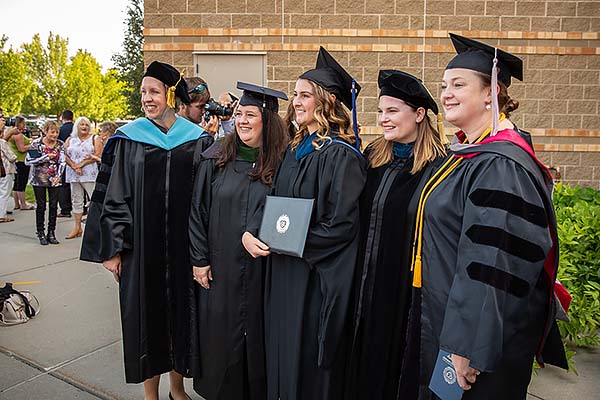 Bachelor of Science, Health Studies
Eddie C. Davis Jr.


Bachelor of Science, Imaging Sciences
Julia Donna Delaney ***
Lea Danielle Gillespie ***
Mackenzie Melissa Jorgensen ***
Sarah Jolyne Lajiness ***
Caleb McGowan *


Bachelor of Science in Nursing
Jean Elizabeth Bailey
Michaela Maureen Castellano ***
Ashley Nicole Coffiel
Jonathan Lyle Cooney *
Karla Coria
Andrea Myra Deering **
Giselle Winnie A. DeGuzman ***
Richard Joseph Dettmer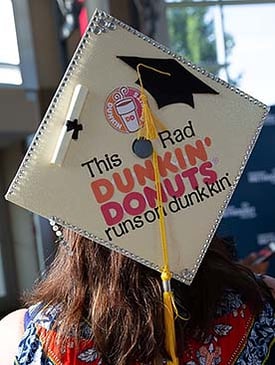 Kara Maureen Donovan
Cambria Nichole Evans **
Renee Lynn Fulton **
April Gomez **
Abigail Carrie Holzwarth ***
Wendy Michelle Hunter-Williams **
Madeline Chloe Kindler *
Tammy Louise Klug
Megan Marie Marshall **
Ciera Diane Martinez *
Dakota Faye McCormick *
Erica Jeanette Menjivar
Alyssa Jewel Murray ***
Ashtynn Elizabeth Neill
Kaneesha Kierra Reed
Emily Jane Rollag
Anna Kay Rozeboom ***
Kristine Novelle Ryan *
Joel Michael Sahulka **
Kara Sue Schrage ***
Sarah Marie Singleton
Carolyn Ann Smith ***
Alissa Rae Thompson
Sarah Elizabeth Vitek
Brianna Walker
Mikaela A. Washington **
Tai Lynn Marie Wick **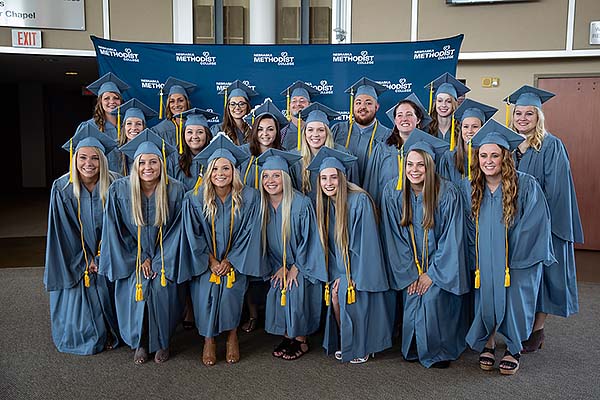 Associate of Science,
Radiologic Technology
Megan Mackenzie Anderson ◊◊◊
Mariah R. Bengtson
Taylor Rene Bier ◊◊◊
Shane David Conley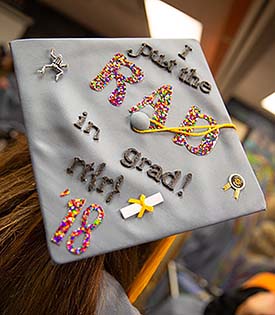 Amanda Rose Cross ◊◊◊
Laura Rose Douglas ◊◊◊
Taisha Kay Garside ◊◊
Sara Elizabeth Gramberg ◊◊
Haley Gray-Dekraai ◊◊◊
Caitlin Hurst ◊◊◊
Kelsey Ann Jones ◊◊
Regan Michelle Landen Ω ◊◊◊
Ashley Nichole Loss ◊◊
Vicki Jean McIntosh ◊◊
Megan T. Miksch
Laura Pachunka ◊◊◊
Victor David Sanabria-Amaya ◊
Laura Elizabeth Siderewicz ◊
Daci Lyn Smith † Ω
Colton Gunnar Starman
Kayla Lynn Wegman ◊◊


Associate of Science, Respiratory Care
Leah Jo Fowler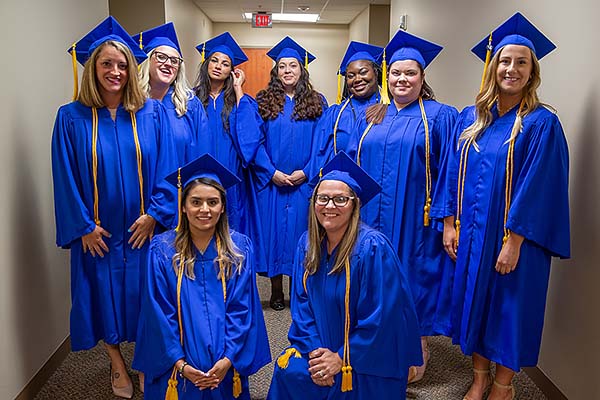 Certificate in Medical Assisting
Suzanne Michelle Barrett ◊
Nicole Marie Bellar ◊◊◊
Lizzette Carrizosa-Ortiz ◊◊◊
Precious Christine Grancer
Kelly Josephine McDonnell ◊◊◊
Kendra Elizabeth Means ◊◊
Morgan Lee Renner
Sarah L. Sears
Tennehya Joy Williamson ◊◊◊
---
Graduation Honors
Baccalaureate Honors Designation
*** Summa Cum Laude
** Magna Cum Laude
* Cum Laude
Associate or Certificate Honors Designation
◊◊◊ Highest Distinction
◊◊ Distinction
◊ Honorable Mention
† Educated Citizen Honor Society
Ω Portfolio of Distinction
---