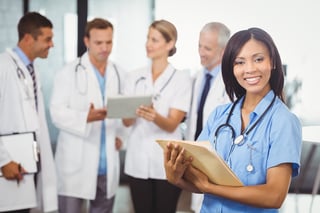 If you've been a part of the healthcare field for a few years, you're probably ready to tackle new responsibilities. Maybe you want to switch departments, work in a different sort of environment or vie for a promotion.
You should be commended for this decision. Modern healthcare is filled with an array of options suited to the abilities you possess and your interests as a professional.
That's not to say that taking on a brand new role and becoming a healthcare leader will be easy. In fact, the modern world creates some unique challenges you may encounter when you set your mind to the task.
Today, we look at precisely what these challenges are, and even better for ambitious healthcare professionals, we offer solutions you can take with you.
1. You Need the Next Degree
In healthcare, if you want to progress further within your chosen profession, there will come a time when you're essentially required to go back to school and earn the next degree.
Nurses in particular have quite a bit to gain by returning to college. By earning your Master of Science in Nursing, you can take on responsibilities like managing or even educating the next generation of nurses. And with your Doctor of Nursing Practice, you gain the power to prescribe medications and potentially practice independently of physicians.
If you're a technician, you'll need a minimum of an associate's degree for most positions, but that's only the entry level path. Suppose you're a radiologic technician. At some point, you may embark on a Bachelor's degree completion option so that you can run a lab or manage your own office. The same goes for respiratory therapists and sonographers.
None of those leadership opportunities would be possible without earning the next degree.
2. You Need a Completely Different Degree
Let's say you've earned your certificate as a medical assistant or phlebotomist and have enjoyed your time in those positions, but you decide you want to take on more responsibilities. When that happens, you really have no choice but to earn a degree that entitles you to an expanded role.
This happens quite a bit. Once an individual has settled within their first position, they see all the other awesome jobs they can do within healthcare. Your best bet will probably be to move on to another degree entirely.
It's not uncommon for a medical assistant to embark upon a career as a nurse or a healthcare manager, or a sterile processing technician to go the surgical technologist route. While it may be a different degree, that interest in healthcare is the logical progression of your skills as an allied health professional.
3. You're Not in the Right Market
Sometimes what's holding you back actually has nothing to do with your degree. The state of healthcare is such that what could be an in-demand job in one market is incredibly competitive in another.
As such, if you're willing to relocate, you could find that your job and promotion opportunities open up immensely. This is exactly why something like the traveling nurse program exists. Many locations around the country are in desperate need of nurses, and they're willing to pay to get those nurses on staff, even for a limited period of time.
This can happen on a state by state or even city by city basis. If you've ever found yourself hitting a wall, you might be surprised what opportunities exist the next town over or the next state over. When you go job hunting in healthcare with an open mind, you might be amazed by the kinds of positions you're qualified for and that allow you to truly lead.
4. Your Position Isn't Best Suited To Your Interests
Maybe you graduated with one degree but have had the dawning realization that your current position isn't everything it was cracked up to be. You don't want to pursue a leadership role because you don't want to lead at that particular facility.
Oftentimes, you may need a new environment to find inspiration again. It may not even require a career switch. If you've been working at a clinic, promotions to management roles may be few and far between because the place you're at is too small. One person could manage an entire team of nurses or healthcare workers and not be going anywhere.
In these situations, work at a hospital might open up your world in a way you never expected because multiple opportunities for promotion exist. Or, have you ever considered work as a Health Educator in a city, county or state health department? These jobs are out there, and they provide leadership opportunities that aren't available with other environments.
Don't just think about your particular job so much as whether or not your current job offers you exactly what you're looking for.
5. The System Itself Has Changed
Healthcare is different than it was ten years ago. There's no getting around that. The Affordable Care Act has changed the game, and no matter your personal politics, you absolutely must adjust to the new normal or else face diminishing returns.
Hospital systems and clinics are facing situations where, if they don't adjust their policies to reflect updated billing processes, outcome-centric care plans and a renewed focus on prevention rather than reaction, they will lose money quickly. If you're a part of such an institution, it's going to become harder and harder to make your own personal impact, especially if you're not getting buy-in from higher-ups or you're being prevented from becoming one of those higher-ups.
The system is changing, and you must change with it.
6. You're Not Getting the Help You Need
The flipside of the supply and demand equation is when you're in a position where you desperately need to hire qualified people to build your team but those persons don't seem to exist or at the very least aren't applying.
When your hands are tied in that way, it becomes difficult to embark upon the types of management steps that you know will have a positive impact on your facility and ultimately your patients. This one doesn't have an easy solution, as it's not like you can force somebody to get a degree so they can be a part of your team.
Maybe it's enough to let current employees know about potential degree and career opportunities. Provide incentives to incoming employees to seek out the proper certifications they need to become a valuable part of your healthcare team.
The Future Is Looking Bright
Clearly, hurdles to leadership opportunities exist. But hopefully you've come away with the realization that none of these issues are insurmountable. With determination, you'll be able to overcome these roadblocks and reach whatever goals you set for yourself.