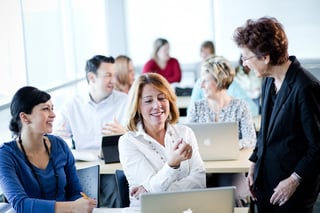 When an individual receives their RN certification, their nursing education is far from complete. Today, the Bachelor of Science in Nursing is merely a baseline. Nurses now have the opportunity to pursue additional positions of expertise thanks to the advent of Master's and Doctoral degrees in nursing.
Many nurses are resistant to this pursuit. After all, they may have already spent years pursuing an education in the career they're passionate about. Many dedicated themselves to bedside care and couldn't imagine earning a degree that takes them away from that. Maybe it's the cost that creates concern or the difficulty of balancing a schedule while going to school.
These concerns are valid, but they're certainly not stopping nurses from around the country from pursuing their Master's of Nursing degrees, especially here at Nebraska Methodist College, where the Master's program is thriving with three separate tracks.
To that end, we wanted to find out what drove our students to go back to school. We posed the question: why earn your MSN? The results speak to a wide range of challenges and concerns shared by nurses and point to the innate drive to better oneself that seems inherent to those with a nursing background.
An Education in Education
For Julie Schlick, a student in the MSN-Nurse Educator track and an instructor at Nebraska Methodist College, it was her experience within Methodist Health System that first set her on the path to a teaching career.
"Part of it was stopping to think how much I did like precepting," she said. "[Students] go with one nurse and they follow her schedule or his schedule, and you just kind of help guide them and show them what it is to be a nurse. It gives them a more real feel than a lot of the clinical experiences."
"Even when I wasn't precepting, I was one of the charge nurses, so I was a major resource that people came to all the time with questions, and when you help somebody figure something out, it's kind of a rewarding thing."
Like many other students in the Nurse Educator track, Julie's return to higher education had a lot to do with her schedule. She loved the experience of being a nurse working in a hospital, but the 12-hour night shift had taken its toll once her kids reached school age.
"My youngest is going to be in kindergarten this year, and my oldest was already in third grade and so I did want to be able to be there for things."
"One of my coworkers that I worked with out at Lakeside went back for education, and I was like 'oh, that's kind of an interesting idea,'" she said. "There was one night I couldn't sleep. Imagine that. I just started searching online and I emailed somebody at like four o'clock in the morning, probably, about being interested in the [MSN-Nurse Educator] program. They got back to me the very next day."
The Nurse Faculty Loan Program also appealed to Julie, as it provides 85% loan forgiveness to graduates who work full-time for four years following graduation. Some hesitate to enter this program out of fear of being unable to find work, but Julie was able to work as an adjunct and transition to full-time nursing right here at NMC, so she'll have no problem meeting the requirements of the NFLP.
Plus, being a teacher hasn't meant an end to bedside care. In fact, she still finds herself over at the hospital often, albeit working in a different capacity.
"I teach, I instruct in the classroom but I also do clinicals, so I still have the hands-on."
An Executive Decision
Other students at Nebraska Methodist College and elsewhere choose to pursue an MSN that allows them to attain more of a leadership role within healthcare. At NMC, that means the MSN-Nurse Executive track.
For Aimee Black, MSN, RN, NE-BC and an alum of Nebraska Methodist College, the decision to return to school was similar to Julie's and had everything to do with the tough schedule of being a nurse.
"I returned to school to get my MSN because I didn't feel like I could be at the bedside long-term," she said. "I didn't care for 12-hour shifts either. While I liked caring for patients, I needed the opportunity to move around in my career to continually [be challenged] and I felt having my MSN would provide me the opportunities down the road to do that."
Jan Morgan, MSN, RN, CCRN, Service Leader at Nebraska Methodist Hospital, felt justified in her decision to return to school after experiencing what the Executive track was all about.
"Someone once told me that their MSN program was one of the best educational experiences they have ever had," she said. "I didn't believe them until I experienced this through the NMC Nurse Executive track for myself. Although it is a significant commitment, I feel the program has helped me transform my practice in order to help my organization reach our goals."
I was curious to know why both Jan and Aimee elected to take the Executive route rather than the Educator route. Their answers were eye-opening.
"When I was promoted to Service Leader of the Progressive Care Unit," said Jan, "I quickly realized I wanted to gain more knowledge and skill in the areas of communication, organizational leadership, change management and business acumen. Building on my past experiences in healthcare, the educational foundation provided by NMC's nurse executive program is exactly what I needed to be an effective leader in the dynamic and complex healthcare environment today."
For Aimee, who is also a Service Leader at Nebraska Methodist Hospital, the executive track spoke to her background and where she sees herself in the future.
"[The executive track] was absolutely the right move for me because my strengths and personality play more into a leadership role than they would have in education," she said. "As healthcare continues to change so quickly, I feel like leadership is very challenging and constantly keeps me thinking strategically about how we can improve the patients' quality of care. Having an MSN gives you a much broader perspective of healthcare, and it is very exciting for me to have the knowledge and be able to apply it through this constantly changing environment."
The Right Fit
When Julie, Jan and Aimee came to NMC, the Nursing Informatics track was not an option, so their choice lay between the education field and the executive world. Each had their own reasons for earning their MSN, but all were dedicated to expanding their career opportunities.
The MSN provides a gateway to the upper echelons of healthcare, be that in leadership, teaching excellence or, in the case of informatics, information technology. It's a big step to take, but it's also one that's worked out well for our students, many of whom remain in the Methodist family long past graduation.
You've seen their reasons. What will yours be?