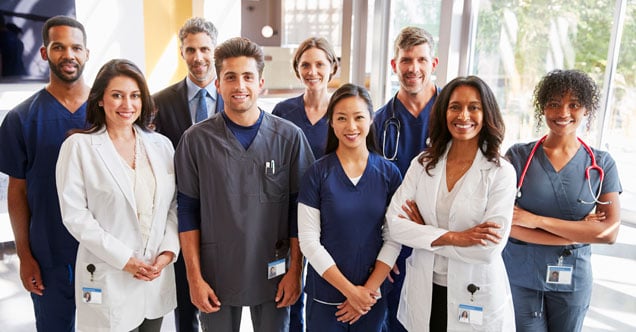 Research shows that from 2016 to 2026, the healthcare occupation sector will grow by 18%, outpacing job growth in the general economy by 12%.
Are you interested in becoming a part of a team of healthcare professionals?
If so, the path to a healthcare career is paved with opportunity. It's also wider than you might expect. Before you head down this journey, it helps to narrow your focus and find your niche.
We created this guide to help you explore different options and discover the one that suits your interests and talents. Read on for the practical advice to use as you navigate the healthcare career opportunities out there.
Start Asking the Big Questions
Before you start researching the more than 200 individual healthcare career options, there are a few major questions to ask yourself. Begin with the big-picture questions that encompass your interest in the medical field, including:
Where do I want to work?
What skills do I have?
Do I want to be hands-on or involved in

healthcare management?
Is there a certain sector that interests me more than others?
How much do I want to earn as a starting salary?
In this beginning phase, you can also take a healthcare career quiz to help you pinpoint your interests. Or, you can speak to a career counselor who can help you channel your drive in the right direction.
The reality is that there are different skill sets and personality traits required to succeed in every healthcare occupation. Your job is to find one that fulfills your personal and professional goals.
Define Your Education Requirements
Once you've identified where your strengths and interests lie, it's time to explore the steps you'll need to take to make your dream a reality. One of the most important aspects to understand is what level of education you need to complete.
Before you can apply for your dream healthcare job, you'll need to have all of your prerequisites in place. These include your resume, licenses and other applicable credentials. Education is the critical link between the job you want and the one you're qualified to pursue.
Let's take a look at a few of your options.
High School Diploma or Professional Certificate
Looking to get into the medical field right after you graduate? There are many positions that only require a high school diploma or professional certificate before you can get started. A few career examples include:
Associate's Degree
If you pursue an associate's degree, your earning potential increases alongside your professional opportunities. A few of the options you can explore include:
Bachelor's Degree
Interested in pursuing post-secondary education in the form of a bachelor's degree? If so, your responsibilities will increase, alongside your salary. Some of the top careers available with this level of education include:
Master's Degree
Do you anticipate going for your master's degree? If the idea of a few more years of school doesn't intimidate you, you'll reap the rewards. A few of the best medical professions you can achieve include:
Doctoral Degree or Professional Degree
Are you looking to take your career all the way to the top level? If so, a doctoral degree can open many doors and lead to a top-paying, rewarding career. A few options to consider include:
Physician or Surgeon
Physical Therapist
Pharmacist
Interested in learning the median salary for each of these positions listed above? The Bureau of Labor Statistics breaks down your prospective earnings here.
Pursue Mentor Connections
You've reviewed the data on earnings and education. Yet, you're still asking "What medical career is right for me?"
Need a little more guidance? This is where it pays to connect with a mentor.
Find someone who's currently on the same healthcare career path you intend to pursue. This way, you can rest assured that the advice you receive is both qualified and relevant. If you're a student, you can find plenty of resources at your Career Services Office or Student Affairs Office.
These experts can help shed more in-depth light on the job categories you're considering. They can also reach out to local medical offices to inquire about internship, apprenticeship or job shadowing opportunities. Even if on-the-job training isn't a possibility, it's still helpful to connect with these professionals.
Ask them about their normal duties, their common stressors and how satisfied they are with their position in the field. What does their daily routine look like? How is their work/life balance?
Knowing the answers to these types of questions can help you decide if a particular career is the right fit for you, or if you should continue your search elsewhere.
Jumpstart Your Healthcare Career With Us
Are you ready to stop dreaming about a healthcare career and start taking major strides toward achieving one?
That's where we come in.
As a fully-accredited, degree-granting private college, we're dedicated to helping our students pursue a range of nursing and healthcare degrees. From allied health to the management sector, we'll help you learn the ropes, one course at a time.
Our flexible degree programs allow you to pursue your education on campus or online, so you can make school work for you, rather than the other way around.
If you're passionate about healthcare and ready to take the next step, download our free Healthcare Career Guide or Nursing Career Guide to learn more today.