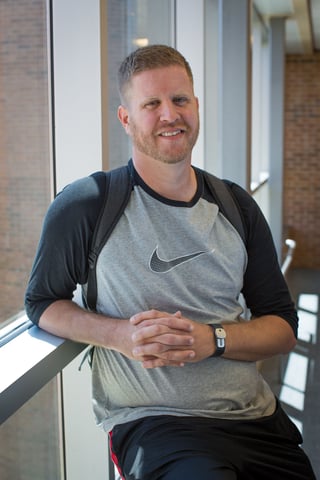 Shawn isn't a traditional nursing student. For one thing, he's already enjoyed a successful brokerage career in Sarasota, Florida. For another, well, he's a dude in a traditionally female workplace. And unlike most students fresh out of high school, he has to balance college with his own job and a family that includes four daughters.
Although he might not be whom you picture when you think of a nursing student, his experience at Nebraska Methodist College stands as a testament to what a person can accomplish when they commit themselves to a second career. During his time at NMC, Shawn has used available resources to his utmost advantage, and in the process, he's learned more about how he can shape the future of healthcare as a nurse leader.
I recently spoke with Shawn to learn more about his journey and how NMC is preparing him to lead a life as someone who makes a difference to individuals and entire communities.
Anything But Traditional
In Florida, Shawn was a broker for Edward Jones. But when life brought him back to Nebraska, he had a choice to make: start building a client base from scratch or find another career.
"I had no real interest in starting over as a broker, building a book of business," he said. "I still enjoyed the paychecks; I didn't enjoy the job. It felt like you were always on, and everybody was a potential client. You were never not working even when you were not working."
A friend got Shawn thinking about a career in healthcare, and his initial thought was to go into medical school.
"I love science and I love the patient care and felt like I'd be doing something good. [My friend] said the dirty secret of medical school is you don't get in if you're over 30, or it's very, very difficult. And so we started talking about this [nursing] and the paths I could go on."
Omaha has somewhat of an embarrassment of riches when it comes to available nursing schools. When I asked Shawn why he picked NMC over other institutions in the area, he had an answer right away.
"Here, I loved the lab, I loved the facilities. And everybody I met seemed to really be interested. You were never going to be a number here, you were never going to slide through the cracks, you were always going to be somebody as opposed to just another student. So that was kind of the final selling point."
A New Way of Looking at Things
Shawn took to nursing successfully, doing well on tests and generally getting good grades. But an encounter with TRIO Student Support Services really got him to approach academics and life in general in a different way.
With a background as a broker, Shawn's initial concerns about college ran to the fiscal, and that's what caused him to seek out TRIO. TRIO SSS can provide financial support to persons who meet certain parameters, helping them overcome money-related hurdles they'd face while attaining a college degree.
"Through a divorce and through several years not in a brokerage, I've eaten up my funds," said Shawn. "Here's another source of money to make life a little easier, and so I applied."
Upon acceptance, Shawn quickly found out that, while financial assistance was one perk of the TRIO program, it was far from the only service he's able to rely on.
"I still had a notion of, okay this is just money and so I'll check the boxes they need, I'll meet with Lisa [TRIO Achievement Specialist] a couple times, I'll do whatever the requirements are. And it's turned into a lot more than that.
"It's been really centered on me. I didn't think there was a lot academically that I struggled with, but she's helped me. She said, okay well you have four girls and a wife and you're in school and you work, organization's got to be an issue. It is, it's something I struggle with, so she's helped me structure some of that.
"And I'm dyslexic, so I got told early on, you can't spell, you're not good at English, and I've internalized that. If we have a paper due, I figure that in as a low grade [and then calculate] what do I have to get on the rest to have a good grade?
"She [Lisa] just said no, just send me your papers, let me take a look. She's helped me with that, saying here are specific things that you do in your writing. I understand what you're trying to do but this is what professional writing looks like and here's how you're deviating from that. So she's helped me with organization and with my writing skills which are probably my two biggest struggles being back."
Plans for the Future
Shawn doesn't intend for the BSN to be the end of his nursing journey. He wants to work in the mental health field, and he's set his sights on additional degrees, either an MSN or a DNP, that will allow him to pursue leadership roles in healthcare.
"I'm trying not to get ahead of myself, but I like the idea of the Informatics master's that they [NMC] have. It's data-driven. I think maybe there's a chance to help with public policy, which I think is a great need for vast underserved communities."
While Shawn may not be the traditional example of a nursing student, he makes sure to note that he's felt welcome throughout his time at NMC and has begun to perceive himself and nursing in a different light.
"I've never ever felt awkward, even this last semester in OB, which I thought I was just gonna dread. I'd never felt like I'd been treated different except 'you may have some life experience, can you bring that to the group?' So it's always been a positive affirmation.
"I'm a guy's guy. I didn't think I'd like the touchy feely nursy part of it, and I've started to come around. I've started to drink the Kool Aid a little bit. This is a whole person, not just a disease, this isn't just a process.
"The level of people hired here is astounding. It's intimidating, especially for a nontraditional student, but they've hired the right people and I don't think I'd be getting a better education anywhere else."