Attention NMC students: the Campus Health Center is one of the best resources you have access to on campus. According to our very own Roni Gray, APRN, NP-C, MS, here are the top ten reasons why you should pay her a visit: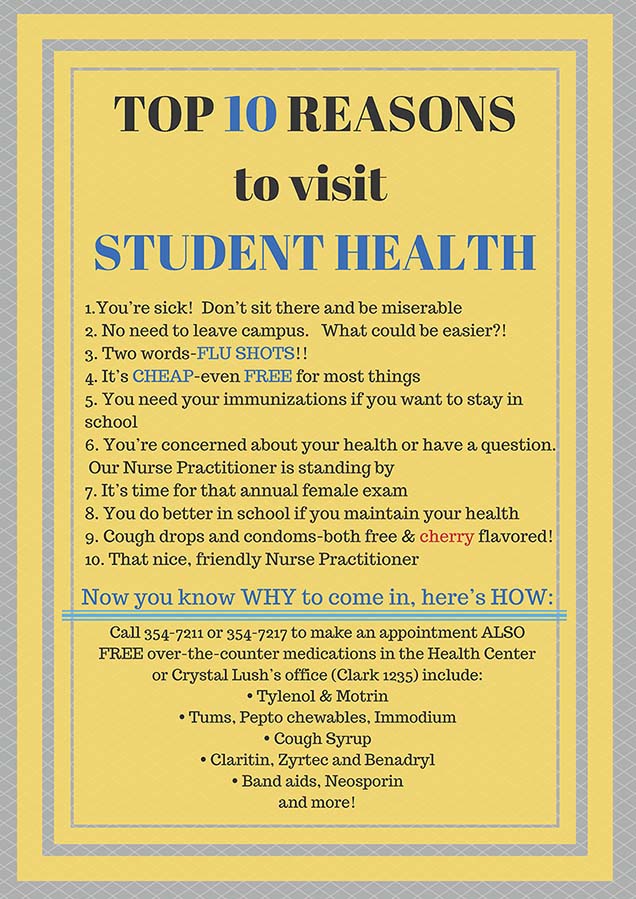 Having trouble viewing the image? Not to worry. Here's the full rundown:
1. You're sick! Don't sit there and be miserable.
2. No need to leave campus. What could be easier?!
3. Two Words- FLU SHOTS!
4. It's CHEAP- Even FREE for most things
5. You need your immunizations if you want to stay in school
6. You're concerned about your health or have a question. Our Nurse Practitioner is standing by.
7. It's time for that annual female exam.
8. You do better in school if you maintain your health
9. Cough drops and condoms- Both free and cherry-flavored
10. That nice, friendly Nurse Practitioner
OK- Now you know WHY to come in, here's HOW:
Call (402) 354-7211 or (402) 354-7217 to make an appointment.
ALSO
FREE over-the-counter medications in the Health Center or Crystal Lush's office (Clark 1235) include:
Tylenol
Motrin
Tums, Pepto chewables, Immodium
Cough syrup
Claritin, Zyrtec and Benadryl
Band aids, Neosporin