Yesterday, Nebraska Methodist College, with the help of students and a number of special guests, unveiled the Charlotte Schultz Learning Commons and Student Engagement Center, a space meant to act as a centerpiece for education innovation at the college for years to come.
Nearly 200 people from NMC and other colleges around the region were on hand to take part in the activities, starting with a welcome from Dr. Dennis Joslin, president of NMC, who took the stage to provide an introduction to what the college is trying to accomplish.
Dr. Joslin then invited Dr. Kevin Kruger to speak. Dr. Kruger serves as the President of NASPA Student Affairs Administrators in Higher Education, and for nearly an hour, he talked about the challenges currently confronting colleges throughout the country.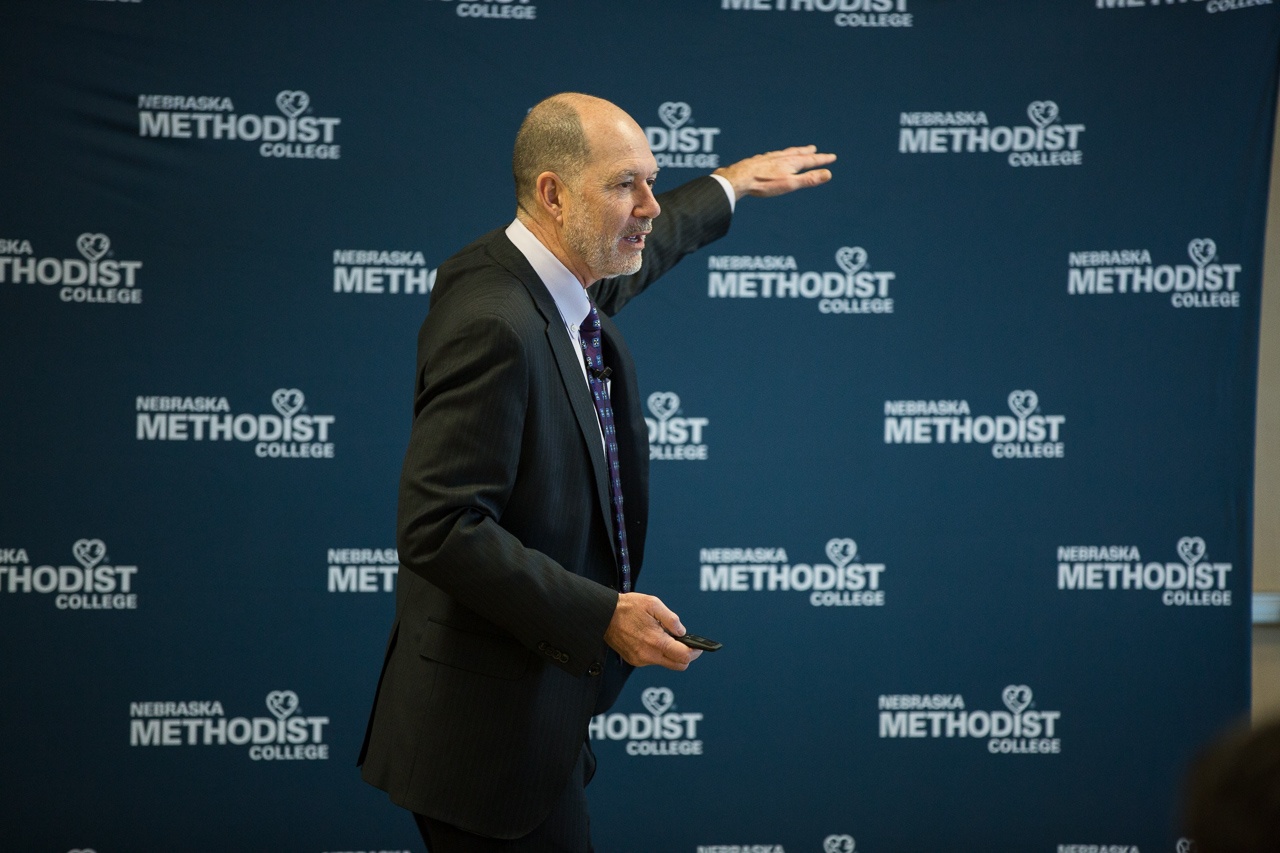 As anyone in the higher education sector can attest, there's been a dramatic change in student-teacher interactions, and any college not on board with the new normal might be in for a rude awakening. Social media has provided more power to students than ever before, and it's up to colleges to react appropriately when students harness that power to promote change. Waiting idly on the sidelines is simply not acceptable.
Some of the other topics Dr. Kruger touched upon may be eye-opening to anyone who hasn't really paid attention to the collegiate space in recent years. Students expect more control than ever over their degrees and their lives, which means that colleges will need to start thinking about how to adapt their curriculums. Dr. Kruger even brought up the increasingly popular idea among students to have create-your-own-degree options, where a student would choose a path that speaks directly to the career they're interested in.
The shockwaves transpiring throughout higher education were also evident to anyone who listened to the next speaker. Ken Brown, Regional Education Leader for Steelcase, spoke about the progress being made in using the classroom environment to actually enhance the learning experience.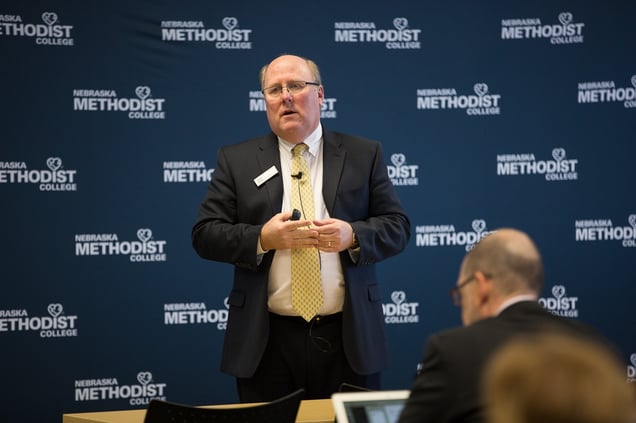 Gone are the days where a professor merely stands in front of rows upon rows of chairs and goes through the same lecture they've had memorized for ten years. Colleges are now finding success when professors wander around the classroom, with chairs and desks pointed every which way and interactive environments spaced throughout.
Technology of all types (tablets, smartphones, laptops, etc.) must be a vital part of the experience rather than put on silent to satisfy a professor's wish. Some may think a student is texting a friend when in reality they could very well be looking up videos related to the topic at hand.
In an era in which short-form YouTube videos are the dominant form of entertainment, professors must adapt by using those formats that students are most comfortable with. That's a big change from individuals who have taken a traditional teaching approach for decades, but it's one that colleges are finding success with when they make the transition.
Finally, Aileen Strickland, a researcher for Steelcase, presented some fantastic data on how these kinds of improved learning environments, which promote movement, technology, and ease of access among students, are actually improving study patterns and outcomes in colleges around the country. Not everyone studies the same way or reacts positively to the same spaces, so providing students with more options than ever is truly empowering those who may have struggled in a traditional classroom setting.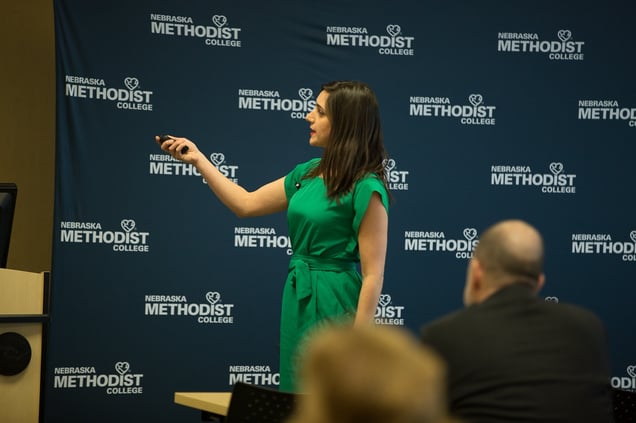 At the conclusion of these speeches, guests moved down one floor to the Student Engagement Center, where they got to see firsthand the types of environments discussed during the afternoon. Dr. Joslin, Dr. Kruger, and Mr. Brown said a few words before ceding the stage to a handful of Nebraska Methodist College students. With the NMC executive team holding up the blue ribbon, the students hoisted the obligatory giant scissors and opened the Student Engagement Center for business with one quick cut.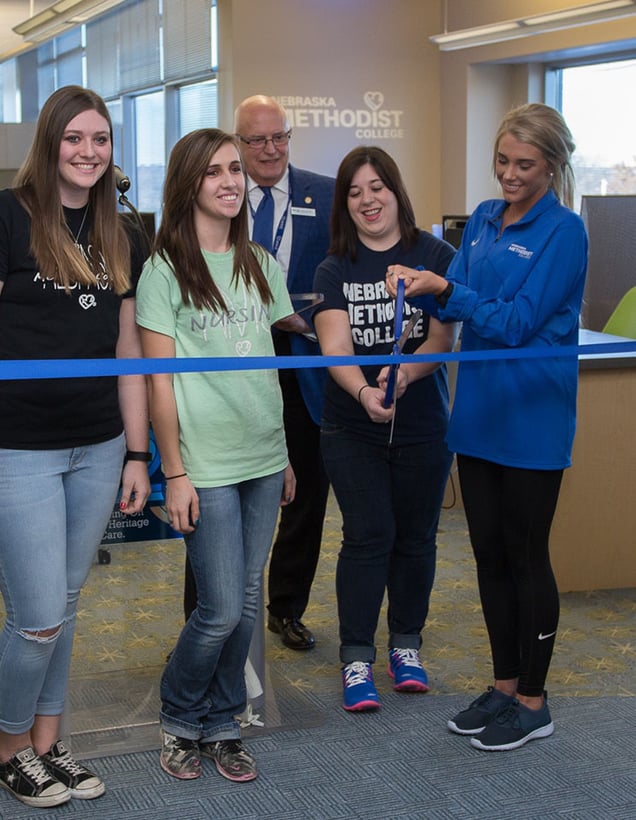 The folks assembled were then able to enjoy food and drinks while roving around the room to experience the different modules placed strategically within the study space. Multimedia setups allowed visitors to connect their devices directly to an array of television monitors of all different sizes. The furniture, much of it movable and adaptable to fit each user, also got its first test-run.
The Brody proved to be the most popular with guests; this private study space allows the user to sit in a lounge chair and work on their tablet or laptop while being completely enveloped by privacy screens. The comfort and relative quiet of this individual study space led many in assemblage to give it the nickname "the Nap Pod."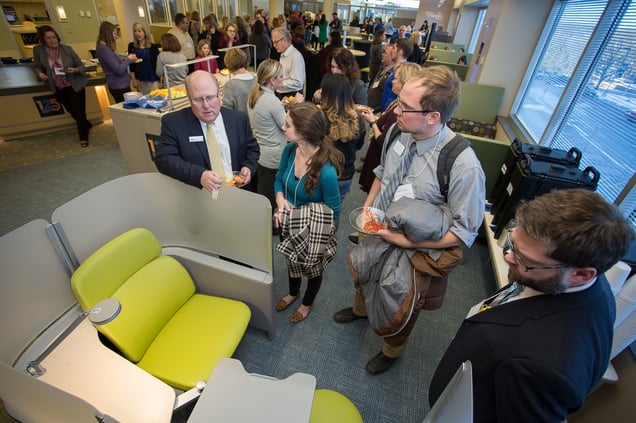 It was a great start to a new era of student engagement at NMC. When classes begin on Monday, we hope students will use this space however they see fit, especially as we continue to update the Engagement Center with additional amenities that enhance the study experience.
This is the first of many exciting developments that we hope to share with our community during Nebraska Methodist College's 125-year Anniversary Celebration. Stay tuned as NMC continues to invest in a new era in healthcare education.