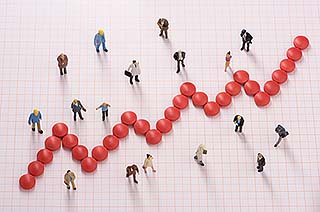 The healthcare field is experiencing unprecedented growth. And it's not just in one area; from surgical technology to occupational therapy and everything in between, the entirety of healthcare is expanding at an astonishing rate.
What does that mean for you? Well, if you're interested in one of the many healthcare careers out there, quite a lot. With more opportunities than ever before to make a difference to a multitude of people, you're in a great position to not only help others, but to have a long-lasting career as well.
More Entry Points Than Ever
There was once a time when you had relatively few options when it came to entering the healthcare field. The most obvious routes to take were to become a physician or to become a nurse, with a smattering of other roles to fill out the hospital staff.
Today, the degree of specialization within healthcare is more pronounced than it's ever been, meaning you have more paths to enter the industry than at any other time in history.
The healthcare team of today is an interdisciplinary enterprise. Yes, you still have physicians and nurses who regularly interact with patients, but those are only the first of the possible roles.
For instance, sonography is a career path all its own, and within that you can choose to specialize in cardiovascular, diagnostic medical and more. Radiology is its own career, as is respiratory care. And physical therapy and occupational therapy provide a completely different perspective that allows you to make a different yet no less distinct impact on your patients.
It's not enough to say you want to enter healthcare. Now you get to decide exactly how you want to become a part of the healthcare world. And what's more, each discipline may have multiple entry points.
Take something as seemingly straightforward as nursing. Right out of high school, you can choose to pursue your Bachelor of Science in Nursing and be practicing within four years. But not everyone goes this route. Many others choose to become a Certified Nursing Assistant and acquire experience in the field for some time before making the bridge to nursing.
Still others choose to attain their Associate's degree or become a Licensed Practical Nurse (LPN). It's only later, once they see the wider array of opportunities afforded to those nurses with their BSNs, that they then go back to school to earn their Bachelor's.
That's quite a few paths for just one field. And it's only the beginning.
More Opportunities to Progress
Within each of the fields mentioned and more, there's an opportunity for career progression that allows you to continually take on new challenges and responsibilities as you get older.
Hundreds of thousands of nurses continue with direct patient care their entire lives and lead an immensely fulfilling career. But there are additional opportunities if you choose to pursue them. The Master of Science in Nursing allows you to branch out into population-based care, data analysis, education and more. And a Doctor of Nursing Practice lets you reach the top of your field, providing an optimal level of care and setting the agenda for what healthcare looks like in the future.
Again, this isn't just nursing. Respiratory therapists, sonographers, radiologic technologists and more are going the degree completion route to turn their Associate's into a Bachelor's and attain more opportunities in the process. Many fields offer additional certificates that demonstrate an expertise within a highly specific area, like CT or MRI scanning.
So not only do you get to choose the path you take to enter healthcare, but you get to pick exactly where you progress. All of these fields become more dynamic every year. It is truly up to you to decide the career you want.
More Places To Work
With more job openings come more chances to work exactly where you'd be happiest. And those openings are plentiful within healthcare. Here's a brief look at data from the Bureau of Labor Statistics that shows just some of the fields adding jobs in droves (numbers represent estimated growth between 2014 and 2024):
Nursing: +439,300 jobs (!)
Nursing Assistants: +262,000
Medical Assistants: +138,900
Medical and Health Services Managers: +56,300
Physical Therapist Assistants: +31,900
Occupational Therapists: +30,400
Sonographers: +27,600 jobs
Radiologic and MRI Technologists: +20,700
Many of those jobs will be at hospitals, but not all of them. Private clinics, home healthcare settings, governmental health departments and more will be hiring people in the above areas, as will agencies that we haven't even covered.
This is a trend that will take shape not just in one area, but across the entire country. You love the idea of rural life? Fantastic. Many rural areas are in desperate need of specialists from all fields so that citizens don't have to travel for hours to reach the nearest big-city hospital. You've always wanted to visit the coast? Look at the job market in each city and move there to pursue your passion.
The country is yours to explore.
You Choose Your Path
With healthcare expanding rapidly, the biggest takeaway for you is this: you get to decide what path you take. The jobs are out there for healthcare professionals, giving you more choice than perhaps you ever thought possible in who you become and where you're going to do it.
It is truly a great time to be a healthcare professional.