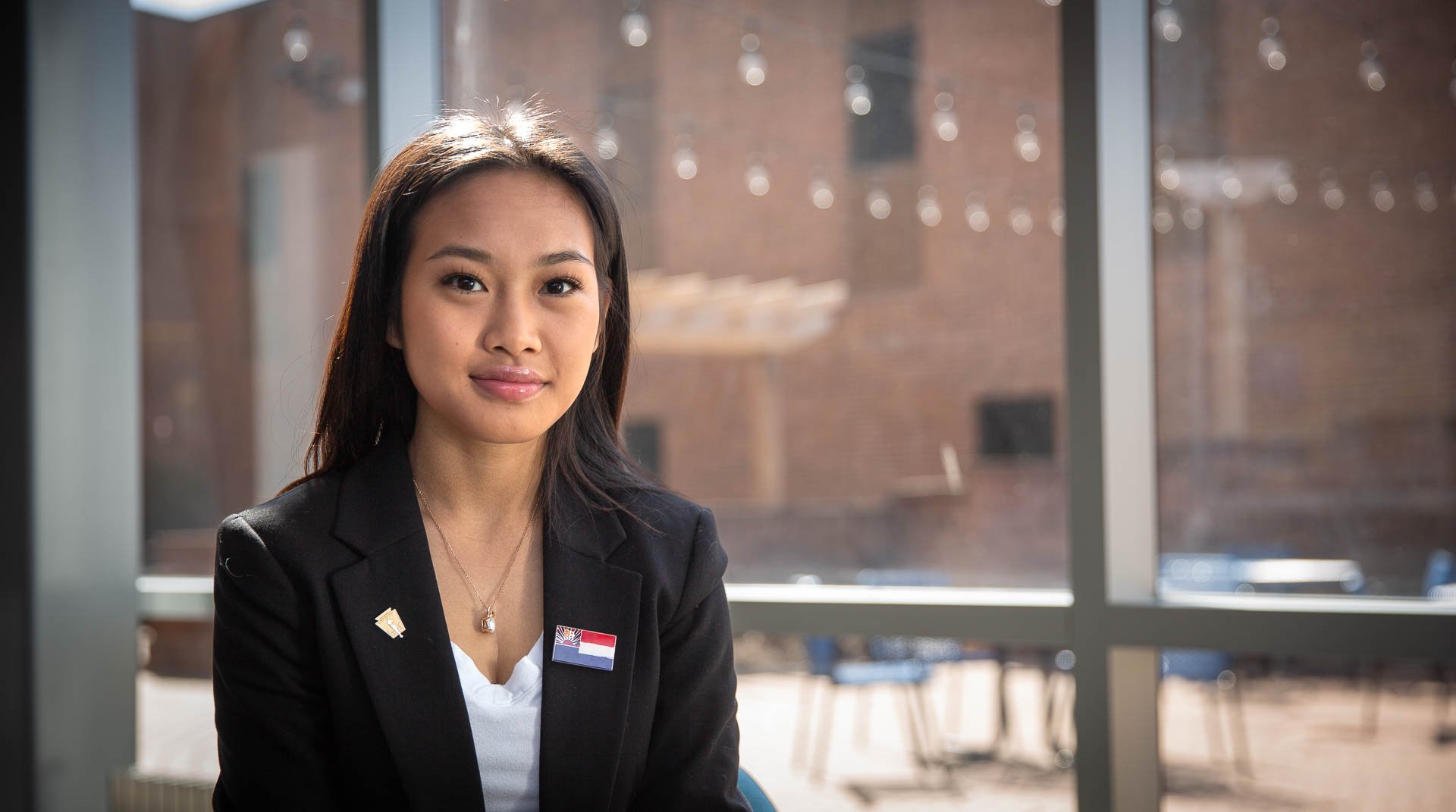 The generosity of a stranger inspired Eh Tha You Paw to live a life of service and advocate for the Asian community.
A Nebraska Methodist College (NMC) Upward Bound Math and Science participant, she will graduate from Benson High School later this month.
Upward Bound is a federally funded college preparation program that provides opportunities for high school students from low-income families. Upward Bound aims to increase high school graduation rates and college enrollment for Omaha high school students.
The program includes after-school tutoring and mentoring, college preparatory seminars, exploratory seminars, college visits, ACT preparation, work study opportunities, community service opportunities, educational field trips and more.
Upward Bound also allows students to enroll in college courses in the summer between high school graduation and the first semester.
Eh Tha You Paw will attend the University of North Carolina in Chapel Hill to study human biology. After that, she plans to become a pediatrician.
In honor of AAPI Heritage Month, she is sharing why community service is so important to her, the struggles the Asian American and Pacific Islander (AAPI) community face and how she supports the local community.
A Life of Service
My name is Eh Tha You Paw and my life started in the Thailand Mae La refugee camp.
I was born with a rare heart condition called ventricular septal defect. By the time I was six, seeking medical care had become impractical. I needed open-heart surgery to survive.
Luckily, we found a patron from America that was willing to give us the money we needed to save my life. I don't know who or why they blessed me with their generosity and gave me a second chance, but their actions have inspired me to live a life of giving and contribute as much as I can to our society.
My life comes from my parents, my community, the donor that afforded me heart surgery, the doctors that saved me and many others that have helped me. There is not a day that I am not aware of how many blessings I have in my life because of the service of others.
To pay homage to my mystery benefactor, I donate my time and energy to help my community.
I helped push for donations via social media as the Karen people suffered under the military coup in Burma. Every year, I help run the University of Nebraska Medical Center Refugee Health Fair. I raised money for the Children's Hospital for kids battling cancer.
I am involved in both my school and my community. In school, I am a part of Future Female Leaders of Benson, Student Council, soccer, Health Occupation Student Association, Upward Bound, College Possible and I'm a student ambassador for my school.
I hope to inspire others through courage, strength and community service.
The Model Minority Myth
For decades, Asian Americans and Pacific Islanders have been labeled as a "model minority" based on their success in economics, academics and society in contrast to other racial groups.
The idea of Asians being a "model minority" can be very misleading. This stereotype has many misconceptions about being complimentary but instead creates inequality for us all.
Not only does this affect the Asian Americans and Pacific Islanders, but it is also propaganda to praise Asians and degrade other racial minorities.
The AAPI community includes very diverse, heterogeneous ethnic groups. It is very important to be inclusive and view every aspect of Asian-origin groups to bring in hopes that people will see beyond and extinguish the model minority status.
Economically, there are many Asian American families that live below the poverty line and have a median-low income.
According to the Pew Research Center, most Asian origin groups were below the national median incomes for Asian Americans, including Burmese ($44,400) and Nepalese ($55,000) as the lowest median household incomes.
As a low-income Asian American myself, I have to work extra hard in school to win scholarships so that I can afford college.
This is also a struggle for many low-income households where money determines our future. If we don't have money for college, we're more likely not to go to college without a scholarship.
Academically, applying the term ''model minority'' can lead to pressuring Asian students to be studious, smart, quiet, excel in math and pursue a career that makes high salaries, specifically doctors, lawyers and engineers.
These expectations can lower one's self-esteem and can damage Asian American students emotionally.
"Of course, you passed with an A; you're Asian." This stereotype strips away an individual's talents, accomplishments and hard work because of their race.
More than 3 million Asian Americans reported poor mental health in 2019.
Poor mental health status can cause depression, stress and emotional problems, however, Asian Americans are less likely to seek help and utilize mental health services.
Violence Against the AAPI Community
Socially, racism and violence toward Asian Americans have risen during the COVID-19 pandemic outbreak. According to CBS News, more than 2,120 hate incidents against Asian Americans were reported during the coronavirus crisis. According to data from 16 U.S cities, the increase in anti-Asian hate crime surged by 149% in 2020.
On March 16, 2021, a mass shooting occurred at the Atlanta-area spas killing six Asian women during their shifts. An 84-year-old died after a horrific robbery attack in San Francisco during the daytime.
The harassment toward the AAPI community even came from the former president, Donald Trump, who repeatedly used racist terms to describe the pandemic as "Kung flu and Chinese Virus." These attacks increased the fear that the AAPI community continuously faces.
Rates of depression and anxiety among Asian Americans spiked during the pandemic.
We are not a model minority. We are not a stereotype. We are strong, beautiful, flawed and flawless as an individual and as a community.
Serving the AAPI Community in Omaha
Omaha, Nebraska is a melting pot of different cultures, immigrants and refugees from all over the world. The Karens, Indians, Mongolians, Vietnamese, Koreans, Nepalese, Burmese, Chinese, Kachins and many more are all ethnicities that exist in Omaha.
The Asian American communities consist of strong organizations, pride, support and diversities. Various organizations such as the Nebraska Chinese Association, Karen Society of Nebraska, and India Association of Nebraska are all based in Omaha.
I am a part of the Karen Culture Organization of Omaha. This organization aims to provide fellowship, interest and cultural awareness among Karen people and represent Karen people's needs and wants in regard to furthering their cultural awareness in the state of Nebraska.
I prioritized dance practices in groups to prepare for dance competitions with other state culture organizations. We also danced for Karen traditional events and ceremonies to enhance community involvement.
There are different support groups for Asian American students. Programs such as Upward Bound Math and Science, Thrive Club of Omaha Public Schools, College Possible and others are there to support Asian American students, especially low-income students who need assistance paying for college.
Being a part of Upward Bound Math and Science and College Possible have catalyzed my dream of going to college. However, you can find and support Asian American non-profit organizations near you, so they can continue to serve families and make a difference in everyday lives.
As Omaha continues to welcome new immigrants, new culture, new American voices will expand and grow in our community.
Diversity, Equity and Inclusion at NMC
NMC is committed to strengthening our commitment to diversity, equity and inclusion. The Center for Diversity and Community Engagement (CDCE) works to create a more inclusive campus and address barriers to health equity.
NMC works with nearly 100 community partners providing community and clinical outreach. Those organizations include the Element Learning Center, Habitat for Humanity, the Intercultural Senior Center, Mosaic, the Omaha Healthy Kids Alliance, the Open Door Mission, Restoring Dignity and Together Omaha.
Learn more at www.methodistcollege.edu/about/diversity-inclusion.