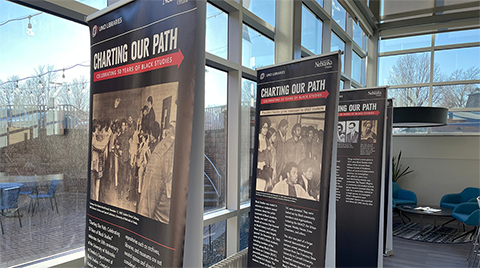 Nebraska Methodist College (NMC) is displaying the "Charting our Path: 50 Years of Black Studies (1971-2021)" exhibit on campus in January and February.
The four-panel traveling exhibit shares the history of one of the oldest Black studies departments in the country.
Created by the University of Nebraska Omaha Department of Black Studies and UNO Libraries, the exhibit celebrates the 50th anniversary of UNO's Black Studies Department.
"As taught in our Educated Citizen curriculum, our students have a civic responsibility to understand the human experience for our Black community," said Kiley Petersmith, director of the Center for Diversity and Community Engagement. "At NMC, we have a professional responsibility to teach future health professionals the importance of inclusive and holistic care. We hope students can use this exhibit as one of many ways to learn more about the history of Black culture and how that has shaped the culture of today."
The exhibit highlights important moments in the department's history, including its origins, institutional conflict and triumphs of a thriving department.
Through archival materials such as newspaper clippings, department documents and photographs, the exhibit chronicles the department's struggle for survival and lasting support of Omaha's Black community.
The exhibit, which is open to the public, is located in NMC's Clark Center dining area Jan. 5 through Feb. 28.
NMC's Center for Diversity and Community Engagement (CDCE) brought the exhibit to campus as part of its effort to prioritize diversity, equity and inclusion.
"This exhibit plays a vital role in our goal of creating a more inclusive campus," said Allison Kinney-Walker, associate professor and chair of NMC's Social Justice and Inclusion Council. "Our students, faculty and staff are part of the Omaha community, and many share some of the same lived experiences that are represented in the exhibit. Hosting the exhibit is an opportunity for us to make all of the members of our community more visible, and for us to grow and learn together."
The CDCE works to create an inclusive environment where the NMC community can build a culture of belonging and engagement reflective of the greater population it serves.
The Center coordinates meaningful and mutually beneficial community engagement experiences to address campus diversity and population needs, create positive social change towards equitable health and cultivate active citizen leaders.
"Belonging builds community. When our students, faculty and staff can see themselves in our community, we are all better positioned to support and uplift one another," Petersmith said. "Black history is important for our future health professionals to be aware of. Especially how it has shaped health disparities and how we can use the history, stories and lived experiences of past generations to do better in advancing health equity for current and future generations."
The exhibit is part of UNO Libraries' traveling exhibits and panels funded, in part, by Humanities Nebraska and the Nebraska Cultural Endowment.
UNO lends the exhibit to schools, libraries, archives, museums and other venues.
A reception will take place from 4 to 6 p.m. Jan. 19 in the Clark Center dining hall. Cynthia Robinson, chair of UNO's Department of Black Studies, will speak at the event. Refreshments will be provided.