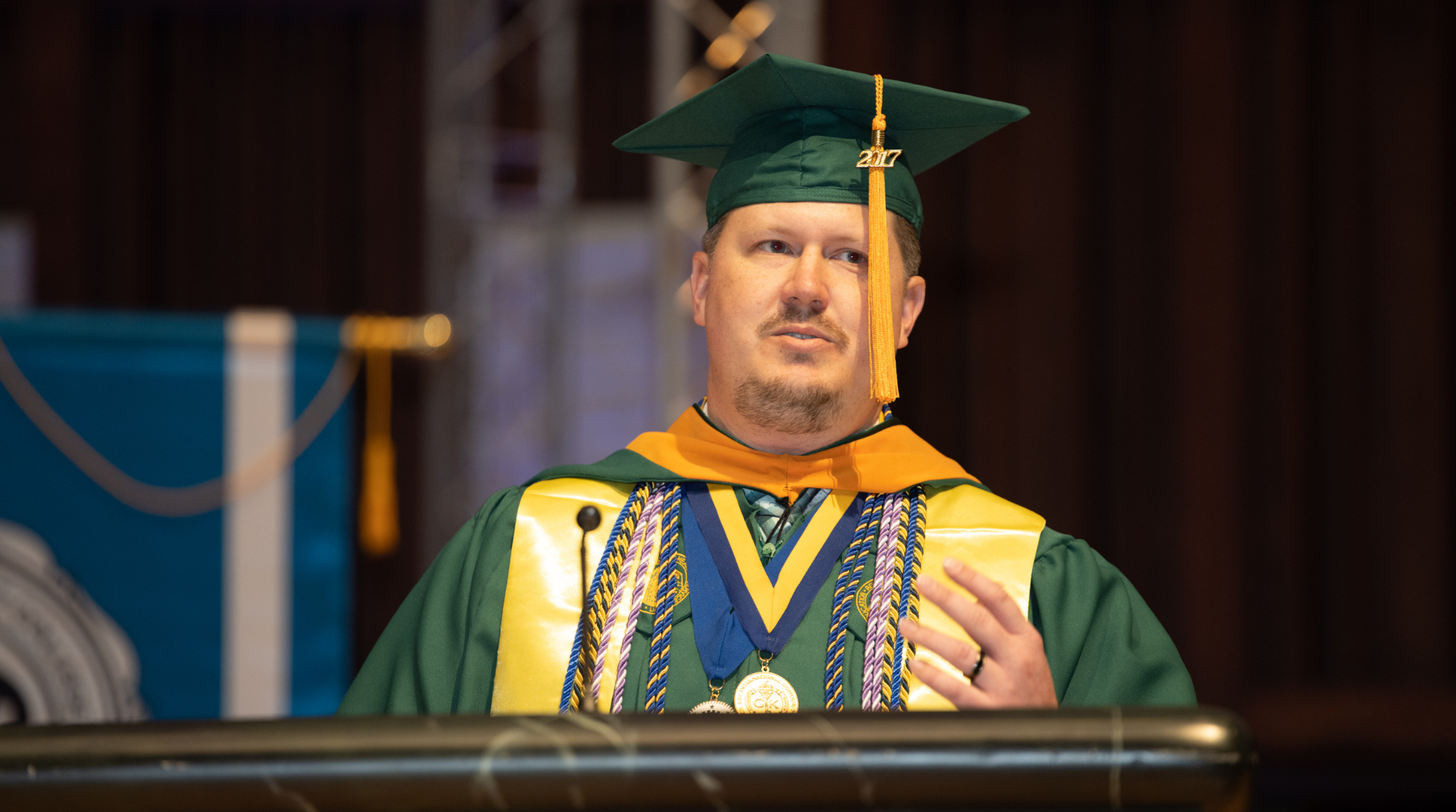 Nebraska Methodist College (NMC) alum Blake Smith has become a leader in the nursing field, advocating for men in nursing and men's health awareness.
Journey to Nebraska Methodist College
When Smith began college, he thought he wanted to become a physician. But he realized that he wanted to play a bigger role in patient care. So he earned his degree in exercise science and planned to attend physical therapy school.
"I wanted to help people and advocate and protect people who were vulnerable," he said.
A family member who worked at Methodist Hospital suggested that he consider the accelerated nursing program at NMC.
"I knew it was going to be challenging. I had to prepare myself mentally," he said. "What was gratifying was knowing I was getting a top-notch education. I could see almost instantly as I entered the field that that was true."
He began his nursing career working in the progressive care unit at Methodist Hospital. Smith went on to earn his master's in nursing.
"When I entered grad school, I was ahead of the game because of how I thought, being an effective communicator, being a reflective individual and having passion about being a change agent," he said. "All those things were hammered into my core. It made me who I am."
In his current role as a clinical documentation senior analyst at Nebraska Medicine, Smith is uniquely positioned to help healthcare professionals improve patient care and outcomes through the use of information technology and electronic medical records.
An Advocate for Inclusion in Nursing
Advocating for both patients and his colleagues who experience barriers has become an important part of Smith's work.
"Parity in any profession improves quality," Smith said in a 2018 interview with NMC. "Diversity helps every profession — not just diversity of people, but a diversity of thought. This is especially important to nursing, which seeks complex solutions to complex problems."
Smith credits his scholars program at NMC for providing him with the stepping stones that led to many leadership opportunities.
Through the scholarship program, he was referred to the Nebraska Action Coalition, which was looking for more representation on a diversity and leadership task force. Through his work, he was asked to start the first chapter of the American Association for Men in Nursing (AAMN) in Nebraska.
Within just a few years, Smith became the national president of AAMN. He is the youngest president in the 43-year history of the organization.
"It's been a whirlwind of great experiences and life lessons learning about leadership. I've had a lot of opportunities to get outside of my box. It's so easy to stay inside of your cocoon, but I decided to embrace it," he said.
"Being a privileged, white male, I want to learn about others' struggles. Because others' struggles are my struggles as a nurse."
Smith is a member of the National Black Nurses Association, a commissioner for the Commission to Address Racism in Nursing for the American Nurses Association, a member of the Future of Nursing Campaign for Equity, Diversity and Inclusion National Steering Committee and a chair member for the Nurses on Boards Coalition.
Blake has received recognition for his nursing leadership, mentorship and volunteer activities as a Nebraska Action Coalition "40 Under 40" award winner, induction into the International Nurses Association's Worldwide Leaders in Health Care, a finalist for the Omaha Magazine 2015 Nurse Excellence Award, a Top Performer Award from Professional Research Consultants and as a recipient of the Methodist Health System's The Meaning of Care Award and Daisy Award.
Smith's term as president of AAMN will end this year. His next goal is to earn his doctoral degree.
A Champion for Men's Health
Smith is passionate about advocating for men's health and encouraging men to see their doctor for annual exams.
"We continue to struggle with men in our society not going in for regular healthcare exams. Men die earlier than our female counterparts. Why? We need to take responsibility as men to be champions and spread the message that it's not weak to go to your annual visit," he said. "You have to take care of your body so you can take care of others."
In April 2021, Smith was diagnosed with testicular cancer.
"I realized that the network and support I had was a game-changer. If I hadn't have had my fellow male colleagues who knew about these things and to be a voice of reason for me, it would have been much more difficult for me," he said.
"That reiterated why it's so important for this organization (AAMN) to exist. It adds to the story that I need to tell so that we can impact men, especially young men, who might think something like this would never happen to them."
How to Earn a Degree in Nursing
A nursing degree allows you to pursue jobs in your area of interest, whether you imagine yourself as a clinical nurse, a nursing school professor, a nursing scientist, a researcher, a public health nurse or a nurse practitioner.
"Every day you wake up and you will impact someone's life. It's not if. You will. It may be directly with a patient or something you do to help your colleagues impact others," Smith said. "You feel that your life has meaning."
At NMC, you can earn your Bachelor of Science in Nursing through the traditional four-year program or the 12-month accelerated program. You can also earn your Master of Science in Nursing or a Doctor of Nursing Practice.
"There are so many opportunities and journeys to be had. We're just waiting for someone to walk through that door," Smith said.
"You can be at the top of the profession in your early 30's. It can happen if you're willing to put the work in. If so, you have a very bright future ahead of you."
To learn more about getting your nursing degree, reach out to an admissions coordinator at (402) 354-7200 or at admissions@methodistcollege.edu and ask questions about what is required for the application process.