Dr. Echo Perlman, assistant professor for nursing at Nebraska Methodist College, has been selected as an American Nurses Advocacy Institute Fellow for 2017-2018.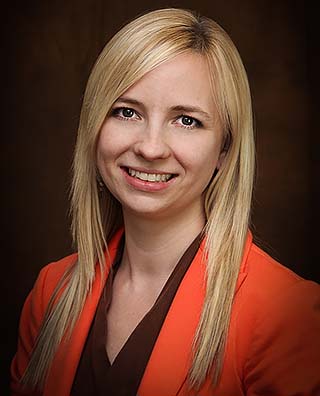 The American Nurses Advocacy Institute (ANAI) chooses 24 nurses from around the nation for the year-long program, which begins with an educational session on Oct. 1-3 in Washington, D.C. Nurses apply for the ANAI through their state nurses association, which then recommends them to the American Nurses Association (ANA).
According to the ANAI, this mentored program is designed to develop nurses equipped to influence health policy at the local, state and national levels. Graduates then will serve as political action and advocacy leaders for the state and national nurses associations by providing counsel related to legislative and regulatory priorities, recommending strategies and assisting in drafting a plan for executive of the advancement of policy issues.
Perlman is scheduled to meet with Nebraska Nurses Association (NNA) officials next month to determine an advocacy project, which will look at legislation or state regulations that impact nursing, to complete as part of her fellowship.
"Through my nursing practice working with vulnerable populations, my passion is public health policy," she said. "I am concerned with access and cost as a barrier to quality healthcare. Further, I am concerned about public health issues that impact vulnerable populations such as lead poisoning of children in our community."
The fellowship also requires monthly discussion via conference calls, progress reports to ANA mentors and participation in state nursing association activities, such as newsletter columns, convention presentations and lobbying.
Perlman has been a faculty member at Nebraska Methodist College (NMC) since 2009 and has already incorporated her passion for public health policy into the nursing program.
"I developed the Doctor of Nursing Practice in Public Health Policy to educate nurses in the advanced role they can play in health policy development and advocacy," she said, "as well as system delivery of public health services."
Perlman's clinical nursing background is in pediatric and public health nursing, which includes pediatric emergency nursing, clinical education for a pediatric emergency department and school nursing for both elementary and middle school levels. Her current area of research is a translational research-designed, population-based approach to blood lead screening of children.
She received her RN diploma from Bryan School of Nursing, BSN from Nebraska Wesleyan University, MSN in Nursing Education from NMC and DNP in Clinical Systems Administration from Creighton University.
In addition to the ANA and NNA, Perlman is a member of the National League for Nursing and Public Health Association of Nebraska. She is also a Leadership Omaha Class 39 graduate and a member of the Community-based Participatory Research Faculty Fellows at NMC.
Are you interested in public health policy? Download our DNP-Public Health Policy degree guide.