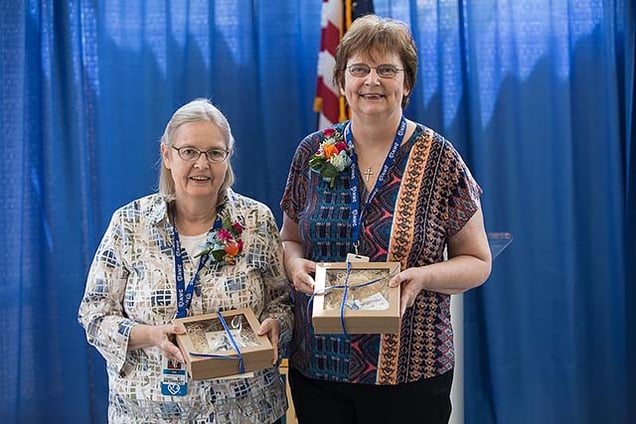 Nebraska Methodist College Library Director Bev Sedlacek (right in top photo) and Library Assistant Tem Adair will retire on May 18 after nearly a combined 39 years as part of the Methodist Health System.
"They've both touched and contributed to so many students, so many faculty, so many staff over their collective years of service," NMC President and CEO Dr. Dennis Joslin said. "By having that degree of professionalism and guidance, they have been able to provide the end user – whether that is a physician or a nurse or a health professional or a faculty member or a student – with trusted data that they could use in their decision-making, treatment plans or presentations. Their knowledge, their expertise and their kind of quiet, behind the scenes 'get it done' perspective will definitely be missed."
Their closest colleagues, NMC Reference and Instruction Librarian Emily McIllece and NMC Electronic Resources Librarian Sonja Maddox described Bev and Tem as warm, kind-hearted women who made their small department a supportive family unit … and as "crazy cat ladies."
"They both own cats and have lots of interesting stories to share about life with cats," Sonja said. "We've been a pretty tight group considering how long we have worked together, and I am not quite ready for them to go."
Emily said the duo lived up to the "crazy cat lady librarian stereotype in a good way" all while using their vast knowledge and experience to make a huge impact on NMC and MHS.
"Library services and operations continuously evolve, and, given the years of experience between them, I will miss getting their long-view perspective on current changes or opportunities within Libraryland," Emily said. "NMC is losing a core piece of its history with Bev and Tem."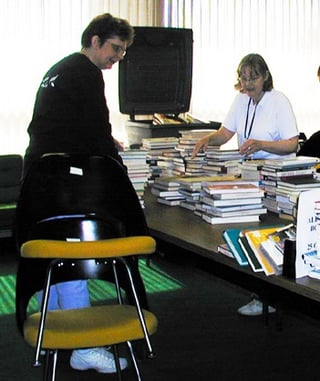 Among their bigger undertakings during their tenure at the John Moritz Library, Bev and Tem prepared to move the collection three times. The library was originally located on the third floor of Methodist Hospital and temporarily relocated to Richard Young Center while the Josie Harper Campus was being built. After the initial move to the second floor of the new campus, the library was relocated to the first floor of the Clark Center, where it resides today to help not only students and faculty of Nebraska Methodist College (NMC) but also nurses and physicians throughout the Methodist Health System (MHS).
While the library was located inside Methodist Hospital, Bev facilitated a Periodical Circulation Service to provide medical staff the opportunity to read the latest issues of various medical journals. The service was suspended after the library moved to the college, but she continued to impact the research needs of MHS by performing literature searches to provide resources on evidence-based practice.
"In her capacity as library director, she has carefully curated a collection that supports the information needs of the entire health system and the curriculum of NMC," Sonja said.
Tem has been instrumental in allowing the library to maintain reciprocal borrowing agreements with other libraries in the city and worldwide.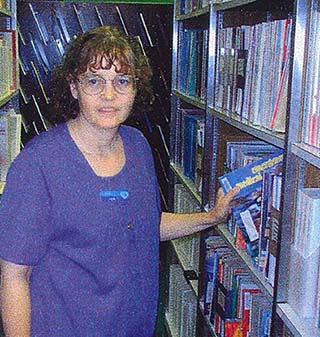 "(Tem has) been my secret weapon when it comes to questions I don't know how to answer," said MHS Vice President of Ancillary and Professional Services Kevin Rochford, RN, BSN, FACHE. "I always knew that no matter how vague I was in my request, (she) would find the information I needed."
If there is a resource not accessible through the college's own collection, Tem's job has been to find another library who can provide it and, often, for free. She has expedited the request and delivery process to provide these resources to all affiliated physicians and employees of MHS in addition to NMC faculty, staff and students.
"(Tem), what a wonderful job you and your colleagues have done over the years," said MHS Vice President of Medical Affairs Dr. Bill Shiffermiller, "in chasing down articles from the musty corners of some far away repository for some – not to be named – impatient MD on the spur of the moment. We will miss you!"
Tem launched her 46-year career in health sciences librarianship in 1971 at Assistant Librarian at Creighton Memorial St. Joseph Hospital. She has served as Library Assistant for interlibrary loan, document delivery and circulation services for 18 years.
"I want to thank everyone for the opportunities I've had here at NMC, and I have enjoyed working with all of you through the last almost 18 years," she said. "I will miss the interactions with students, employees and physicians of the Nebraska Methodist Health System."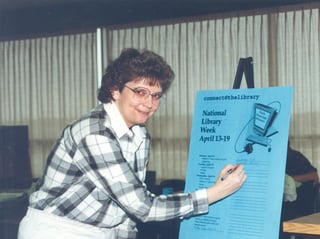 Beginning in 1974, Bev served in several capacities for the Omaha Public Library, followed by a stint as the Chief Librarian at the Omaha World-Herald. Over the past 21 years, she has served NMC and MHS as a Learning Resources Assistant, Information Services Librarian and, finally, Directory of Library Services.

"These 21 years have given me the opportunity to work with a marvelous kaleidoscope of characters who are united by common passions – instructors for the subject matter they teach, students for the professions they want to enter and support personnel for the promotion of holistic development and student success," Bev said.

"I am most grateful for my phenomenal staff, aka The Troops – Sonja Maddox, Emily McIllece and Tem Adair. They are smart, resourceful and firmly committed to the success of our students. I am proud of what we have accomplished for the college and the health system, and I know Sonja and Emily will continue to provide customer-focused services of the highest quality."

Happy retirement, Bev and Tem!