This article was written by Marcella Mercer at the Omaha World-Herald on 6/10/2017.
The state has selected a leader to spearhead a new program aimed at improving sexual assault examinations.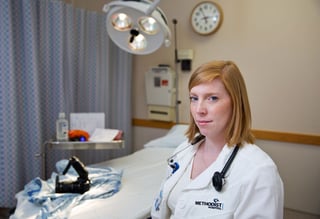 Registered nurse Anne Boatright, a nursing graduate of Nebraska Methodist College, will serve within the criminal bureau of the Nebraska Attorney General's Office as the state forensic nursing coordinator.
She'll oversee a program to ensure that forensic examinations of sexual assault victims are conducted according to the state's established best practices.
The program, which begins July 1, will also prevent sexual assault victims or law enforcement agencies from paying for the examinations. The Nebraska Crime Commission will finance the examinations using federal funds.
Sexual assault nurse examiners head similar programs for the offices of other attorneys general to assist victims of sexual assault, trafficking and other serious crimes.
The position also helps improve a state's sexual assault examinations, evidence collection and prosecution.
Beyond treating sexual assault victims herself, Boatright helped develop Omaha Methodist Hospital's sexual assault nurse examiners program and has trained other forensic nurses.
She has also helped train the Nebraska Human Trafficking Task Force and led the team updating sexual assault evidence kits for the new state program.
"We are fortunate to have Anne join our office in serving the state," Nebraska Attorney General Doug Peterson said. "She brings valuable experience which will provide critical statewide training."
Written by Marcella Mercer at the Omaha World-Herald on 6/10/2017.