NMC Professor Wins National Award for Innovative Use of Technology
"It was definitely crazy the first time Dr. Feng showed us this table. I'd never seen anything like it!"
Abbie Carlson, a first-year nursing student at Nebraska Methodist College, said she remains awed and amazed by NMC's new, high-tech 3D anatomy table and visualization software.
"There's so much detail!" Abbie said. "We're looking inside the human body to see and study each system—skeletal, muscular, cardiovascular, neurological, everything."
Manufactured by Anatomage, this is the world's first virtual dissection table, an interactive technology that is putting fully segmented, real human anatomy at the fingertips of NMC's nursing and allied health students.
From left in feature photo above: Nathan Johnson, Hannah Snow, Dr. Sophie Feng, and Abbie Carlson.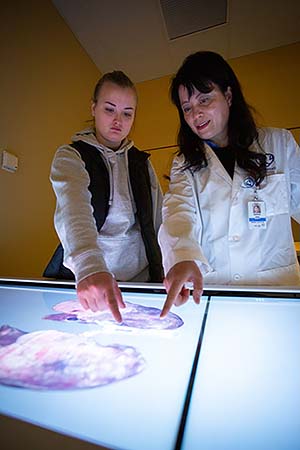 "We'd already begun studying a cadaver, which is very helpful," Abbie said, "but this is different."

How different?

Abbie's first-semester anatomy instructor, Sophie Feng, MD, PhD, has won a national research grant to assess the difference.

Dr. Feng received a 2019 Sam Drogo Technology in the Classroom Award, one of three national grants awarded to members of the Human Anatomy and Physiology Society (HAPS) who demonstrate the innovative use of technology to engage undergraduate students.

"We are constantly integrating new technology into learning at Nebraska Methodist College," Dr. Feng said. "This table lets us visualize, explore, and dissect anatomy as we would on a cadaver, but with greater ease, access and accuracy. It is truly interactive learning."

Dr. Feng's research will compare student success in learning anatomy through more traditional, cadaver-only laboratory instruction versus a combination of Anatomage and cadaver learning experiences. In May, she will have the opportunity to present her results in a workshop at the HAPS conference in Portland, Oregon.

The Anatomage table is used by many of the world's leading medical schools and institutions for both educational and clinical applications. On the life-size touch screen, users can interact with four young, well-preserved digital cadavers with great anatomical and pathological variation.

The four bodies, two male and two female, were immediately flash frozen after death, preserved in a special solution, and sliced in thicknesses of .2 mm or .3 mm. The slices were meticulously photographed, with tracings made of each structure through every slice, and the images were rendered by 3D modelers for an unprecedented level of anatomic accuracy.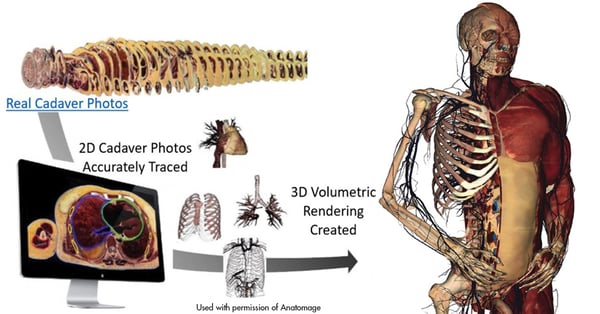 At NMC, the table is used in anatomy and physiology labs, with nearly limitless applications for students in nursing as well as allied health, including cardiovascular and multispecialty sonography, physical therapy, occupational therapy, radiologic technology, respiratory therapy, and surgical technology. Already, in just over a semester of use, more than 250 NMC students have benefited from the table.
"You can't really learn anatomy from a textbook, so I love using this table with my students" said Becca Bouckaert, MPA, RVT, RDCS, program director for NMC Cardiovascular Sonography. "With this, we can fly through the heart. We can quickly and easily dig into the details of all the vessels. And that's just the beginning."
Students are excited by the clarity of what they can see, touch, and explore. There are quizzes, special lessons, and opportunities to enlarge and rotate images. There is engagement that can translate into faster and deeper learning.
"I think the most helpful thing is the ability to go through each layer of the body and see how anatomical structures interact with each other," said Hannah Snow, an Accelerated BSN (ACE) program student. "I also like the immediate feedback. I can touch the screen display and not have to search through a book or diagram to find the correct information."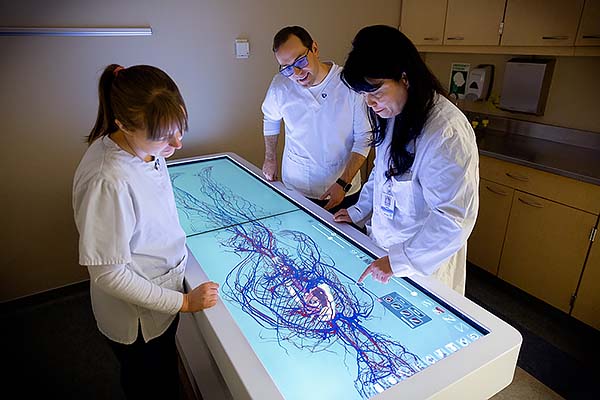 Ultimately, better visualization and better learning can translate into better care.
"This 3D format helps us see the complex mechanisms that work to make our bodies function, helping us tailor our ideas on treatment plans for better patient outcomes," said Nathan Johnson, another ACE program student. "This technology can be used in many ways, and it's definitely an asset to NMC students."
Nebraska Methodist College is deeply appreciative of the generous donation that made the purchase of the Anatomage table possible. We thank Bob Keckler, a 30-year Methodist employee who included Methodist Hospital Foundation in his estate plans.
NMC in the News
NMC's Anatomage table was recently featured on KETV. Watch as Becca Bouckaert and a group of cardiovascular sonography students use the table and describe the impact of this new technology.