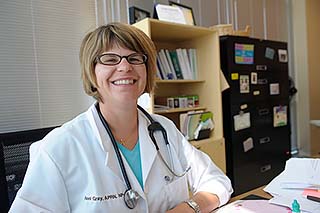 Campus health could very well be one of the best resources at Nebraska Methodist College that you're not using!
The truth is, there's a lot of misinformation out there about who we are and what we offer. So today, we wanted to clear the air and debunk five of the top Campus Health myths heard around NMC. As you'll soon see, visiting us is more convenient (and helpful) than you may realize.
1. I can't go there unless I have the school insurance.
Campus Health is for ALL students! Most students pay a small fee each semester which covers office visits, an annual flu shot and TB skin testing, along with several in-office laboratory tests (strep throat, mono, urinalysis, STI screening, etc).
2. There is no one in the office to see me after 2:00 pm.
We now have an RN on staff, so our clinic day is from 8:00 am – 4:30 pm, Monday through Friday.
3. They only give shots and TB tests.
Campus Health is here to meet all your healthcare needs! In addition to providing all required immunizations, we see health complaints including strep throat, UTI, rashes, musculoskeletal problems, colds/flu, allergies, prescription refills, women's health and mental health. Counseling services are also available for a variety of concerns.
4. Only students with "mental disorders" go to counseling.
Stressors and difficulties are a part of life for all people and may increase significantly when in college. We see students with a wide variety of concerns (e.g., relationship break-ups, roommate conflict, anxiety, depression, eating disorders, grief/loss).
5. I have my own healthcare provider – I don't need Campus Health.
It is convenient and time-saving to come to Campus Health. Just call for an appointment and be seen while you are on campus. No need to leave your parking space, wait a week to get in to your doctor's office or pay a co-pay! Usually, your visit will be FREE!
Ready to book an appointment with Campus Health? Simply dial (402) 354-7217 or (402) 354-7211. And for more information on Campus Health at NMC, click here.