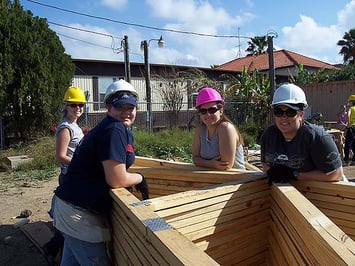 Textbooks, tests, notes: What you learn in your college classroom is essential, but the educational experiences that shape you outside the classroom could potentially be even more important. Not every aspect of healthcare can be summed up in a lecture or a set of multiple-choice questions.
That's why the Immersion Experiences at Nebraska Methodist College are so important. These trips give our students a chance to go out and see firsthand the challenges and rewards of working in the medical field.
Immersion Experiences
It's our mission to create educated citizens at NMC – well-rounded graduates who really understand how important healthcare is to the community and who have the tools to make a difference. Our Immersion Experiences help us do that.
What They Are

These experiences, offered during the fall, winter and spring breaks, are week-long trips that give students a chance to provide community service while gaining valuable healthcare experience in the field.
The immersion opportunities vary by year. Students have gone to Charleston, Atlanta, New Orleans, and an assortment of local Omaha immersions, and we regularly offer trips to the Rosebud Indian Reservation and Laredo, Texas.
While the experience at each location differs, the goal remains the same: to let students experience for themselves the challenges faced by different communities and see how they can make a difference. Talking about community involvement simply isn't enough; you have to really get out there if you want to live through what lectures can only give you a glimpse of.
Making a change requires momentum, and these trips are a launching point. Once you see the improvement you can bring to the lives of others, you won't forget that experience. Students carry that feeling of involvement and responsibility back to the classroom, and it can affect how they view themselves as healthcare providers in the community.
What Students Do

The immersion trips usually have two components: community service and healthcare. You might help build a house with Habitat for Humanity, interact with kids, or lend a helping hand to social service agencies or schools, learning about the experiences of local cultures along the way. On the healthcare side of things, you could visit medical facilities, shadow healthcare providers and provide vital healthcare education.
In the past, students have helped at a women's shelter on the Rosebud Indian Reservation, worked alongside community health educators in Laredo, Texas, and more. Students take what they learn in these scenarios and apply it to their own education. They can then bring that knowledge with them as they embark on healthcare careers in their local communities.
Why it Matters

Most students who participate in these immersion trips describe them as some of the most profound, important experiences they had during their time at NMC. Learning about how to help people and actually helping people are two very different things.
That's why the Immersion Experiences fit in so well with our values. We support one another to support our community. The meaning of care is something students learn about in our classrooms every day, but these immersion trips allow us to extend that holistic approach to healthcare outside the classroom as well.
Sound like something you'd be interested in? To learn more about NMC's community outreach efforts, visit our Center for Health Partnerships. And don't miss your chance to take part in one of these once-in-a-lifetime opportunities: click the button to download our free College Selection Timeline so that you won't lose track of any upcoming deadlines.